Everything You Need To Know About 5D Diamond Facet Art 
This post may have affiliate links but this in no way will influence the post to follow.
Since I was young I have enjoyed crafts and I love discovering new skills and techniques to add to my growing list of skills.
Recently I discovered a new craft that uses resin facets to create a variety of different works of art – Diamond Painting. This relaxing and easy craft goes by a couple of names including 5D Diamond Painting, Facet Art, Crystal Art, Diamond Embroidery, Crystal Cross Stitch and Diamond Dotz.
The best thing about this craft is that with little instruction a magnificent piece of art is created! One thing I appreciate about Diamond Painting is the simplicity and ease – you simply grab a stylus, pick up a facet diamond and place it on the predetermined place.
Here I will show you what typically comes in a kit, tips for keeping those 'diamonds' safe and the best way to work through your projects in addition to some tips I have discovered to make this craft even more enjoyable.
The shimmer and shine is created by the flat facets on the geometric shapes, and the cuts allow each edge to reflect light.
+ Choosing your kit +

These kits come in a variety of sizes, designs and sources. It is important to look at the size and determine if the kit is measuring in inches or centimeters (CM) since this will make a difference in your finished size.
Sizes can vary greatly and can be as small as 15cm x 15cm, to 80 cm by 90 cm and even larger. The smaller the image the less detail in the finished project, bigger is better and more detailed. The best way to think of this is that you are creating a pixilated image, the larger the more pixels to fill in the image.
TIP Generally I prefer to work on projects that are at least 40cm x 40cm, if not much larger since i really appreciate more detail.

The facets are also referred to as gems, diamonds, beads, tiles and rhinestones. Diamond Painting comes in either square or round facets and measure 2.5mm square and 2.7mm for round and there are two types of diamonds: 9 sided and 13 sided to add to the effect. The biggest difference is that the round gives some space between diamonds and the square has a more complete look without those small spaces.
** TIP ** Often times you will see "full drill" or "partial drill" in the description. What this is in reference to is the amount of the image you will be completing. "Full" is the entire image needs to be completed and with "Partial" you will be filling in a partial/feature image.
+ Supplies +

Most kits will have everything you need to complete the Diamond Painting. The picture comes pre-printed onto a high-quality polyester canvas and include the pre-printed image with adhesive pre-placed, stones, and instructions.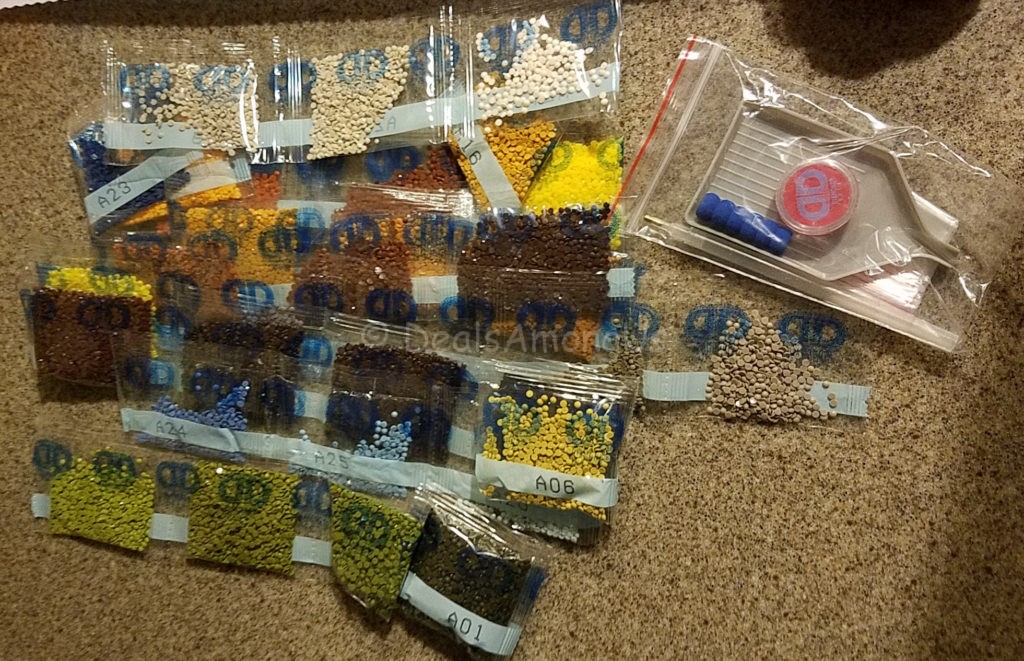 Also included in each kit is a stylus to attach the facets, a facet tray and wax. The stylus is a simple pen-like object, which has a hole in the one side which is perfect for gripping the top of the facets. The wax is then used to help the stylus grip the facets, and you simply stick the end of the stylus into the wax.
When you get your kit be sure to take it out of the package, make sure that all contents are included. I quickly check off each number to make sure all colors are accounted for and depending on where your kit comes from the bags can contain 200 drills, 500 drills and 1000 drills (drills are also called facets).
** TIP ** If you are missing a color, do not panic, just make note of the color your are missing and email the company where you purchased the kit and request that they send you a bag or two of the missing color.
On the side of the canvas is a chart with numbers and symbols which correlates to the numbers and symbols on the pre-printed chart. The best way to describe this is that is similar to cross stitching and the key used.

** TIP ** Get some double-sided tape and place it on the side where your "key" is for the project. Each time you open a new bag of facets, take a couple and place on the double-sided tape next to the number and symbol. This is good in case you need to check yourself on color, and also if a bead gets misplaced and you need to identify that color.
The kits also include all the colored facets that you will need to complete the kit. Generally you will receive about 20%-30% more facts than you will need. This overage is to compensate for spills or facet loss.

** TIP ** While I appreciate the inclusion of these stylus pens, I found it easier to use a bigger pen such as the 'Pick Me Up" pen. This is refillable, and allows you to "push" the amount of putty/wax you need through the tip. It also has an angled end that allows you to shift the diamond into place and a pointed end which helps to remove items from your adhesive. While you can refill this with the wax that comes with kits, I like to use a simple putty – just be careful to not push to much out at once or you will have a mess on your adhesive.
+ Starting your kit +

Once you are ready to start your kit, I would recommend starting from the lower right hand side. Since the charts are covered in a plastic this allows for easy application of beads and also keeps the remaining adhesive clean.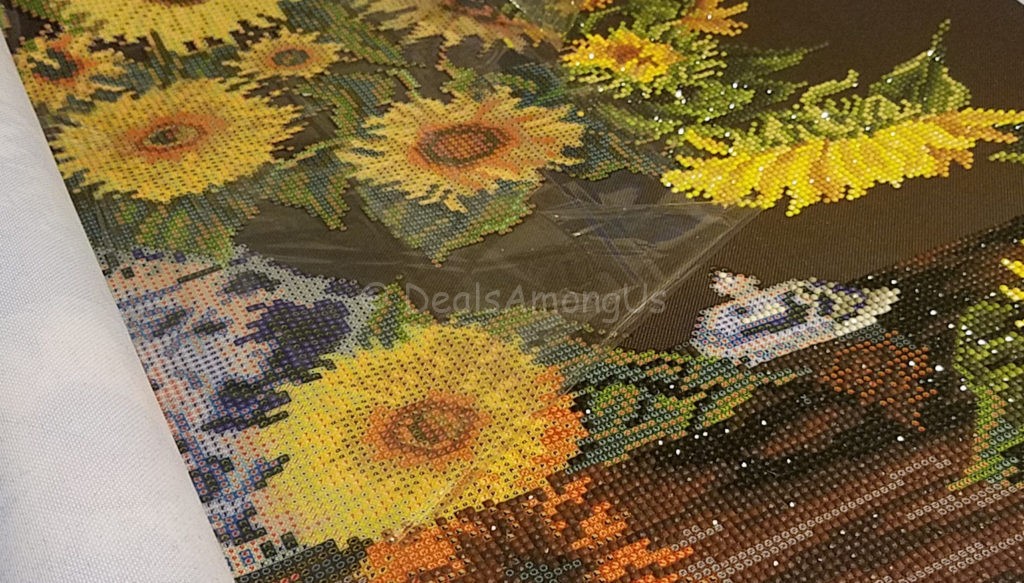 ** TIP ** Since some projects that are larger than others I find it easier to cut the plastic covering into sections. This makes it easier to keep the adhesive safe and the plastic manageable.
** TIP ** Do not remove your film from the entire design at one time, remove it in small sections to preserve stick on the image.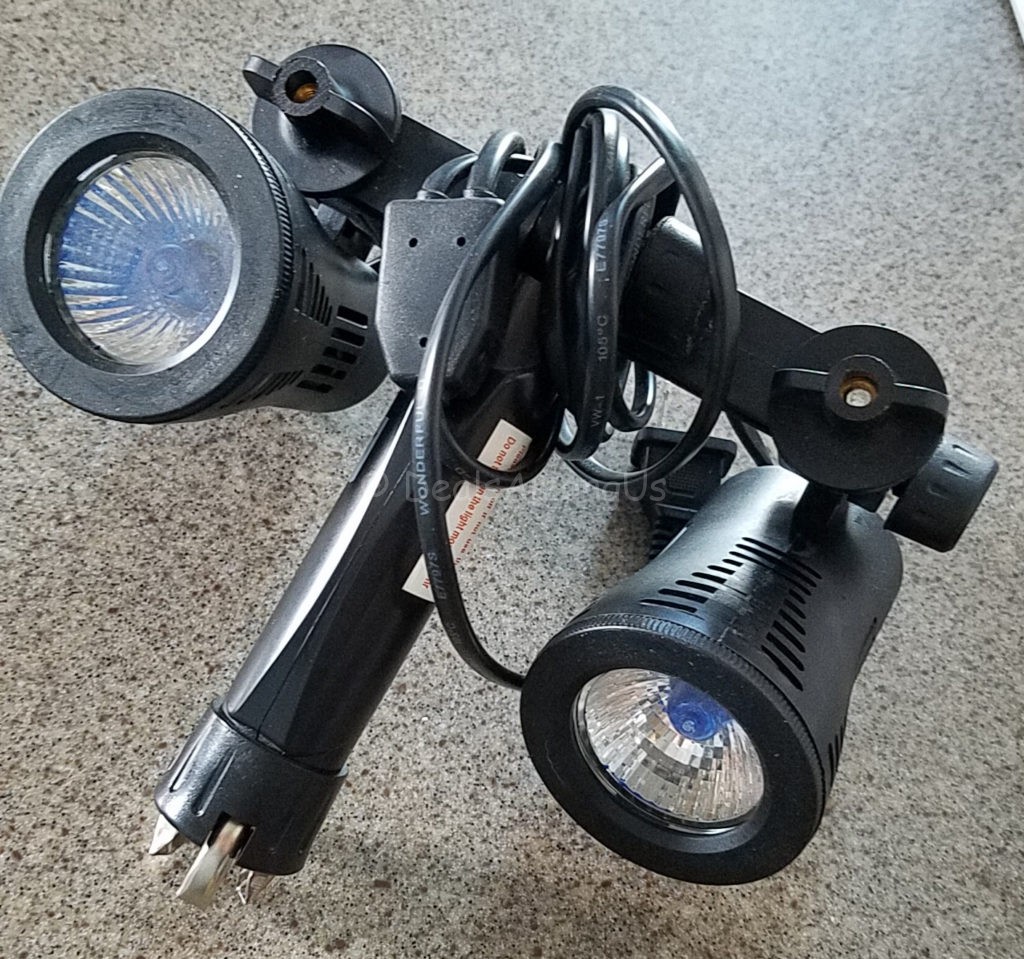 A good light can make all the difference, I use the light from my Limo Studio Kit, and make the symbols easier to see. Many people like to have a flat light box under the project to light it up from underneath, or you can get a light specifically for above illumination. I prefer the above light since this works better for my area but this is entirely personal preference.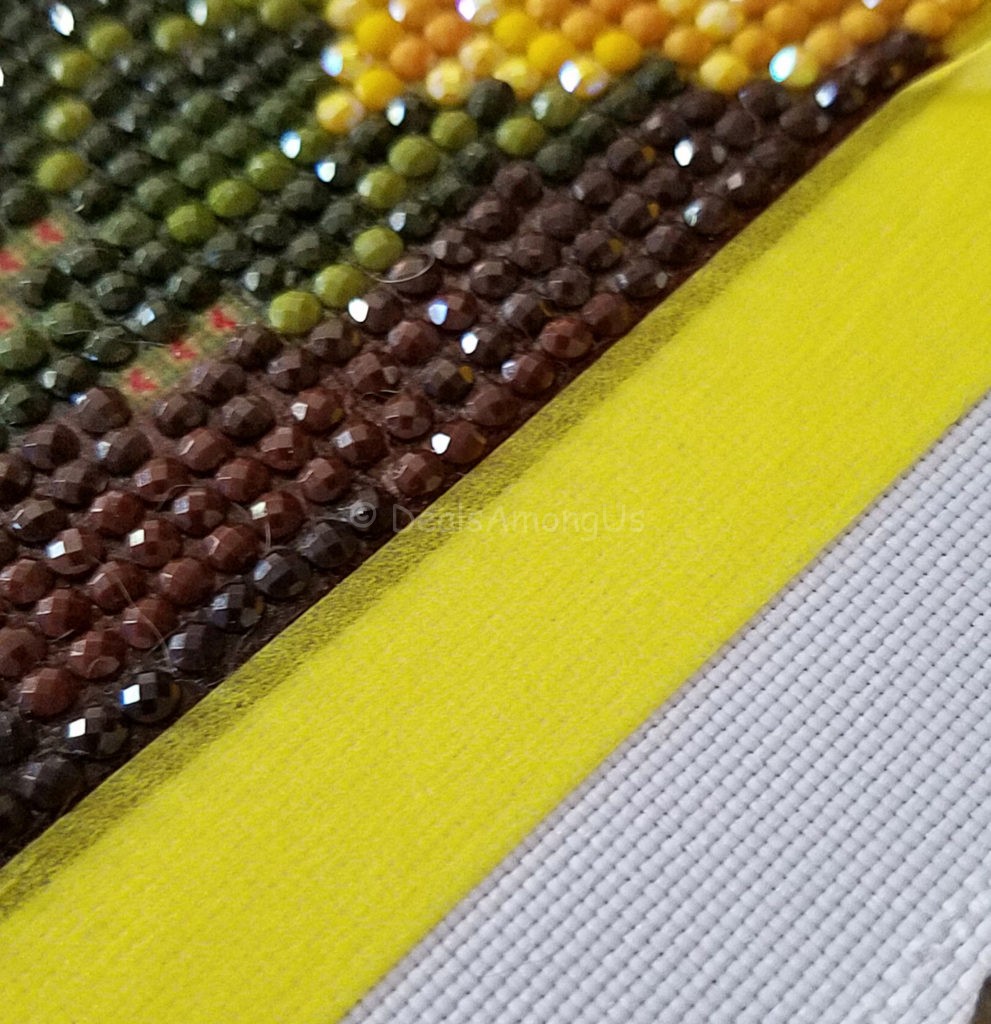 ** TIP ** Sometimes the sticky adhesive extends beyond the image, and this small area can accumulate dirt and dust. To prevent this, grab some coordinating washi tape and place it down around the border. Once you are done with the image you can decide to either keep the tape on and frame it or remove the tape and have a clean border. Be sure to take care when you remove the tape so you don't accidentally remove the beads.
** TIP ** If you discover that places on your canvas are not sticky, grab some clear nail polish to use a "glue" to attach facets.
+ Application and Progress +

Once you decide on your first color, pour a few facets into the tray (curved side up).  Twist the end of the stylus into the wax and simply put the end of the stylus over the facet so it picks it up. Place the facet on the corresponding symbol on the image. You do not have to press hard on the facets, the stylus will pick it up and drop it easily when pressed.
You will not have to put the stylus in the wax in between placing each diamond facet. The wax will last a while before you will need to do that again. If you purchase a Pick Me Up then a reusable putty is used.
** TIP ** If you do not want to use the reusable putty, candle wax also works well to pickup and place facets with little residue.
The facets do have a tendency to stick together, so I recommend wiping your tray with a new fabric softener. Also cut small squares from a softener sheet and place them in each bag of drills/facets – this will cut the static electricity and sticking together.
** TIP ** Every once in a while you will come across two beads that are still attached on the flat ends. No need to trash these, you can separate them! There are a couple of ways including using your own nail to separate and then push them apart, use needle nose pliers, roll them in your fingers until separated and if you have a 2nd tray from a previous project place it on top of the beads and 1st tray and press the two down putting the pressure on the beads. I have also heard that you can put them in the freezer for an hour to remove static.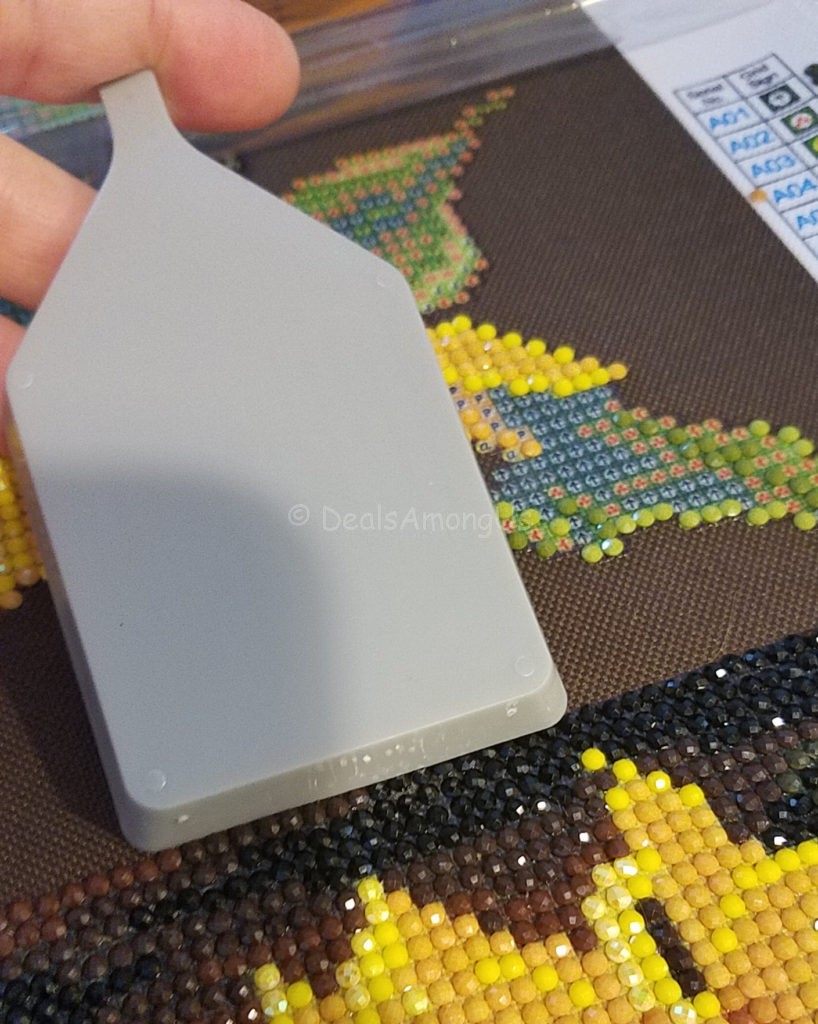 ** TIP ** You can use the side of the empty tray to make sure your sides and ends are straight. Just push the end up against the attached beads, but be careful to not pop the beads.
Once you have either completed a section, or need to pause, cover the image and any exposed adhesive with the covering. If you lose your covering, you can also cover the adhesive with wax paper. Also, be sure run your fingers lightly over the surface to find blank spaces.
** TIP ** I cut the plastic covering into 3rds or 4ths so that it is easier to partition sections. I tape the cover to the top of the piece so that it is always attached and easy to place up and down as needed.
If you do get a piece of paper or something on the adhesive there are ways to recover the image. I personally use "UnDo Adhesive Remover" which is a simple adhesive remover. If you lose stickiness let the area dry overnight. If you are still a little low on sticky you can use a glue stick or spray adhesive. My biggest suggestion is go with caution, and care – you don't want to ruin the image further.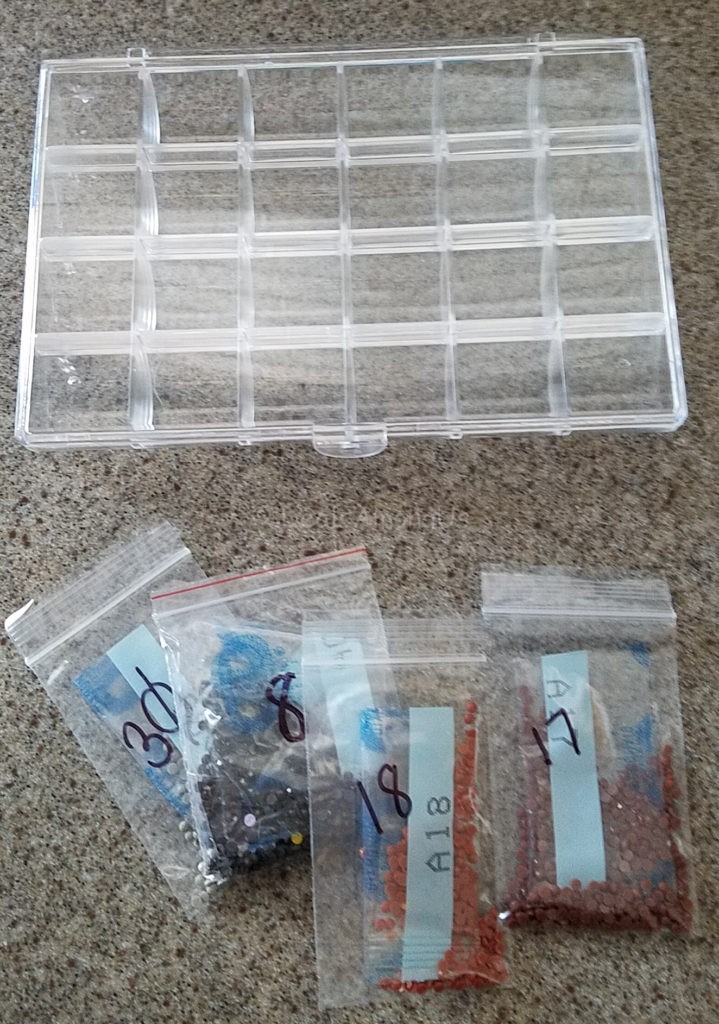 ** TIP ** If your facets don't come in a resealable bag, purchase some and put your facets in those. Be sure to write the color number in permanent marker on the front of the bag. You can also use a clear bead storage, although these are more limited in the amount of beads that you can store.
** TIP ** The color numbering on many kits is standard to the DMC Embroidery thread, therefore I suggest getting a DMC Color Card so you can match and replace colors if needed.
+ Finishing your project +

When you are completed, grab a rolling-pin or bottle of wine and roll it over the beads, and you should hear some clicking – this is the random beads snapping down in place. Go over a couple of times, and when you are completed all beads should be attached. I would recommend either a rolling pin or a brayer to run over and snap the beads in.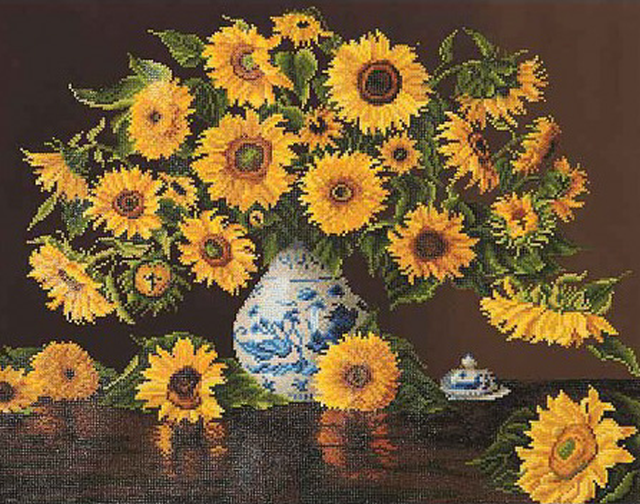 Once you have completed your kit, you will have a magnificent piece of art for your home that you can be proud of.
To store your project safely, roll it up with the beads on the OUTSIDE – this will keep it safe and not force the beads to pop off (which can happen if you roll it up on the inside).
** TIP ** While the adhesive is strong, you can seal your art work – get a clear Modge Podge and Foam Brush. Carefully wet your paint brush and brush lightly over the completed work. Be careful to not push any beads up in the process.
** TIP ** If your fabric gets dirty during "construction" grab a baby wipe ( I like the gentleness of 7th Generation Wipes) and gently wipe the area clean. You can also use a damp cloth, using water to moisten the cloth.
** TIP ** If you do not want to "seal" your project, get a frame with the clear piece in front and insert your art piece. This will keep the surface clean, and dirt free.
NOTE Once completed these can NOT be washed, ironed or dry cleaned ****
Do you have a trick or tip? Share it with me below!
*********************************************
Be sure to see my completed project page! 
******************************
The Diamond Dotz Project featured in this post is Sunflowers In A China Vase
***************************************
To purchase Diamond Facet Art on Amazon
******************************
Questions?? Email me at "jennifer at dealsamongus dot com" and I will respond promptly
Save