World of Munchies: Red, White & Blue Snacker Box – Review & Giveaway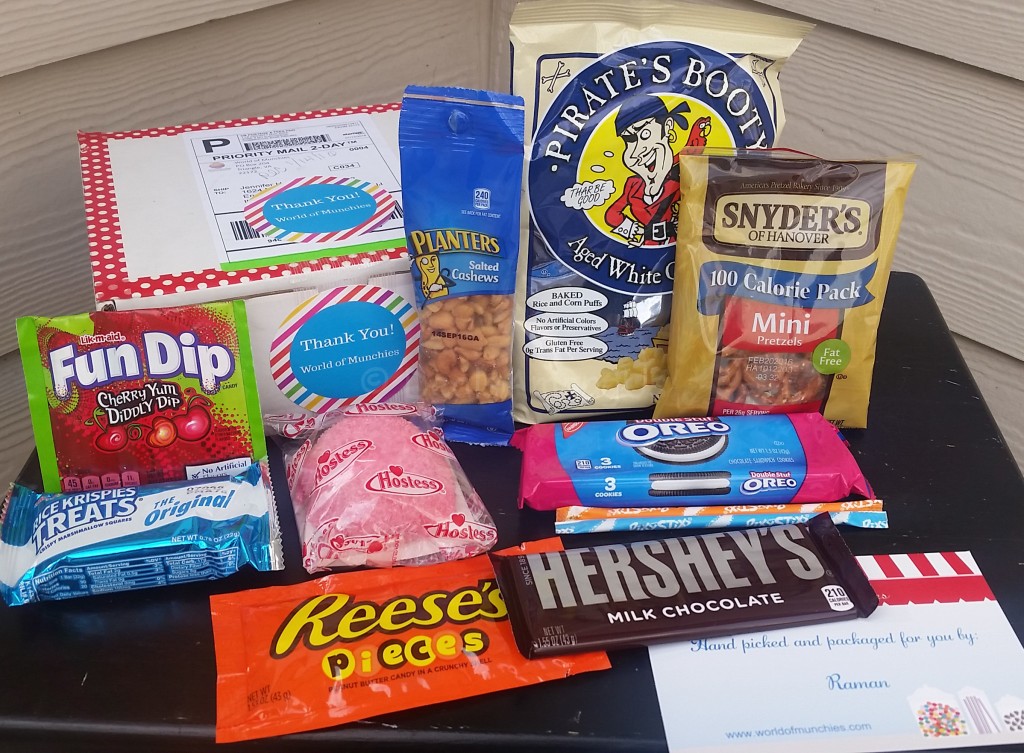 I have mentioned in the past that we are a snack house, and we have yet to meet a snack that we do not like. The problem is that we are 2 different people with unique and individual tastes and we do not always crave the same thing. Every once in a while we both want the same treat or ice cream, but I am a "miner of yummies" in ice cream so Jason now wants his own.
This constant back and forth of taste buds can get expensive quickly, as well as being very unhealthy. I have often thought it would be nice to get a box once a month that would provide us with a sampling of the things we love, while keeping portions in the realms of affordable.
World of Munchies has created a new box called the Red, White & Blue Snacker box. World of Munchies was started by the mind of an 11-year-old entrepreneur. Each month with the Red, White and Blue Snacker box you will receive 7 items in each box, selected from various snacks that you know and love.
I was sent the Red, White & Blue Snacker box to sample and included the following snacks: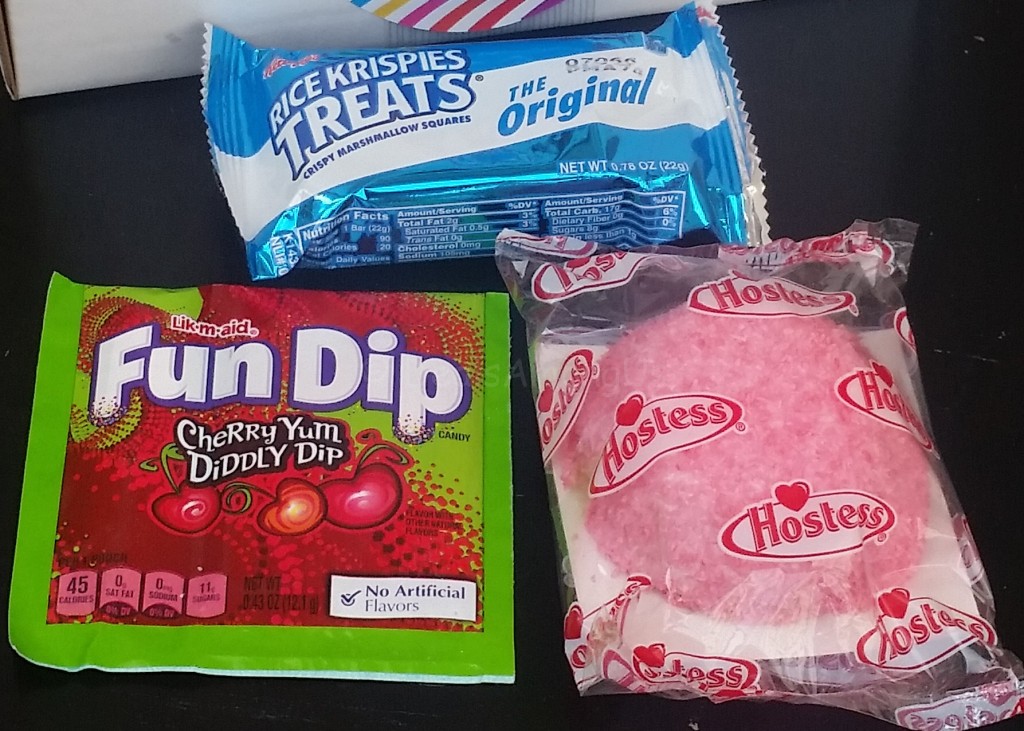 I received the Kellogg's Rice Crispy Treats, Fun Dip and Hostess SnoBall's – I absolutely love Kellogg's Rice Crispy Treats and have recently begun making my own. These pre-made ones are great for dipping in chocolate and adding some sprinkles for a party or gathering. When I was young I was a fan of Fun Dip's and I am happy to say that I am an adult fan. I know this was basically pure sugar, but it is fun to remember my summers when I have this treat. I can not have this all the time but it is fun every once in a while. Regular readers will know that neither Jason nor I are fans of coconut so it goes without saying that we would not enjoy this Hostess SnoBall's since it is basically marshmallow covered in coconut. I know my friends love this and I will save it for their next visits.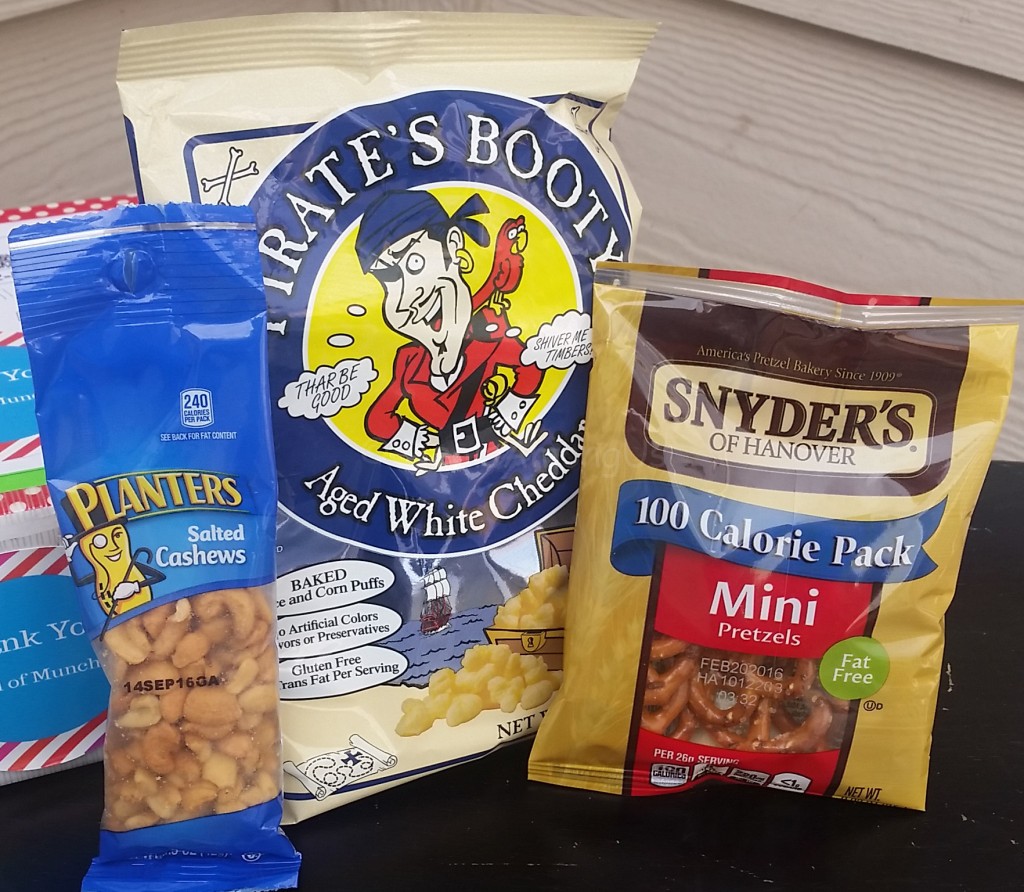 We also received Planters Cashews, Snyder's of Hanover –  100 calorie Mini Pretzels and Pirates Booty – Aged White Cheddar. I had never had Pirates Booty before meeting Jason, and he introduced me and I was hooked at first taste. The Snyder's of Hanover pretzels were just as awesome as I remember them being – admittedly I am a huge pretzel lover. The Planters Cashews came at a funny time as only about a week before we needed cashews for a recipe and we ended up fishing them out of a trail mix – this single bag would have saved a little time.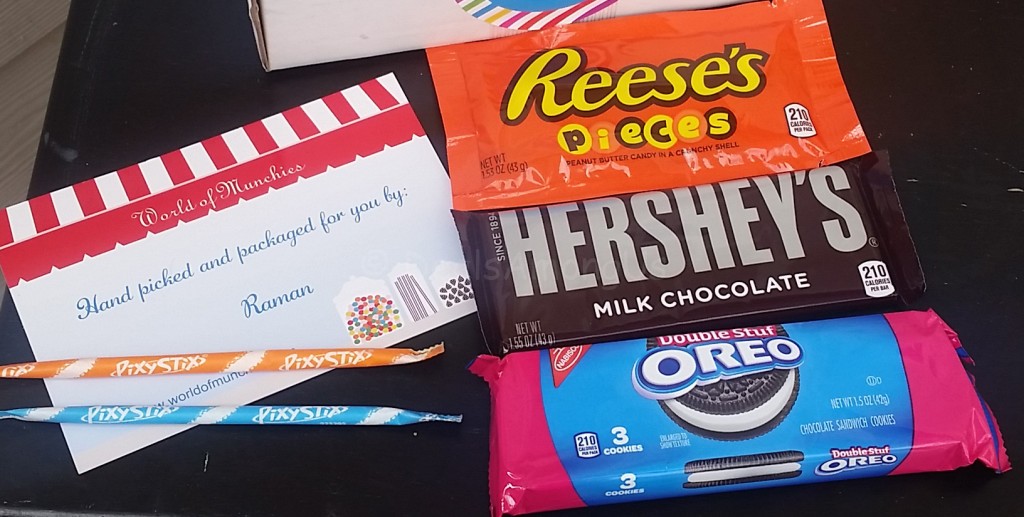 Reese's Pieces, Hershey's Milk Chocolate, Double Stuf Oreos and Pixy Stix as well as a card telling me everything was hand picked and packaged by Raman. I am sure I am not the only person who sees Reese's Pieces and thinks of that iconic movie from my youth – E.T. The Extra Terrestrial. I love Double Stuf Oreo's as well as chocolate. In fact, I melted the Hershey's Milk Chocolate bar and used it as a coating for my Oreo's. The Pixy Stix were a wonderful sugar boost when I needed it the most.
I loved the selection and the breadth of the American landscape the treats encompass. This would be a fun box for someone who needs a pick-me-up or a brightening of their day!
World of Munchies are available in 3 different options:
You can also find World of Munchies on Twitter
Let me start by saying that the products featured in this post were provided to me free of charge courtesy of World of Munchies. This post may have affiliate links but this in no way will influence the review to follow and all opinions are my own.
GIVEAWAY: World of Munchies is giving (1) – Red, White & Blue Snacker box to my to one of my readers! World of Munchies will give one reader (1) Red, White & Blue Snacker box which will contain 7 snacks. This is a $12.95 value! Open to all residents in US. I will be randomly choosing 1 person on February 19th (2/19/2016) to receive one Red, White & Blue Snacker box from World Of Munchies!!  To enter complete the entries below! Winner will be notified by DealsAmongUs by email and prize will be fulfilled by World of Munchies! Remember you have 48 hours to claim prize, or I will choose another winner. GOOD LUCK!!!