Stampin' Up – Tin of Cards – Review and Giveaway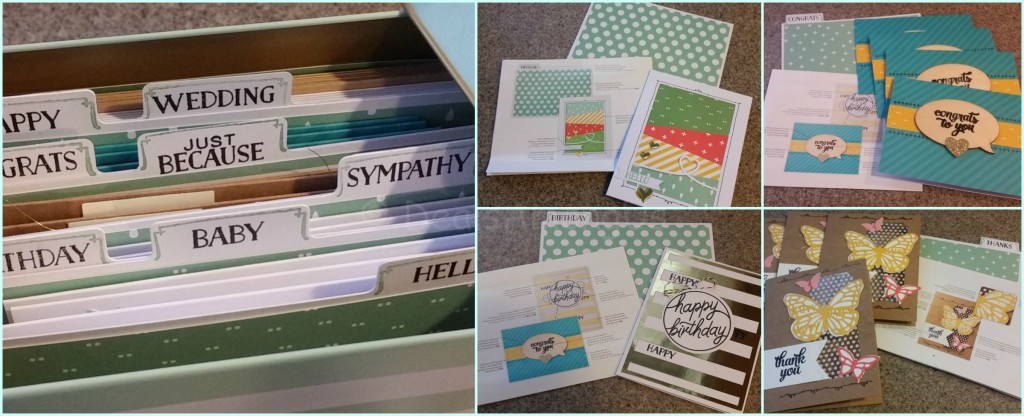 As regular readers will know each month I receive the My Paper Pumpkin kit by Stampin' Up (previous reviews here). Each month Stampin' Up sends a full project to My Paper Pumpkin subscribers that range from wrapping accessories, cards and even a calendar.
Since I love the art of sending a handmade card, these kits fit me just fine. I am also a huge proponent of having cards on hand for any occasion that may arise. I love to make cards and them store them in a simple and effective way. My goal is that, if the need arises, Jason can go to our card collection and he is able to easily choose an appropriate card. This system works well for our house, and we are able to remember many occasions that other people may otherwise forget.
I was reviewing the latest Stampin' Up catalog, and came across the Tin of Cards Project Kit and loved the idea of creating a tin of handmade cards that would help us remember the special occasions and moments in our loved ones lives.
The products featured in this post were provided to me free of charge courtesy of My Paper Pumpkin/Stamping Up, but this in no way will influence the review to follow and all opinions are my own.
This Tin of Cards Project Kit allows you to make 16 cards – 4 different designs of 4 cards each. The cards range from Thank You, Birthday, Congratulations and a simple Hello.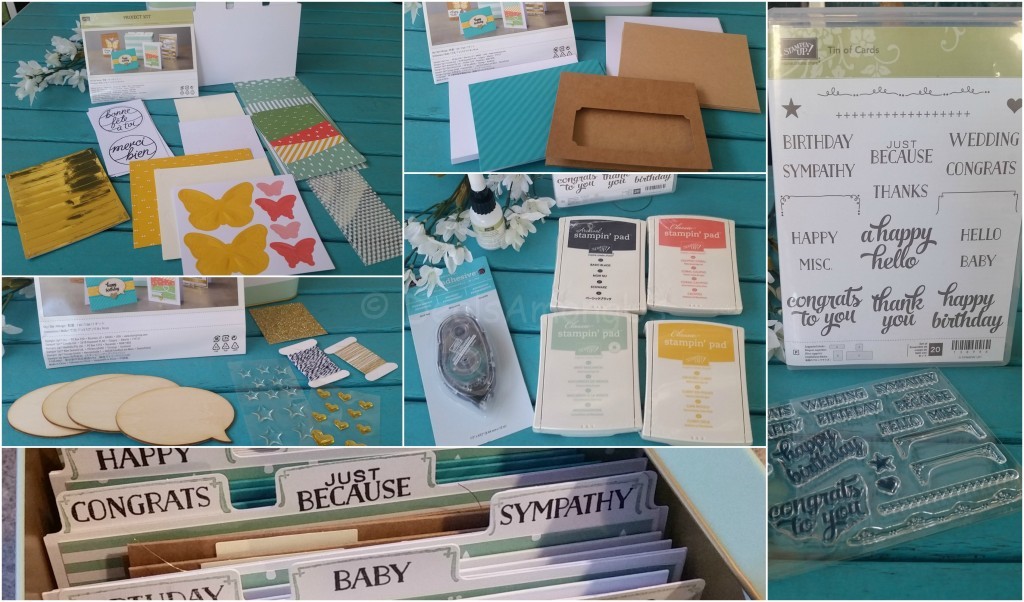 The following are included in the tin:
* 16 card bases and envelopes
* 1 printed tin box with lid, 6-3/4″ x 4″ x 5-3/8″
* 10 sheets of 4-1/4″ x 6-1/4″ Designer Series Paper, 2 ea. of 5 designs
* 4 die-cut Designer Series Paper strips
* Gold Glimmer Paper hearts
* Die-cut accents
* Printed acetate sheet
* Gold foil strips
* Metallic gold thread
* 1 sheet clear star epoxy stickers
* Gold epoxy hearts
* 4 wood die-cuts
* 9 file tab dividers
Coordinates with the Tin of Cards Stamp Set (item 138946). This is a selection of 20 photo-polymer stamps that will encompass almost any occasion. I would recommend getting a clear block to place the stamps on, as this makes the stamping A LOT easier. I just used baby wipes to clean the surface and that seemed to clean them of all residual ink.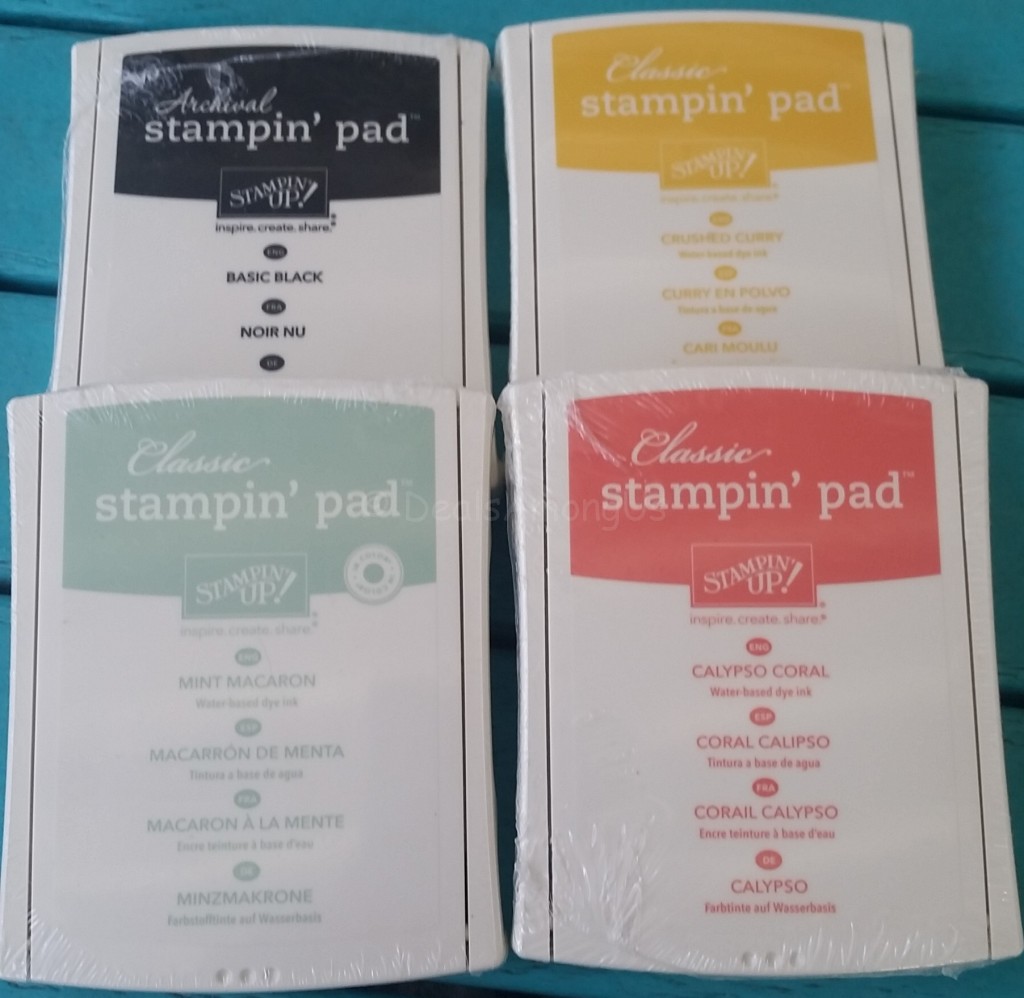 Coordinating ink colors: Calypso Coral, Crushed Curry, Mint Maccaron and Black. Each color is 4-1/2″ x 3-1/4″ and fast drying, permanent ink that is acid free. The ink stamp also has one of the most versatile cases in that it has a flip top for upside-down storage which means that the pads stay inked during storage. Also on the back of each stamp is a sticker that can be placed on the side of the stamp to make the storage and the later retrieval much easier. These also can be re-inked with Archival Stampin' Ink Refills.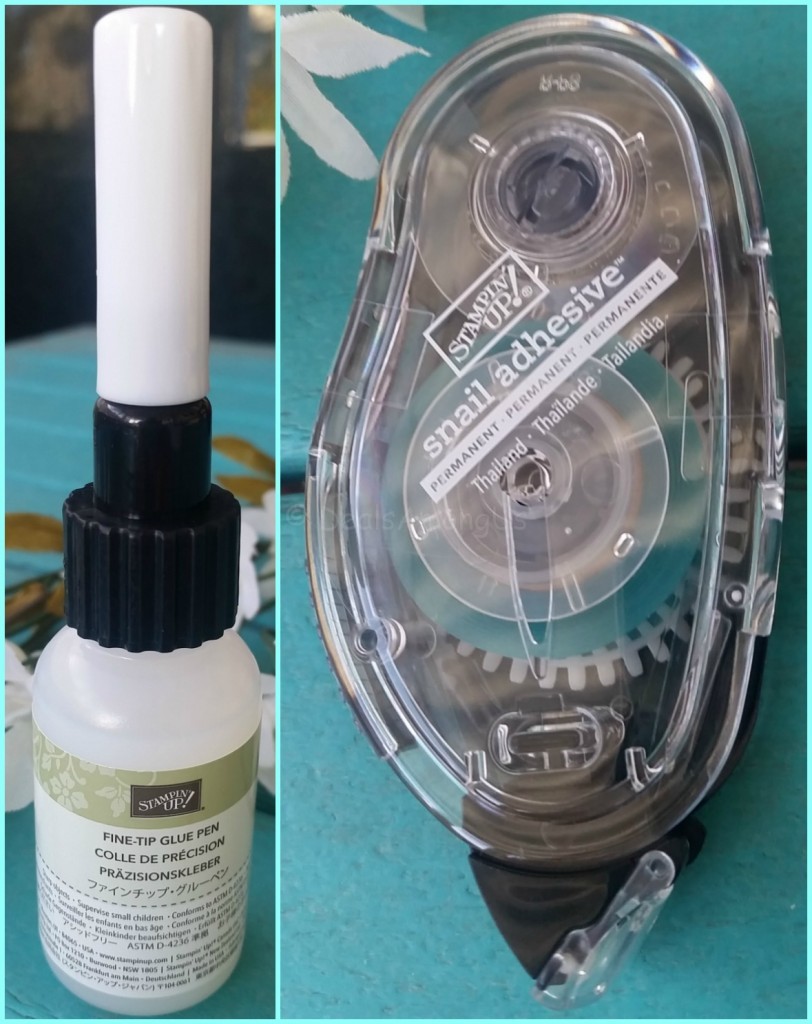 Also included was a Fine Tip Glue Pen and Snail Permanent Adhesive. I had never used a fine tip glue pen and this made the application of glue so simple. If you are a card maker, you HAVE to purchase one of these. The precise nature of this can not be matched. I have always been a fan of these adhesive tape runners, and this one worked perfect
In similar fashion of the monthly kits, there were instructions included. While these are easy cards to put together, I would have liked to see a little more direction in the instructions. I did second guess myself once or twice. I would also advise that when you stamp on wood, I would not leave the inked stamp on the surface for too long, as it will cause "bleeding" issues. If this does happen you can flip over the wood piece and try again (which I ended up doing).
I LOVED that I was able to create 4 unique, and very personal cards. The tin is the perfect size and since part of the project  is to make dividers, this makes this the perfect storage for those handmade cards. The tin's colors are subtle, yet very aesthetically pleasing and matches almost any environment.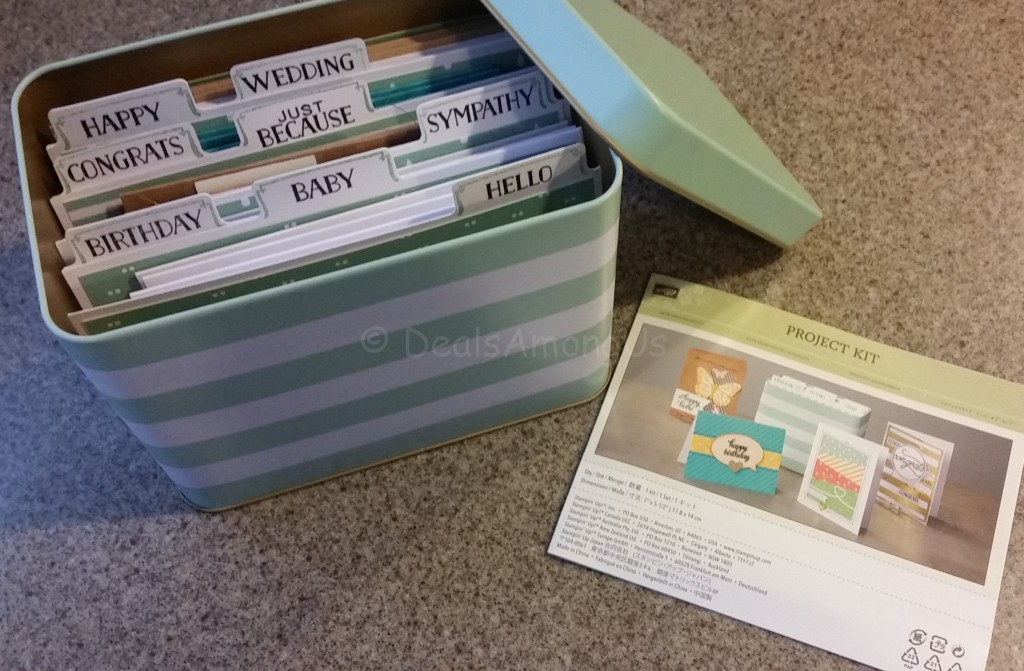 The stamp set contains 20 stamps that make this an even more versatile set, being that each stamp is reusable in almost any occasion. The stamp choice is more general themed and appropriate for any person from a loved one, friend or acquaintance. The flexibility and versatility with these 20 clear polymer stamps that are included makes this kit versatile for any occasion – happy or sad.
This Tin of Cards is simple and produces cute cards! This was a simple and easy project to put together and makes a big impression.
If you are interested in My Paper Pumpkin by Stampin' Up boxes they are are available for $19.95/month, $59.85/3 months, $113.70/6 months and $215.40/12 months and the shipping is included in the cost. The 6-month is a total savings of about $6, about a $1 a month savings and the 12-month is total savings of about $24, about a $2 a month savings thus ends up totaling the amount of receiving one kit free.
For more information about My Paper Pumpkin by Stampin' Up, click here
You can also find My Paper Pumpkin by Stampin' Up on Facebook and Pinterest
GIVEAWAY: My Paper Pumpkin/Stampin' Up is offering a complete Tin of Cards Kit to my readers! (1) reader will receive the (1) – Tin of Cards Project Kit, (1) – Tin of Cards Photo-polymer Stamp Set, (1) each of the following coordinating ink colors in Calypso Coral, Crushed Curry, Mint Macaroon and Black. Also included will be (1) – Fine Tip Glue Pen and (1) – Snail Permanent Adhesive. This is a $85.00 value!! Open to residents in the US only. I will be randomly choosing 1 person on April 12th (4/12/2016) to receive this Stampin' Up complete project kit!!! To enter complete the entries below! Winner will be notified by DealsAmongUs by email and prize will be fulfilled by Stampin' Up! Remember you have 48 hours to claim prize, or I will choose another winner. GOOD LUCK!!!