SuperSeedz: Gourmet Pumpkin Seeds Review and Giveaway

If we like it or not fall is coming. With fall comes the annual tradition of carving the pumpkin. The best part of pumpkin carving, at least in my opinion, is the guts that come out of the pumpkin that is recently been slaughtered/carved. While the contents can be wet and goopy at times, there are treasures contained in the web of strings.
The seeds contained in the strings have many uses including being transformed into soup, being baked inside breads, included in trail mix and being baked with various seasonings. I have never been brave enough or confident enough in my abilities to make these myself but have always loved them. Lucky for me there is a company that is taking the wonderfulness of the pumpkin seed and mixing them with some expected and some unexpected spices.
I was lucky enough to have the opportunity to sample and review all of SuperSeedz flavors which included Maple Sugar & Sea Salt, Really Naked, Sea Salt, Cinnamon Sugar, Coco Joe, Tomato Italiano, Curious Curry, Somewhat Spicy and Super Spicy. I have given a better description to each below:
The products featured in this post were provided to me free of charge courtesy of SuperSeedz. This post may have affiliate links but this in no way will influence the review to follow and all opinions are my own.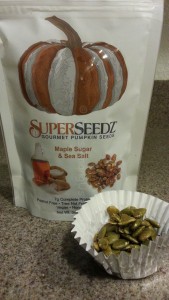 Maple Sugar & Sea Salt – The maple really came through on this but not so much of the salt, which would have been a nice strong contrast to the maple flavor.
Really Naked – These are just your bare bones, really naked seeds. Simple, clean and stripped is how these are and adaptable for your own seasonings or to have just plain.
Sea Salt – These had a touch of sea salt on them and the salt was more prevalent then on the Maple Sugar & Sea Salt variety which was nice. I am a huge fan of sea salt and generally enjoy it on almost any item.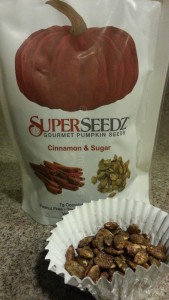 Cinnamon & Sugar – I am a huge cinnamon and sugar fan so this was right up my alley. The cinnamon was not overpowering while providing sugar crystals on each seed for a pop of sweetness.
Coco Joe – I originally had these in the April Send Me Gluten Free Box (click here to see that review). These are pumpkin seeds that are drizzled in dark chocolate with a coffee flavor. These has a good crunch and flavor, which attributed to 1/2 the bag being eliminated during the writing of this review.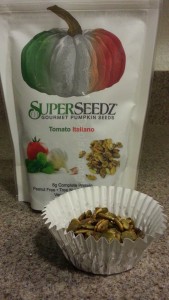 Tomato Italiano – The closest thing that I can describe this to is an Italian pasta sauce. The flavor was different and would be really good added to a salad or as a topping on a baked pasta.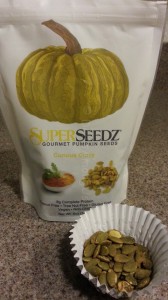 Curious Curry – Curry is an Indian spice and one that I am generally unfamiliar with, which meant that I was unfamiliar with the taste. It was strong on the spice (when I opened the bag there was no doubt it was curry) but overall tasty.
Somewhat Spicy – As I have gotten older I have begun to understand the importance of knowing ones limits, knowing what one can tolerate and what one can not tolerate. My tummy is sensitive to spice, but this did not irritate it much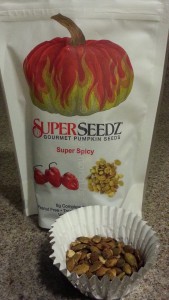 Super Spicy – These had a bit of a kick, but otherwise not much other flavor. The kick "kicked" in after a couple bites. Again, despite my sensitive tummy, these were tolerable.
Pumpkin seeds have many health benefits containing magnesium, zinc and tryptophan, which helps with sleep.I love that I can get a good variety of flavors, with the health benefits year round with SuperSeedz and would recommend them to all seed likers or lovers – you will not be disappointed.
I encourage you to visit SuperSeedz and on Facebook, Twitter or to purchase on Amazon.
GIVEAWAY: SuperSeedz is offering a 9 pack of SuperSeedz to my readers!  (1) lucky winner will be selected at random to win an assortment of seeds that includes the following: 1 –  5-ounce bag of each flavor: Maple Sugar & Sea Salt, Really Naked, Sea Salt, Cinnamon & Sugar, Coco Joe, Tomato Italiano, Curious Curry, Somewhat Spicy and Super Spicy.   I will be randomly choosing 1 person on September 9 (9/9/2015) to receive this seed filled treat!  Open to residents in the US only. To enter complete the entries below! Winner will be notified by me by email and prize will be fulfilled by SuperSeedz! Remember you have 48 hours to claim prize, or I will choose another winner. GOOD LUCK!!!
Win a SuperSeedz Variety Pack