Summer Salads at Wendy's & Gift Card Giveaway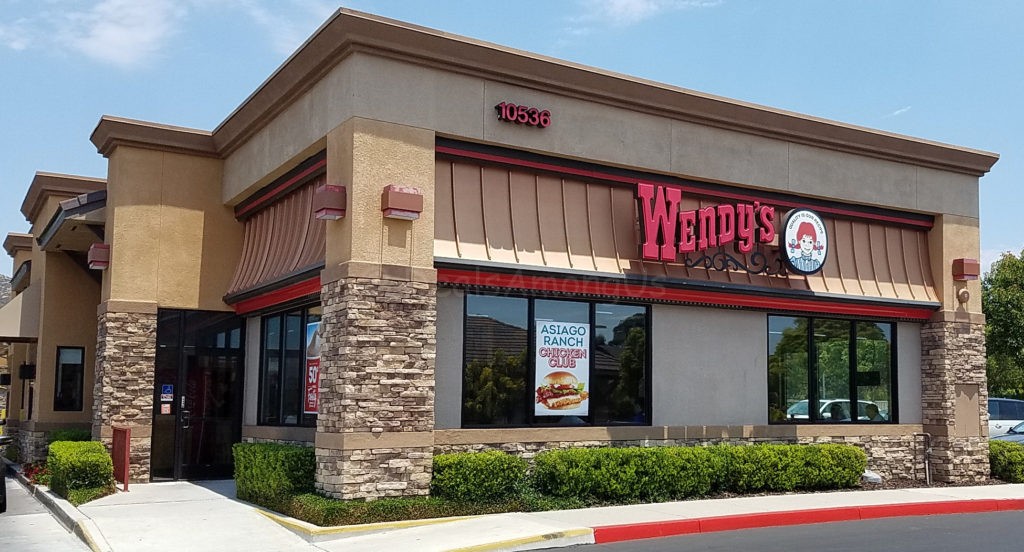 We all know the logo – the girl with pigtails with the collared shirt – she is Wendy. Wendy is the ubiquitous mascot to this international fast food restaurant. Since I was a young girl, I not only knew the logo but also knew the exits that they were located on frequently traveled routes. When I was young my father would enjoy stopping here, while I found the food not as tasty as other burger places, plus I wanted my toy in my meal. As I have gotten older and my tastes change, I have come to enjoy Wendy's in a way I could not appreciate when I was young.
A couple of weeks ago I was watching television and saw advertisements for a new salad with strawberries and mangos. I was curious how this fruity flavor would play against the lettuce and chicken.
I decided to reach out and within a couple weeks I was given the opportunity to sample Wendy's Summer Salads as well as thier other salads and three seasonal drinks that use Honest Tropical Green Tea as a base.

I was hosted at a local Wendy's in which i was able to sample all the salads, but this in no way will influence the review to follow and all opinions are my own.

I was given the opportunity to visit a local Wendy's and try each of their salads. Each salad has its own flavor and fresh ingredients.
Seasonal Salads: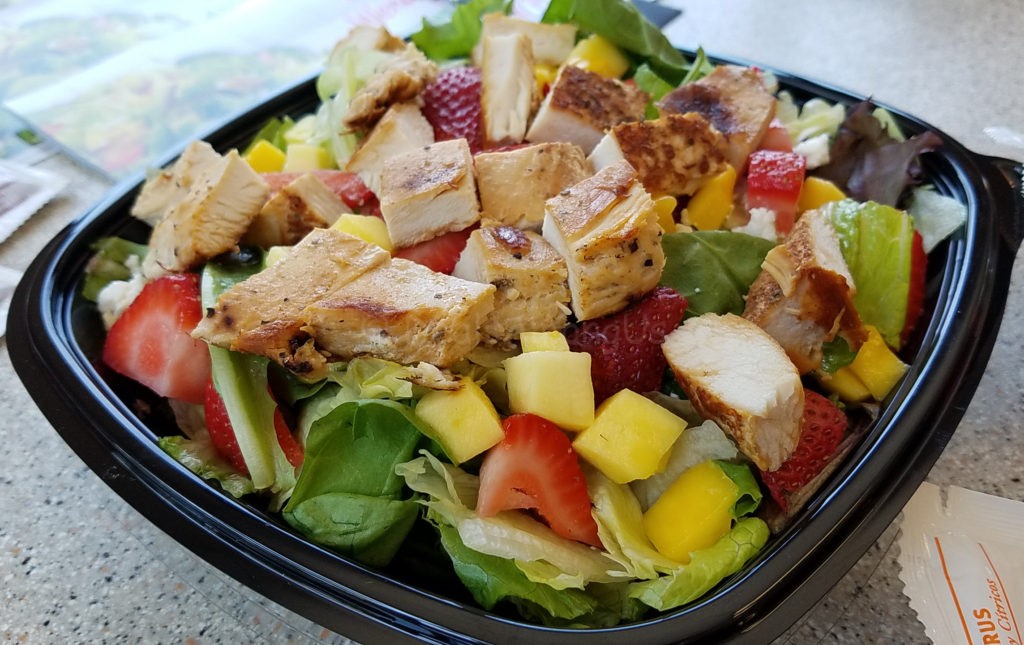 Strawberry Mango Salad – This seasonal salad features mango's, strawberries and grilled chicken with a honey-citrus vinaigrette dressing.
If you have ever had mango, you will know that the texture is a bit thicker than other fruits. I can honestly tell you that these different textures made this salad some much more than I expected.
Signature Salads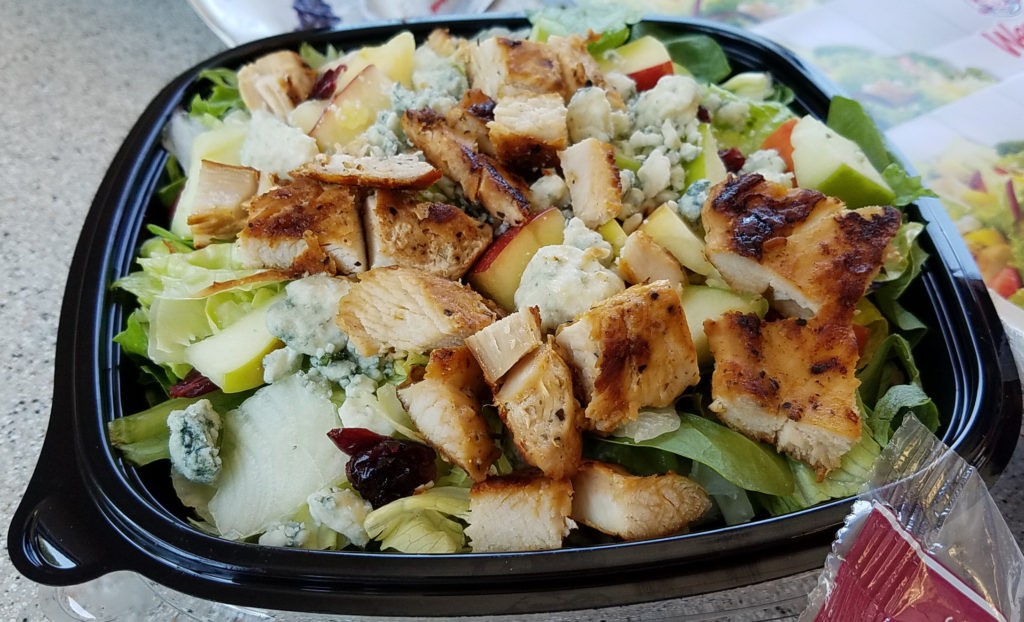 Apple Pecan Chicken Salad – This signature salad contains red and green apples, crumbled blue cheese, sweet cranberries, roasted pecans, grilled chicken. This salad has a Marzetti Simple Dressed Pomegranate Vinaigrette.
I had never had apples with blue cheese, and so I was curious how the flavors would blend. I loved the sweet of the apple and the sour of the cheese, and this is what would make me order this salad again.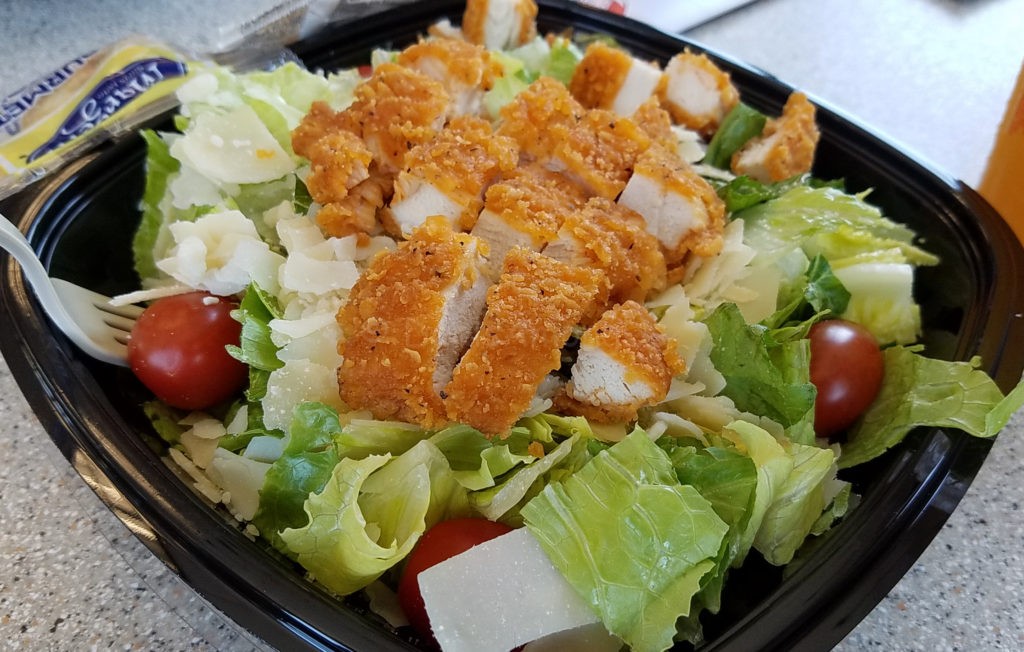 Spicy Chicken Caesar Salad – This is a Caesar salad that is as classic as it is delicious. This salad contains romaine lettuce that is hand-chopped, spicy chicken breast, a three-cheese blend of cheese containing Asiago, Parmesan and Romano cheese, grape tomatoes, and french bread croutons. A Marzetti Simple Dressed Caesar Dressing tops this Caesar salad off.
Since I was in my mid 20's I have loved a good Caesar salad and this is no exception. The spicy chicken was a nice addition to the dressing. If you are looking for a simple Caesar salad this is it!
Power Mediterranean Chicken Salad – This is the salad that you want after a good work-out. This protein packed and nutrient packed salad contains hand-chopped romaine lettuce, grilled chicken, feta cheese, sun-dried tomato quinoa and topped with a humus.
Let me tell you, i have never been a fan of humus, so this salad went outside my comfort zone a little. Let me also tell you that my opinion had successfully been changed, and I am now open to humus. I can not imagine this salad without it, and if you want protein, here it is!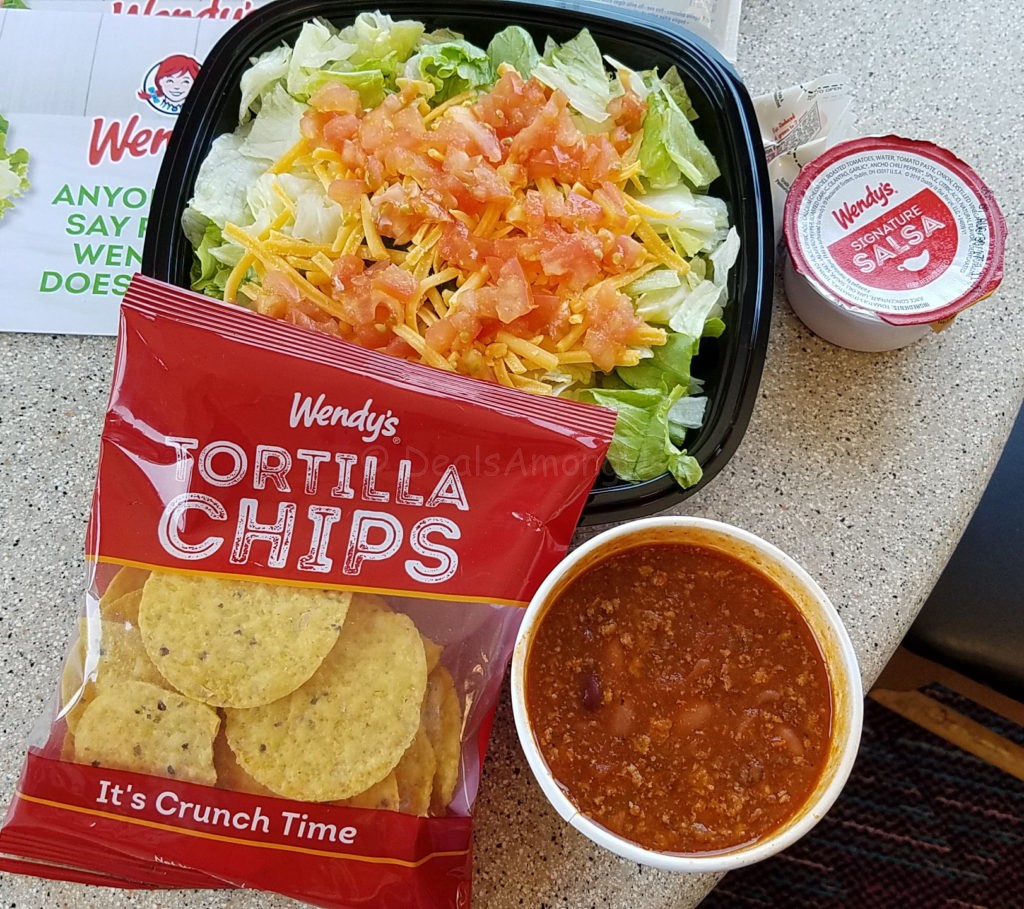 Taco Salad – The thing that surprised about me was this is just like a taco into a salad. This salad contains hand-chopped romaine lettuce, chili, shredded cheddar cheese, diced tomatoes with a chunky salsa and yellow corn tortillas top it off.
Being a Californian we see a lot of taco salads and this is an attractive and flavorful salad. On those days that I want a simple taco salad, I now know where to go!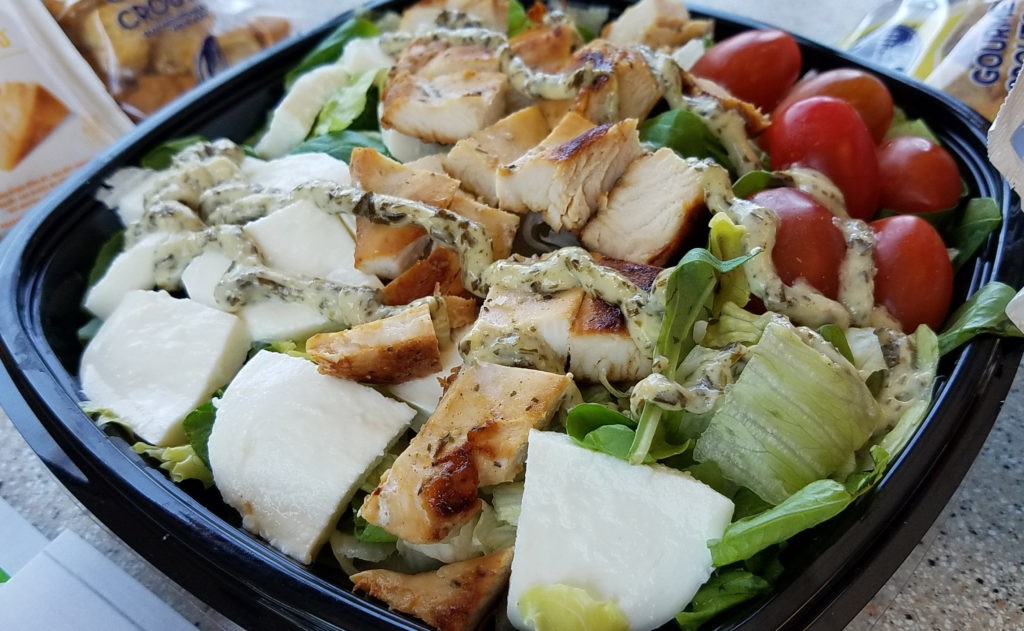 Fresh Mozzarella Chicken Salad – This is a freshly chopped up romaine lettuce combines with fresh mozzarella cheese chunks, grape tomatoes, seasoned croutons, and grilled chicken breast drizzled in creamy basil pesto. To finish this salad is it topped with a Marzetti Simple Dressed Balsamic Vinaigrette Dressing.
Any salad that has hunks of mozzarella cheese included is bound to be flavorful. My favorite part about the salad was that the cheese played off the lettuce in a spectacular and tasty way. This salad has been added to my library of salads I like.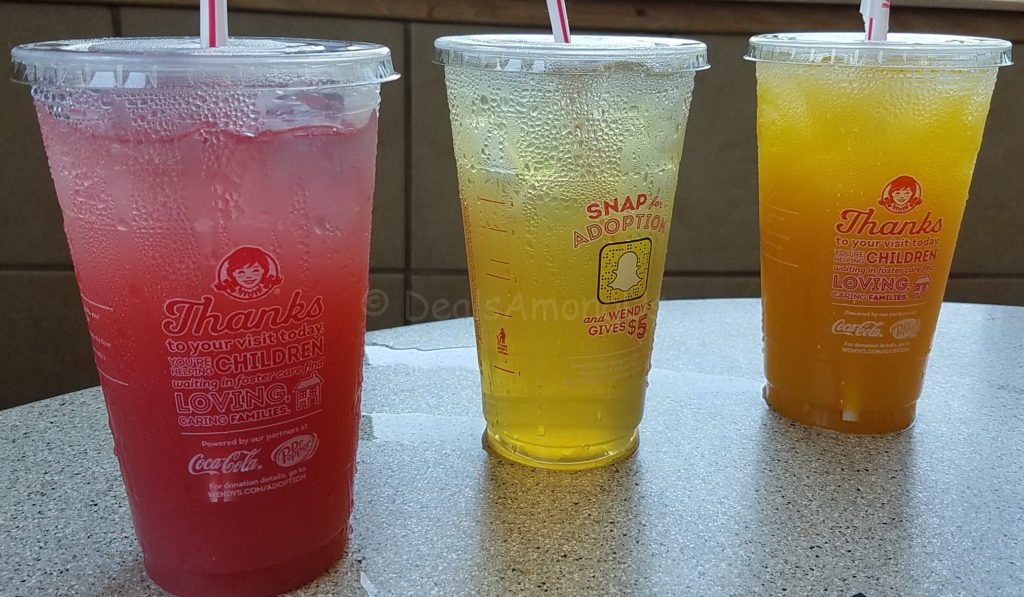 The drinks were all delicious and included the Strawberry Passion FruiTea Chiller that combines Organic Honest Tropical Green Tea with hand-shaken strawberries and passion fruit juice. The second drink was the simple Organic Honest Tropical Green Tea over ice. The third drink was the Mango Peach FruitTea Chiller which combines the Organic Honest Tropical Green Tea that is hand-shaken with mango and peach puree.
While I did have a favorite of these salads – the seasonal Strawberry Mango Salad, I enjoyed each one. There really was not a salad that I would not order, or eat if purchased for me. Each salad has its own taste, and its own flavor but that is what makes them delicious. Each salad would be good on its own or as a meal, the size of the full salad is enough for sharing, just have something else with it if you do share it.
Be sure to give these salads a try, the seasonal are here for a limited time, but the others are always available and fully customizable.
*************************************************
What is your favorite salad? Tell me below!
*************************************************
Click here to learn more about Wendy's Summer Salads
Find a Wendy's Location near you
You can find Wendy's on Facebook, Pinterest, Twitter and Instagram
*************************************************
GIVEAWAY: Wendy's Restaurants is giving one a salad and drink gift cards to five lucky reader's! (5) lucky winner's will be selected at random to win 2 set's of the following: (1) Free Salad and (1) Free Small Beverage to use at their local store. Note that these are only valid at "San Diego County" locations – This is an approximate $20.00 value! I will be randomly choosing 1 person on August 13th (8/13/2017) to receive this coupon combo! Open to residents in the US – San Diego County area. To enter complete the entries below! Winner will be notified by DealsAmongUs by email and prize will be fulfilled by Wendy's/DealsAmongUs via US Postal Service Mail. Remember you have 48 hours to claim prize, or I will choose another winner. GOOD LUCK!!!
Save
Save
Save
Save
Save
Save