KittyRoo Sweatshirt Review + Giveaway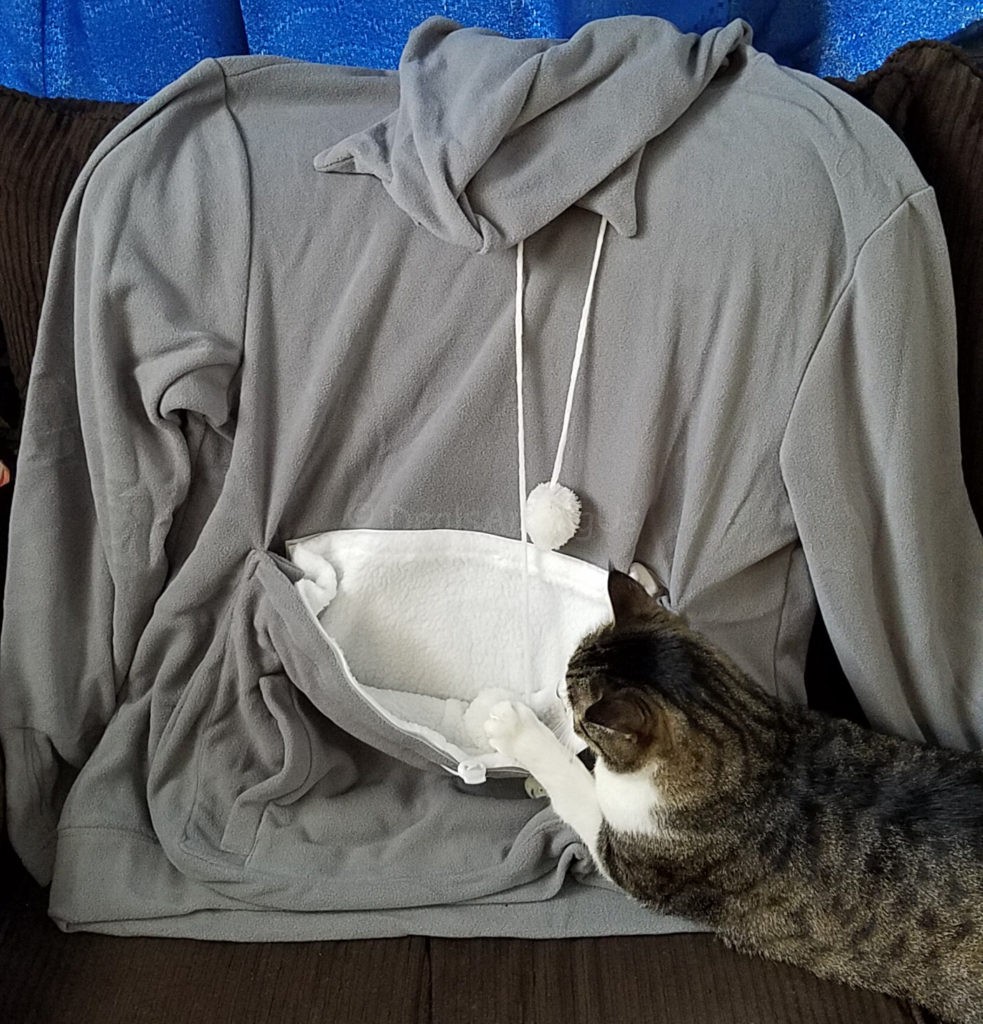 There are many things that pull at my attention throughout the day, the largest being the cats. When I say "the cats" really i mean Maggee. There is nothing that Maggee loves more than attention, and she will take it anytime and anyway she can.
One of her favorite things is to sit on our laps, with paw on the chest and head in prime position to bump into the chins of the humans.
I love this time with her and encourage it more than I probably should. A couple of months ago I started seeing a sweater for cat lovers called the KittyRoo Sweatshirt, Many friends had shared this with me, and after a couple of months, thought it time I get one for review.

The products featured in this post were provided to me free of charge courtesy of Kitty Roo/Rosica Communcations, but this in no way will influence the review to follow and all opinions are my own.
I received a 2XL Grey KittyRoo Sweatshirt for review.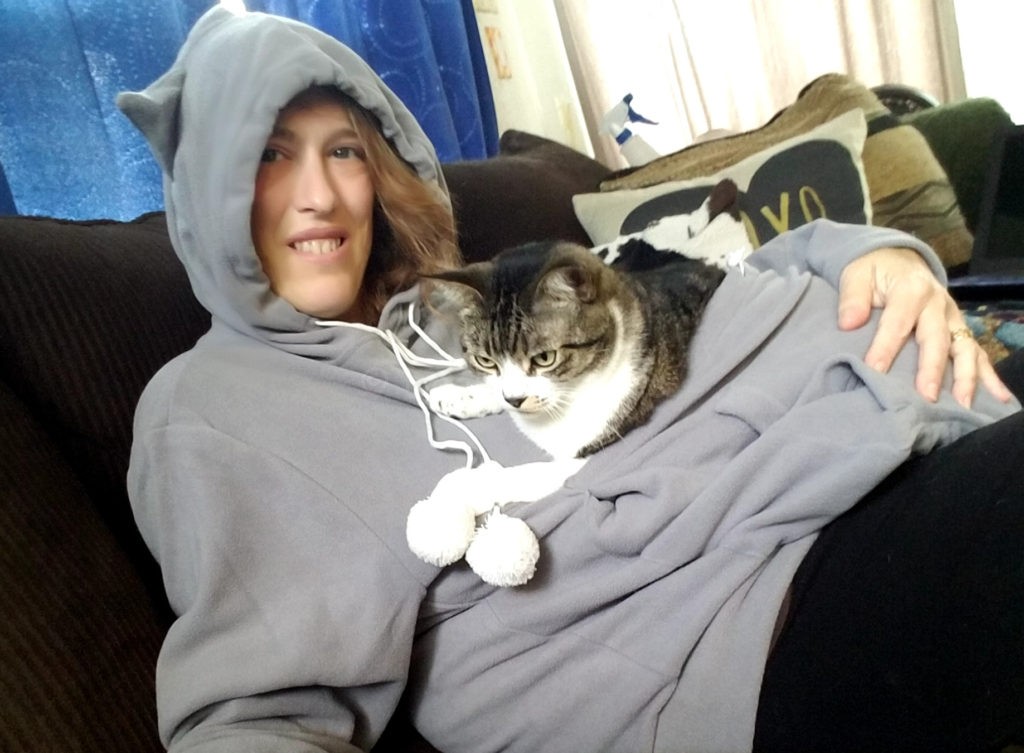 The basic idea of the Kitty Roo Sweatshirt is that it is a soft sweatshirt with built-in snuggle pouch that makes the carrying of your kitty while keeping your hands free. Maggee is a bit larger and when I put her in the pouch she lacked the support that she needs to be comfortable.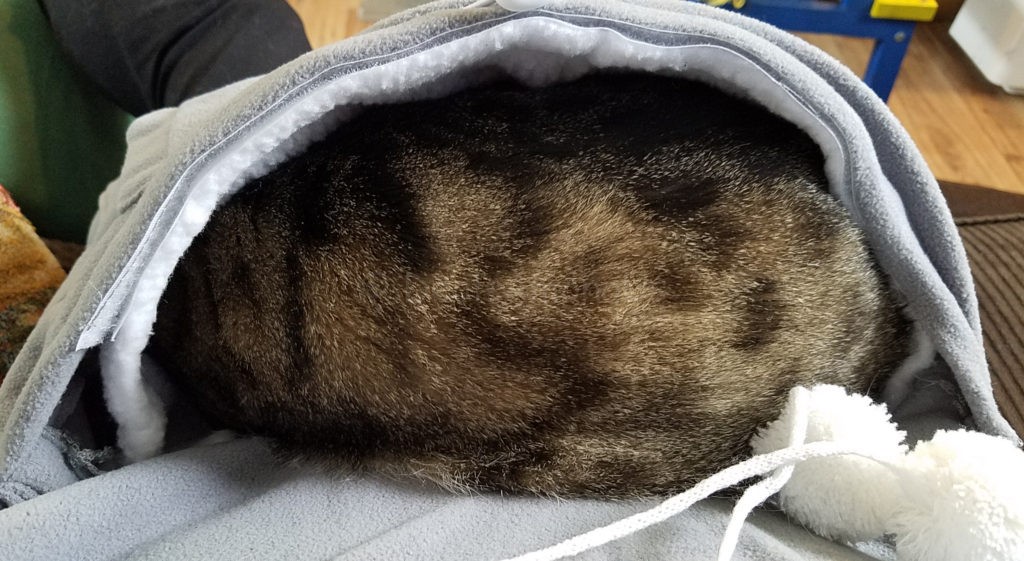 The pouch is large, and can holds cats and small dogs. The design of this is to keep kitty close and secure and that it accomplishes. The sweater is made of a soft fleece with a removable with velcro furry fleece pouch that is removable which makes for easy machine washing.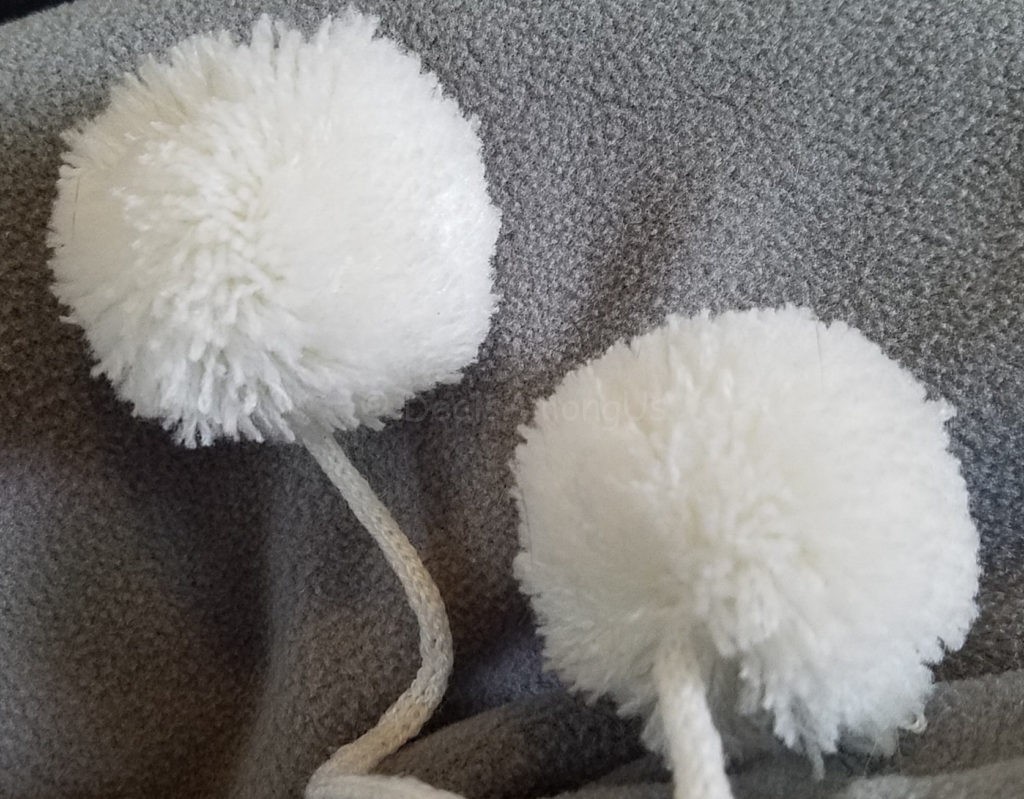 The sweater also has a number of added features such as built-in paw gloves, which is a slit in the sleeve to slide your thumb while retaining use of your hand. The hoodie also had cute ears as well as extra-long draw strings with fluffy yarn balls that allow your pet to play.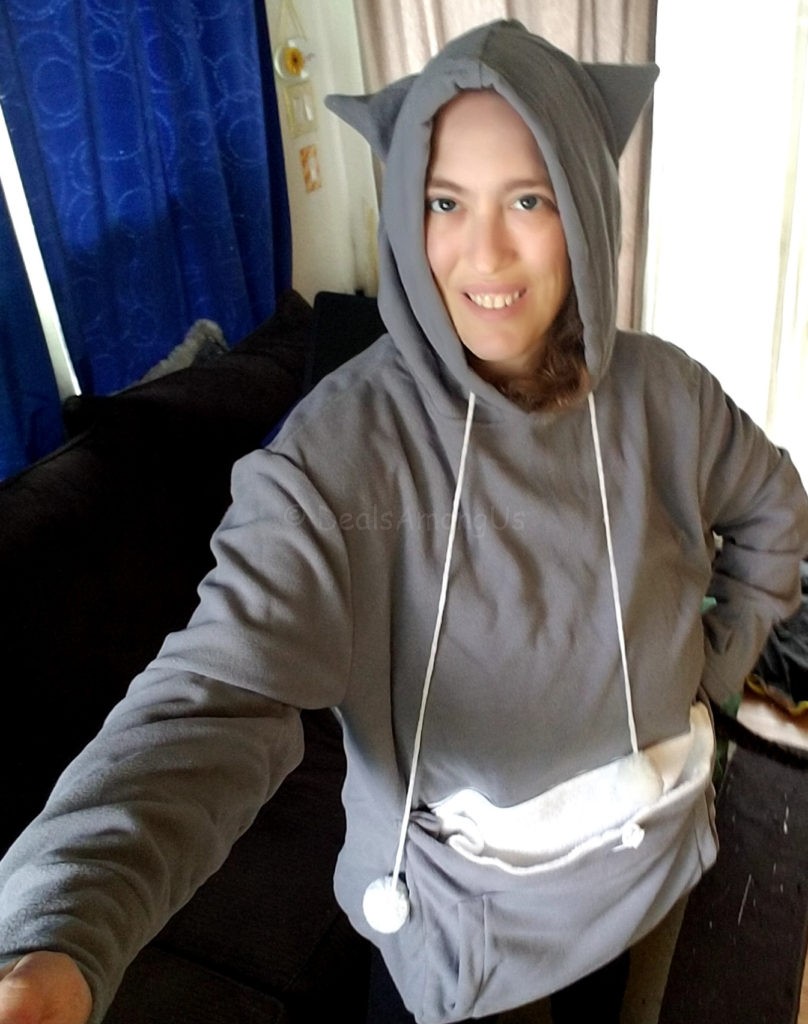 I can see this being of great use when I am relaxing on the couch, watching TV, or reading a book. This would be difficult to use and have Maggee in when I am working at my computer.
Since I love to wear big sweaters I ordered this in a 2XL and honesty i think it runs a little small, as while I had room, and Maggee had room, it was not as bug as a typical 2XL, and fit more like a 1XL.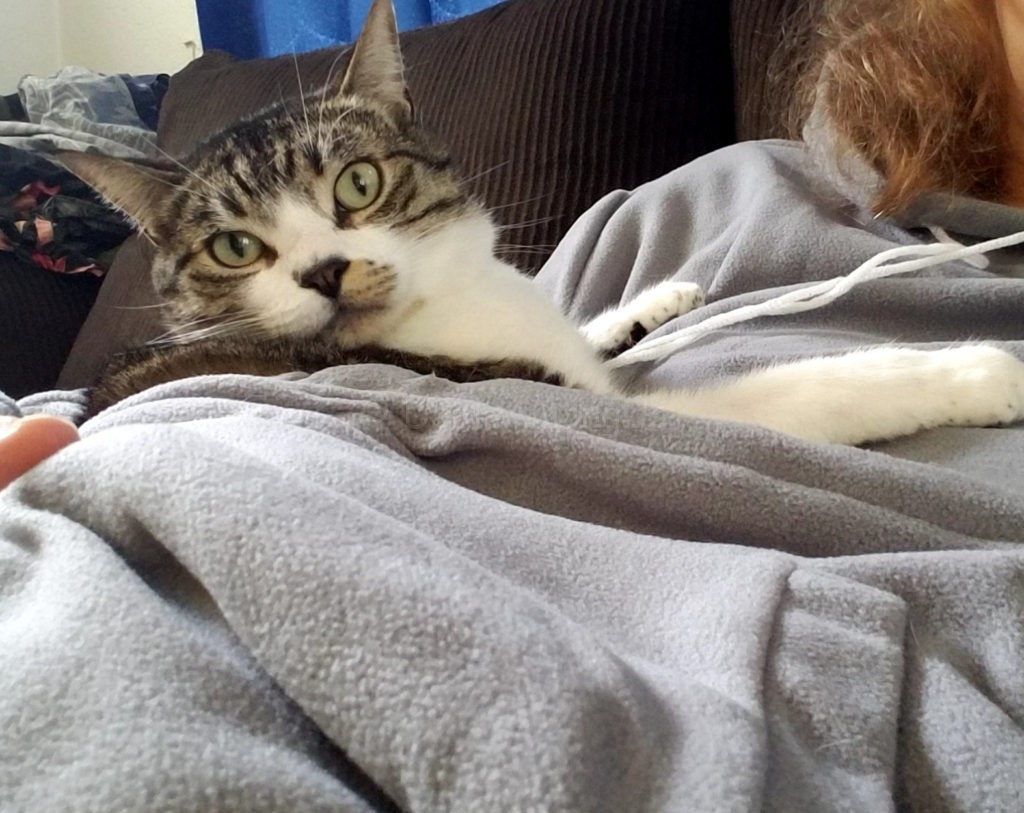 Despite the minor size issue, I loved the KittyRoo Sweatshirt and when the temperature drops I plan to wear it and spend some quality time with my girl. If you have young cats, or kittens, I think that this would a great way to bond and spend time with your pet and if your pet is older, this would be the perfect way to comfort and bond with them!
Where is your cat's favorite place to sleep? Tell us below!
*************************************************
The Kitty Roo Sweatshirt retails for $29.99 and is available for purchase on KittyRoo Sweatshirt
*************************************************
Find KittyRoo on Facebook
Click here to learn more about KittyRoo Sweatshirt
GIVEAWAY: KittyRoo is giving a set of 1 KittyRoo Sweatshirt to one lucky reader! (1) lucky winner will be selected at random to win (1) KittyRoo Sweatshirt in either Large, Extra-Large or 2XL in Grey Fleece – This is a $29.99 value! I will be randomly choosing 1 person on July 16th (7/16/2017) to receive this sweatshirt made for kitty! Open to residents in the US only. To enter complete the entries below! Winner will be notified by DealsAmongUs by email and prize will be fulfilled by Rosica Communications/KittyRoo. Remember you have 48 hours to claim prize, or I will choose another winner. GOOD LUCK!!!
Save
Save
Save