Let me start by saying that the products featured in this post were provided to me free of charge courtesy of Kitty Kush Catnip/Trust Fund Pets, LLC. . This post may have affiliate links but this in no way will influence the review to follow and all opinions are my own.
Kitty Kush Catnip Review and Giveaway
There is little to no doubt that our Murfee likes catnip and I will admit that we indulge him. I have attempted to grow my own for him, but each time something unexpected happens to the crop. The first time we had a heat wave with wind and before I knew it the plastic pot disappeared. The second time we almost had a full crop and then magically it was gone. I am not sure if a neighborhood cat stole it, ate it or the magical catnip trolls took it. This last time life got in the way and I just plain forgot to give it the needed water and love it needed.
We had read that catnip does not affect cats under 9 months old, or until they reach sexual maturity, so we waited until he was about a year old. Ever since the introduction was made, Murfee and catnip are two peas in a pod. I recently came across a new product called "Kitty Kush Catnip
" that resembles a salt grinder but grinds cat nip instead!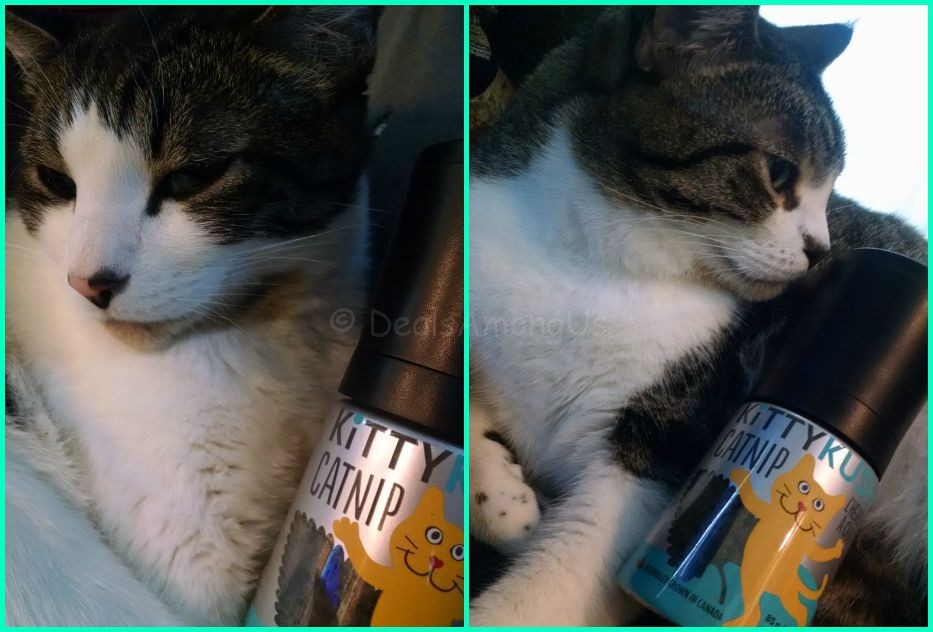 The basic idea behind this product is that it comes prepacked with cat nip pellets that are infused with essential oils and compacted together. When you want to give your kitty some catnip all you do is turn the built in grinder much like you would turn a salt grinder. A little goes a long way due to the concentrated nature of this product – I literally did less then one full turn for Murfee and that was enough.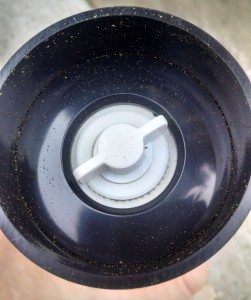 In case you are unfamiliar with catnip it is a plant that is from the mint family that when ingested by cats (it does not affect humans and dogs) gives them an almost intoxicated effect. This "intoxication" can include things that range from playful and energetic playtime to the opposite effect of sleep and lethargy. Generally speaking, catnip lasts from anywhere to 5 minutes to 15 minutes.
Kitty Kush Catnip
comes in a UV protected package, what this means is that it will block sunlight (which can destroy the pellets potency). Also added is a moisture absorber that helps to regulate the inside of the can. What this really all means is that you can store this package just about anywhere; well anywhere safe from your feline companions. We tried to keep this on the counter, but as usual Murfee was a step ahead of us and spent an evening trying to bust in the package. In the morning the package was unaffected by his efforts and subsequently was been moved in a cabinet.
I do not know what the catnip does to my boys brain or body but it definitely affects him.  For the happiness he exudes makes my attempts worth it. Since I am always going to give him catnip I am going to provide the best, freshest and most concentrated products I can find. I can tell you that I am never going back to the dried catnip that has a tendency to spread in places you do not want it – Kitty Kush Catnip
is our new favorite cat item!!!
To purchase visit Kitty Kush Catnip or on Amazon.com
I encourage you to visit Kitty Kush Catnip on Facebook and Twitter
GIVEAWAY:  Kitty Kush Catnip is offering one of their Kitty Kush Cat Nip Grinders to 3 readers!  (3) lucky winner's will be selected at random to each win 1 Kitty Kush Catnip Grinder.  I will be randomly choosing 3 people on September 14 (9/14/2015) to receive this prize!  Open to residents in the US and Canada. To enter complete the entries below! Winner will be notified by me by email and prize will be fulfilled by Kitty Kush Catnip/TrustFund Pets, Inc.! Remember you have 48 hours to claim prize, or I will choose another winner. GOOD LUCK!!!
*
*