A Impractical Journey with The Tenderloins – Part One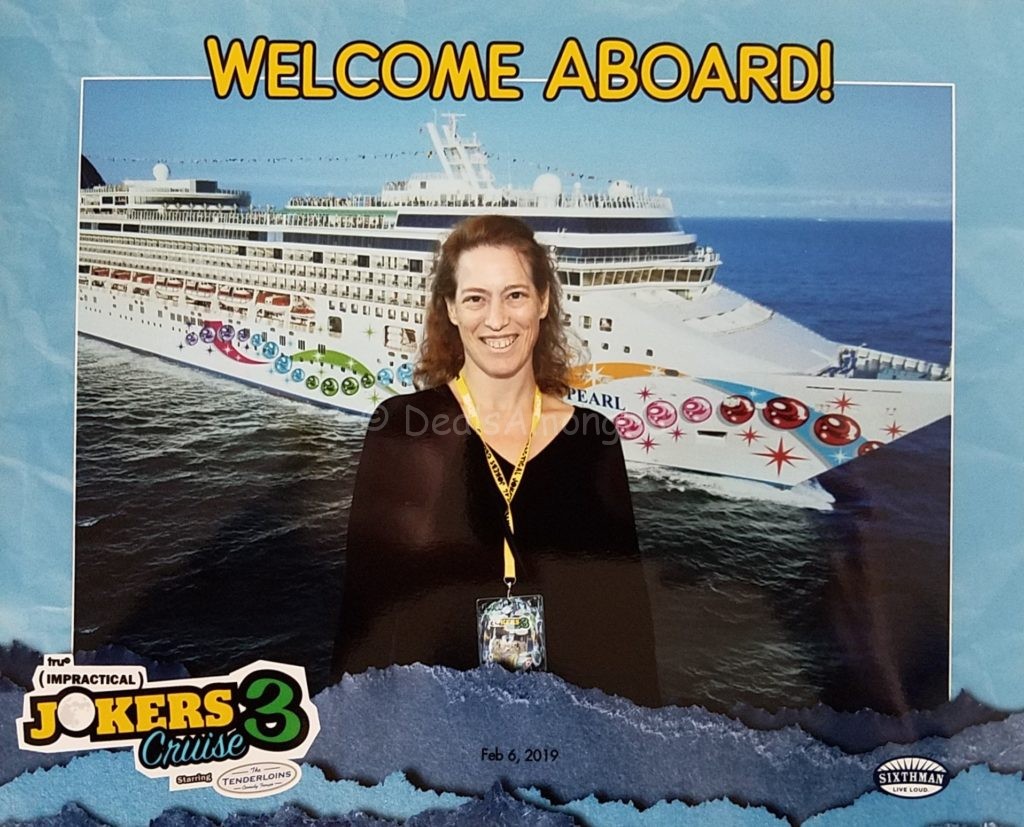 The call came in the day before the 6 month anniversary of losing my father, it came from Atlanta, and it was notifying me that a space had opened on the 3rd Annual Impractical Jokers Cruise.
After my shock and utter excitement wore off I returned the call and learned the details I would need to officially book this unique opportunity. There was little to no hesitation as I was offered a mid-ship balcony room. I paid my balance, and the email came in that I was confirmed a passenger for the February sailing.
What the Impractical Jokers Cruise is the unique fusion of a 4 day cruise with the comedy troupe "The Tenderloins" who are also known as Tru Tv's Impractical Jokers on the Norwegian Cruise Lines ship "The Pearl".
First, let me introduce you to the Impractical Jokers –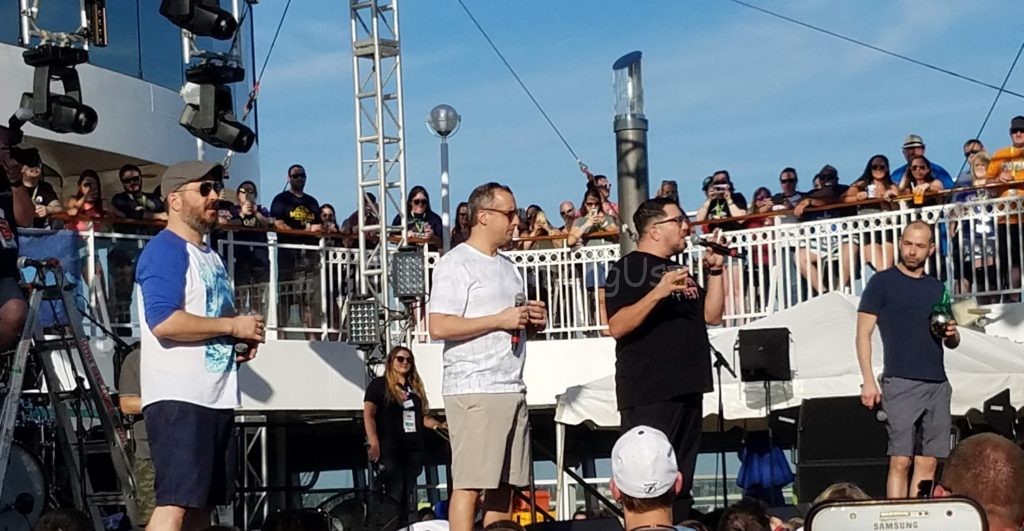 The Tenderloins/Impractical Jokers consists of 4 high school friend's consisting of Joesph "Joe" Gatto, James "Murr" Murray, Brian "Q" Quinn and Salvatore "Sal" Vulcano who compete to embarrass each other. Generally each show consists of a "challenge" (aka: a prank), the guys introducing where they are, and what will happen if one fails the "challenge". As hidden cameras watch the action, the other jokers egg on the competing joker and try to make the prank more extreme to cause the competing joker to "fail". If a joker fails they get a thumbs-down, and at the end of the episode a "loosing" joker is punished with a more embarrassing, more humiliating, more disgusting, painful or scary challenge. The Joker can not refuse the punishment or get kicked off the show.
The cruise was on the Norwegian Pearl, a "Jewel" Class ship, is a 965 foot ship that is 15 stories high. It is such a great ship there was a CNBC Special done on it – Cruise Inc: Big Money On The High Seas.
Each year the ship is overtaken with over 2300 Impractical Joker Fan for 4 days of comedy, shows, surprises and moments with the comedy troupe.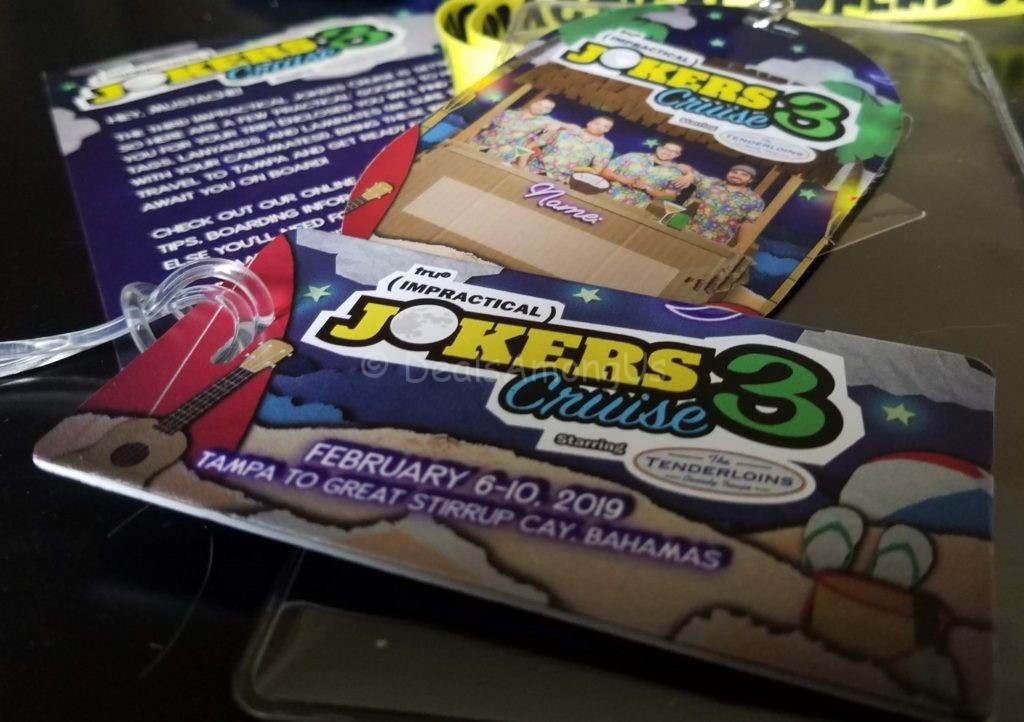 Once I booked the cruise one of the first times I heard from the cruise coordinators was around late November, when I received a purple package that contained branded luggage tags, branded name tag, branded lanyard with "newbie" printed on it (which is now my favorite of all the lanyard I have received to date) and a postcard greeting us cruisers. After that it was just a matter of waiting – waiting 4 long months until I could sail away.
The time passed fast, and during the wait I joined the Impractical Joker Cruisers Facebook pages, and a special page for Deck 9 fellow passengers. This allowed me to introduce myself, get tips from previous cruisers, meet new people and be a bit more educated about my upcoming adventure. This proved the second morning to be a great thing when I was approached by a fellow Facebooker who I was communicating with.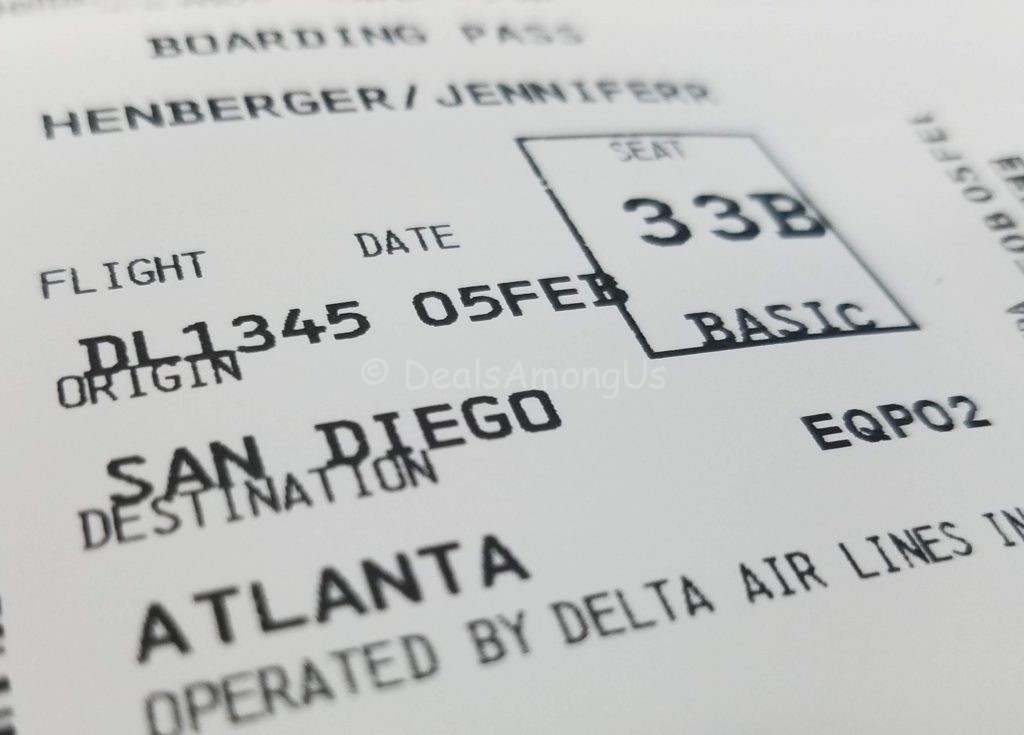 Since I am in San Diego I had to fly over to Tampa, Florida to meet the ship. The decision was made for me to fly over the day before, since weather could affect my trip, waits at TSA and simple delays could cause me to miss the ship if I flew in the day of the cruise.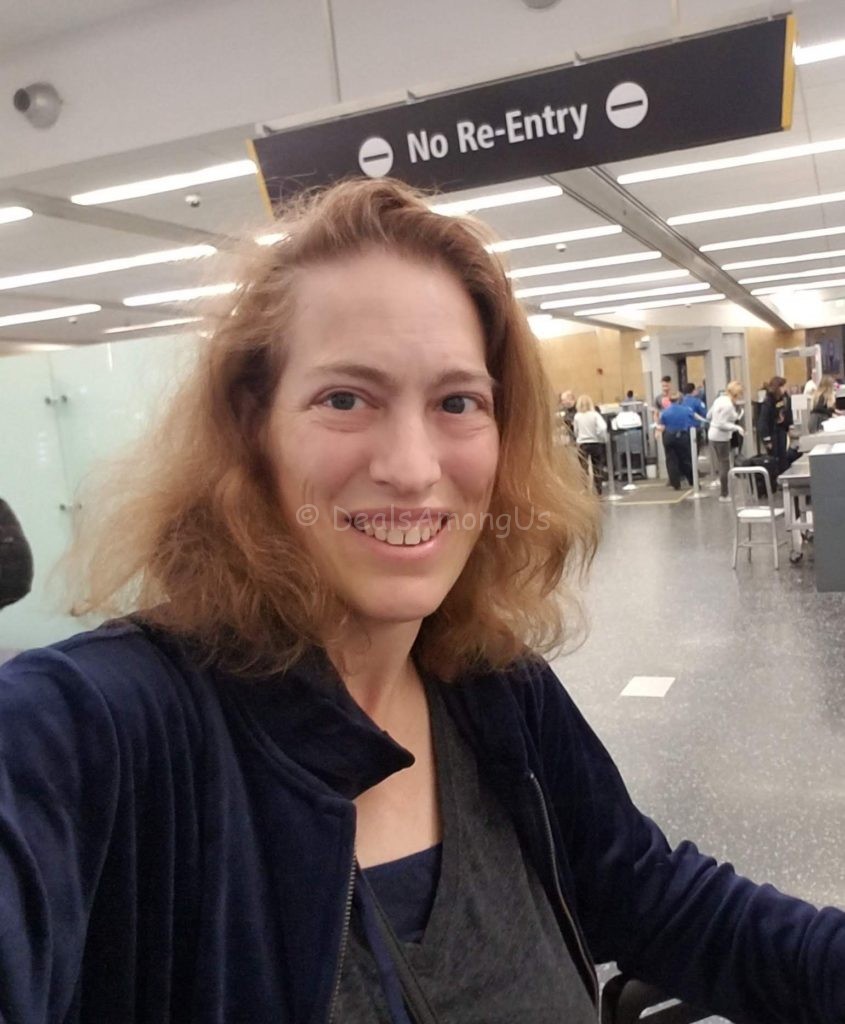 I had an early morning flight out of San Diego – 8:00AM which put me at the airport at 6:00AM, leaving the house about 5:15AM and waking up at 4:15AM to get up and get ready. I hardly slept that night before and was exhuasted when I got to airport. Once I arrived I checked my luggage, got through TSA in record time (I am sure the early AM hour had something to do with that) and was on the other end of the security checkpoint. My housesitter was kind enough to wake up at that early hour and take me to airport, which meant the world to me.
I knew I had an adventure ahead of me as I was due in Atlanta with a brief layover, and then a final flight to Tampa. The San Diego to Atalanta leg was filled with turbulence. The Impractical Jokers were on as in-flight entertainment, and during moments of the plane dipping slightly, I calmed myself by remembering my dad saying that turbulence is normal.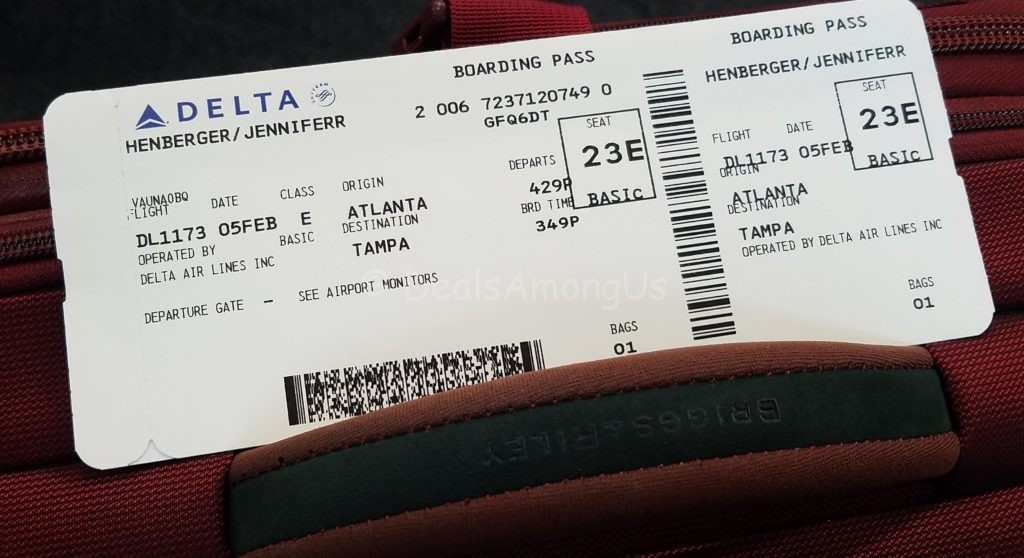 The Atlanta to Tampa route was a shorter flight, and much smoother, and most importantly early on arrival.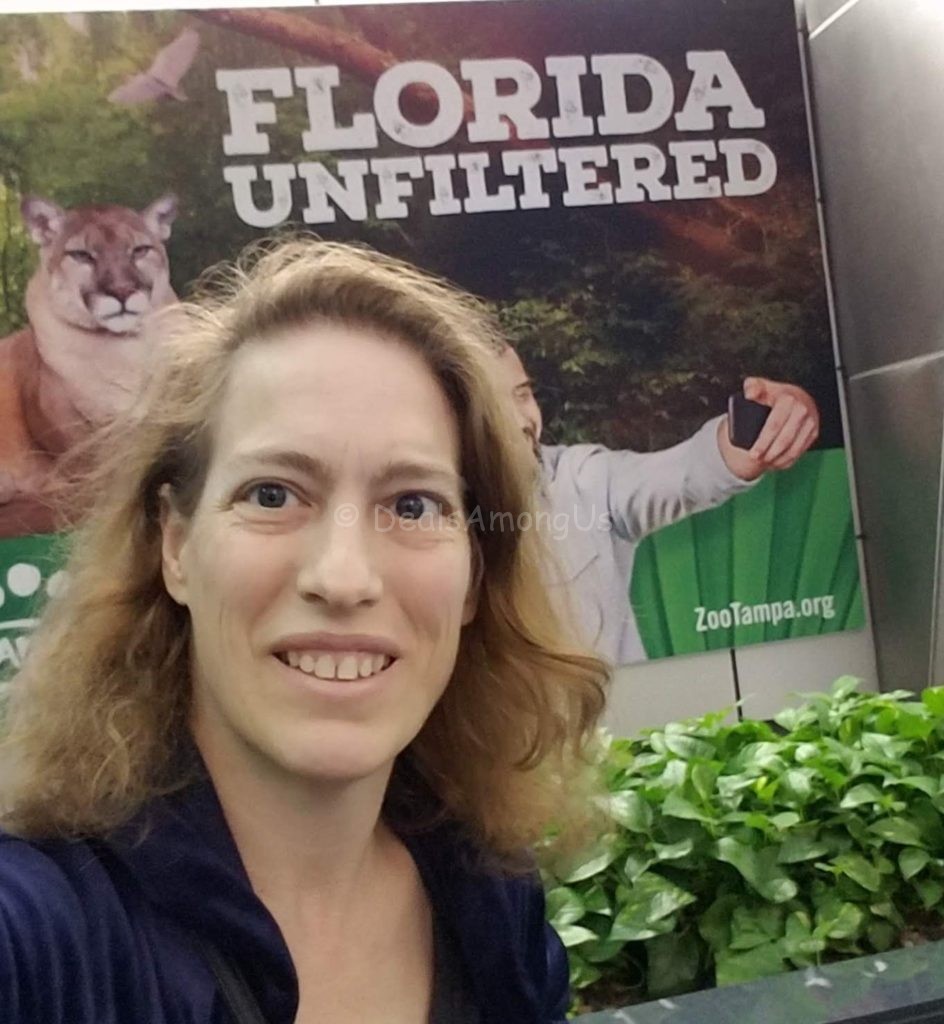 Once I arrived in Tampa it was time to get to my hotel, rest, eat and prepare for the next day. It was about a 45 minute drive to the airport to the hotel and not the best accommodations, but adequate for the simple overnight I was doing.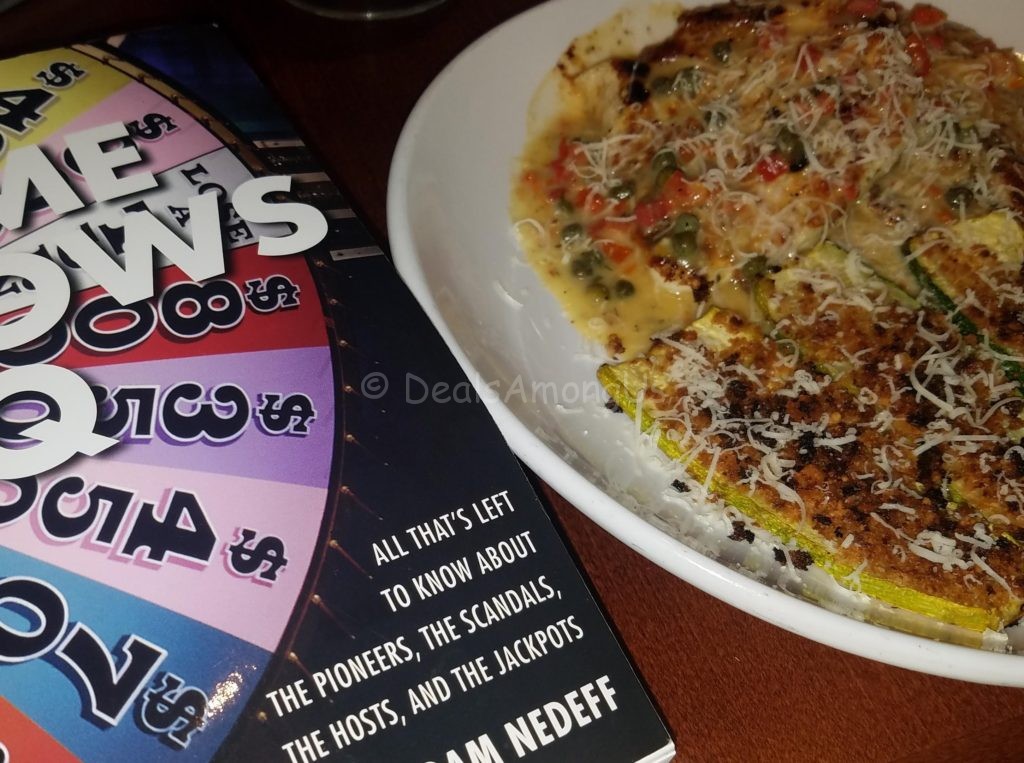 I ended up walking over to Olive Garden for dinner, which in retrospect I should have gotten a Uber as I was not in the safest part of Tampa (across from Busch Gardens for you Florida folks). Despite that, dinner was tasty and filling.
At about 10:30PM I received an email that stated that The Pearl was delayed and not allowed in port from the previous cruise due to severe fog, which postponed our embarkation by an hour. We would hear in the AM around 8:00AM about the status, although with technology today, people on the Facebook group were tracking The Pearls location in real-time, so we knew before the email went out that the ship had arrived in port. I decided to take the advice in the email and push my arrival by an hour, which gave me time to charge my phone, call an Uber, and check-out of the hotel.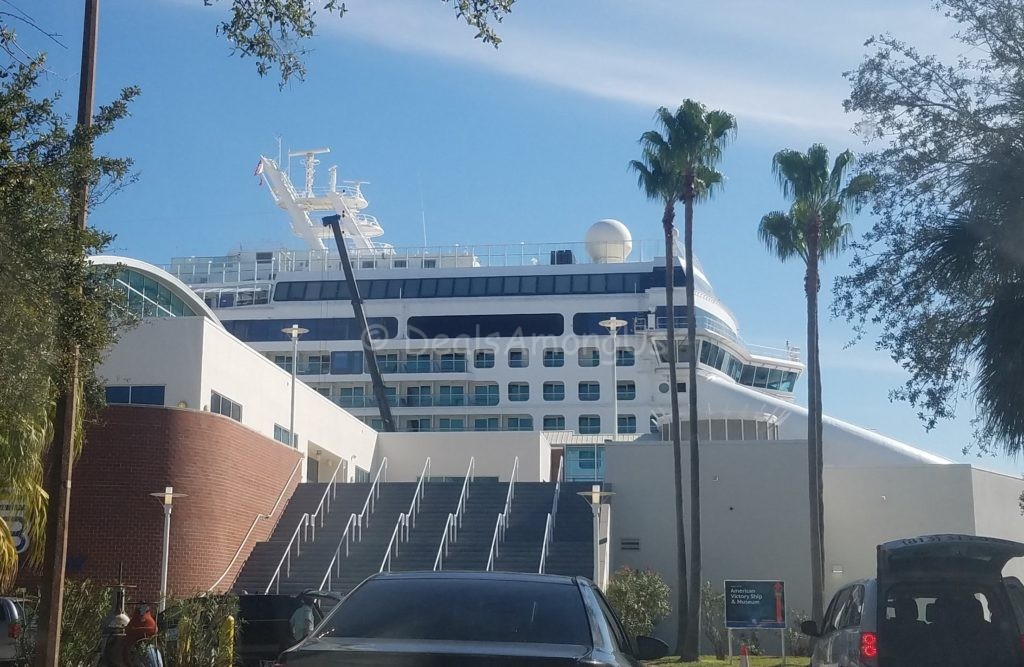 I checked out of my hotel and arranged my Uber ride. After the driver arrived and we loaded my luggage we got underway. As my Uber driver took me along the freeways, roads and a pass by the court-house I realized that this could be San Diego since it looked so similar. It was when I approached the port and saw The Pearl for the first time that I realized that this was happening and within hours I would be on the ship looking out.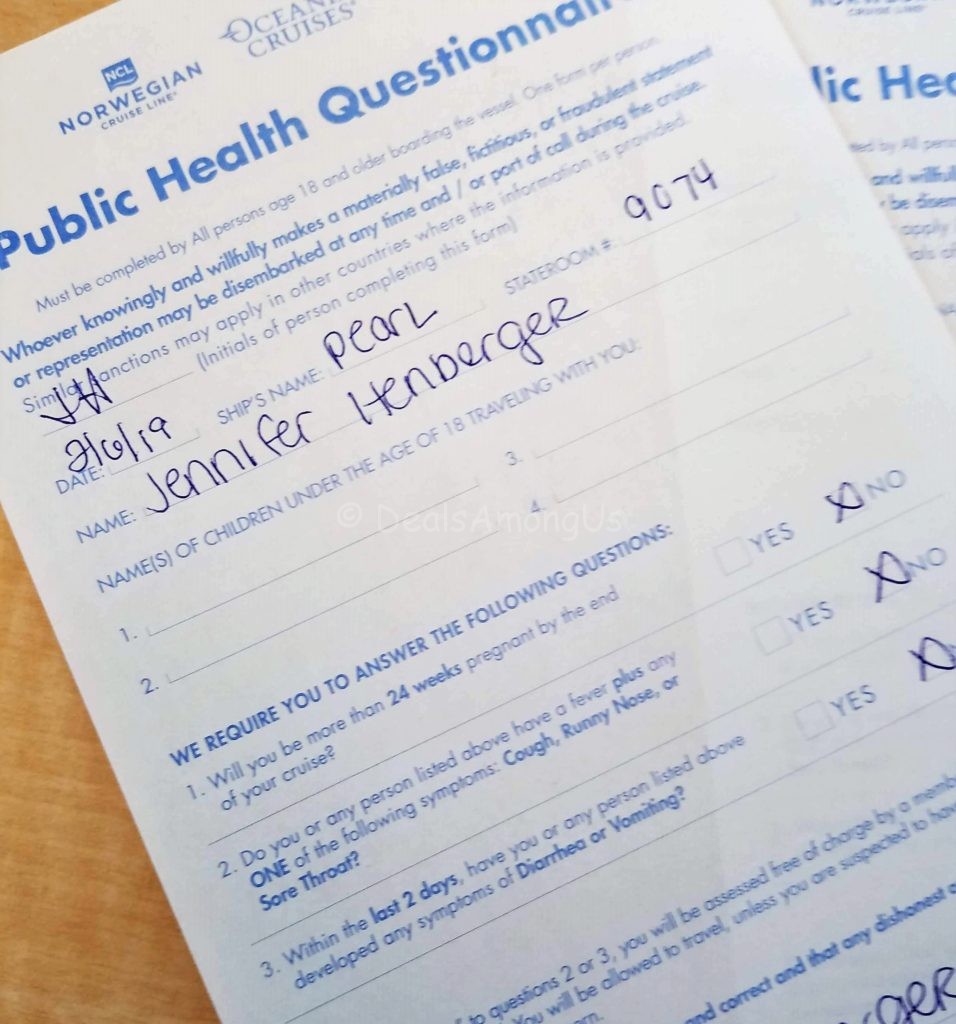 There were forms, scanners, identification and passport checks – the term "hurry up and wait" applies to what I did for the next couple hours. I did talk to a nice mother and son while we made our way through the line to get our room cards and verify we had shipboard credit.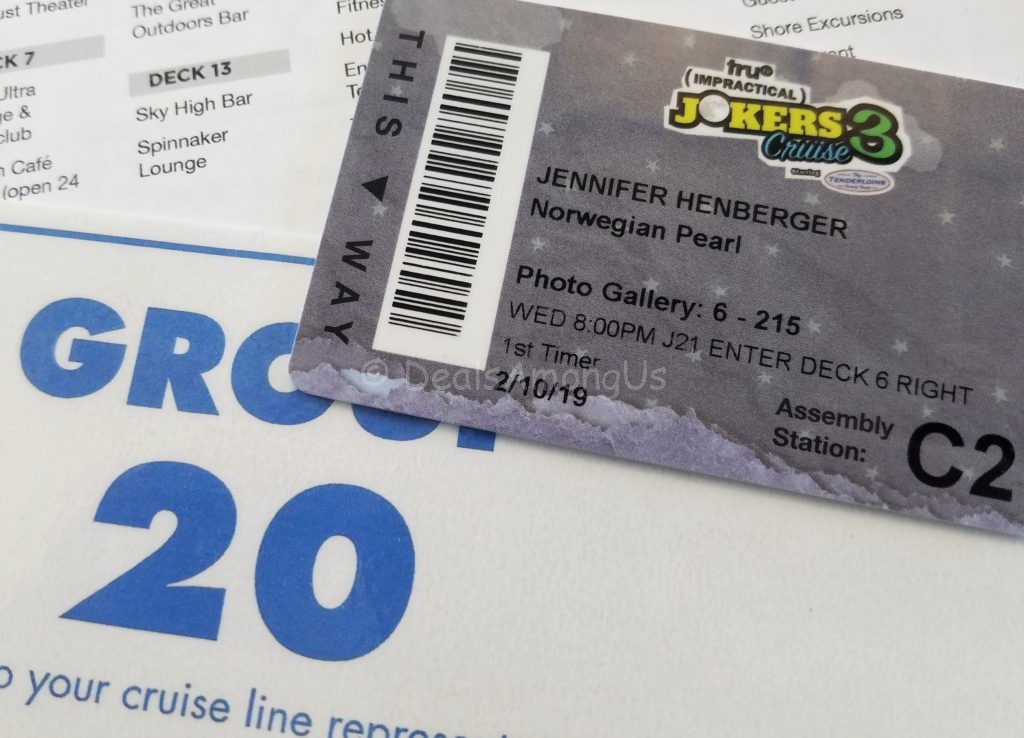 Then it was time to sit and wait for the ship to get clearance to begin boarding – I was in group 20 so there were many people ahead of me. I got a seat and texted my fellow cruisers about meet up spots, and communications on the ship since once we left port, our cell phones would cease to work.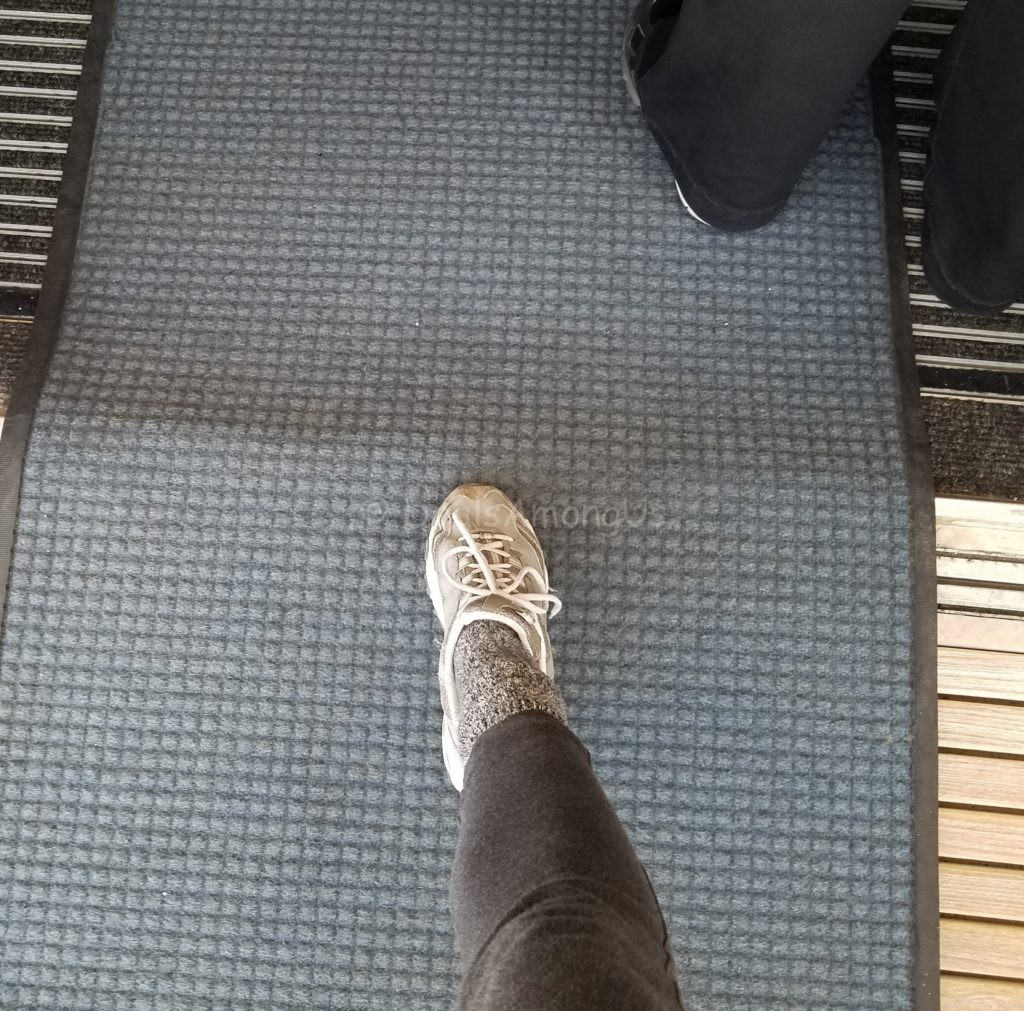 Once my number was called it was a mix of exciting, and nervous, and as I walked the ramp I got my first real view of how large this ship was. As I walked the plank and took my steps onto my home for the next 4 days, excitement became anxiety about the adventure ahead.
I received a high 5 from the Sixthman team (the company that charters the cruise and organizes the schedule, events and over all cruise experience). The funniest part was shortly after the high 5 there was a spray bottle with hand sanitizer they take cleanliness seriously on this ship!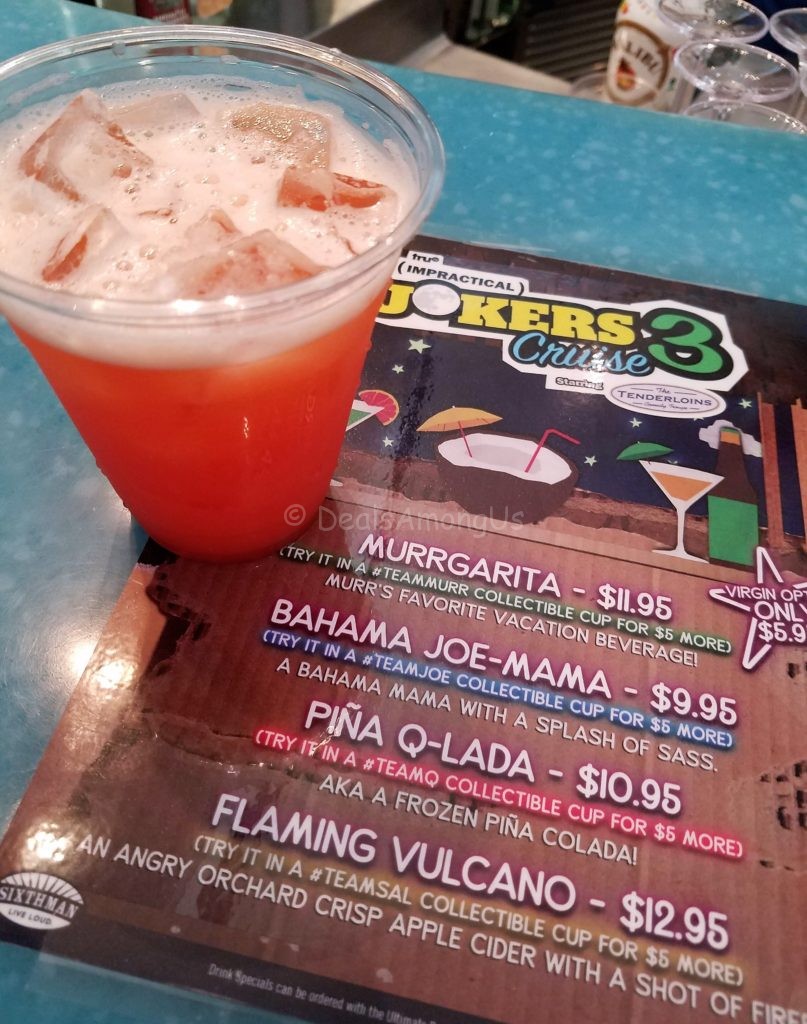 The first thing I saw when boarded the ship was the bar – so I got my first drink – The Bahama Joe – Mama. While we were in port drinks were a bit more expensive as local and other tax was added – this would not end until we were 9 nautical miles from port in international waters.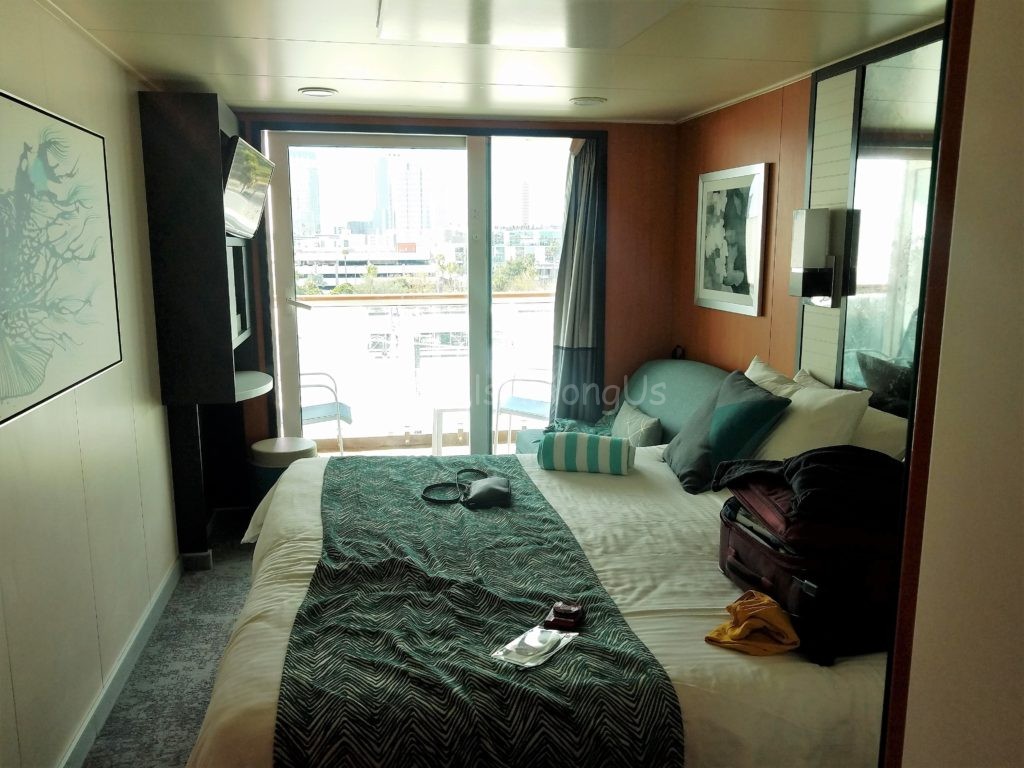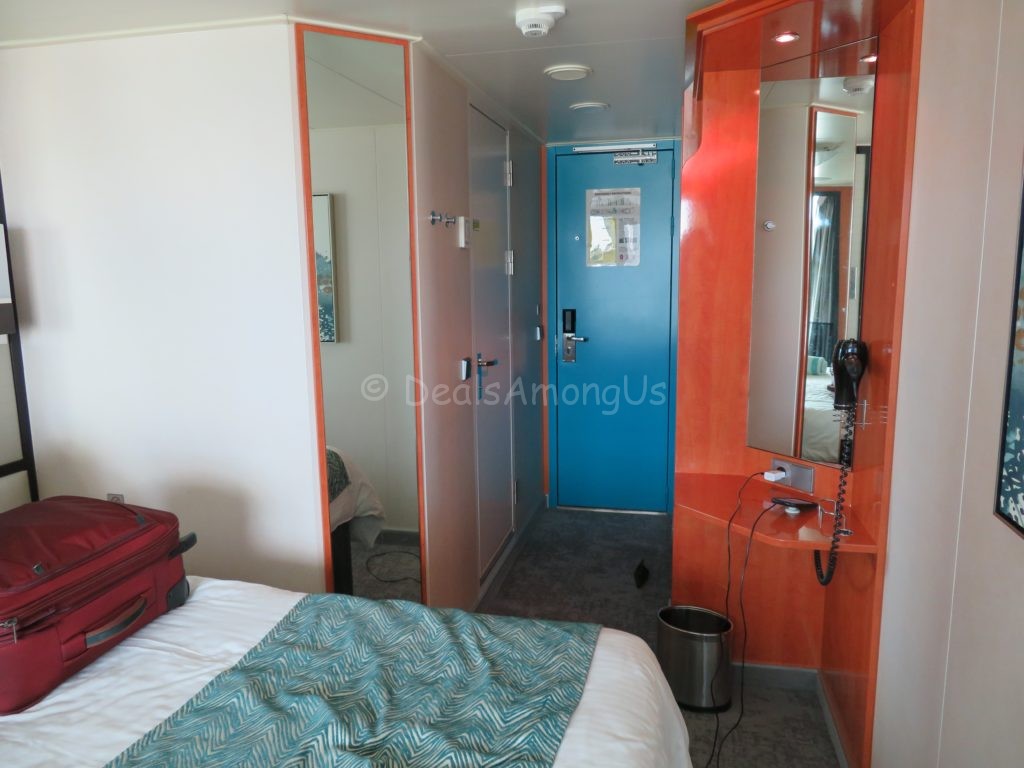 The rooms were not ready quite yet, but my steward let me put my carry on in the closet anyway, which freed my hands up and my worry about pulling it was alleviated as I began exploring the ship. I was in a mid-ship balcony cabin and it was heaven, I had a private balcony and I used it each day. I also kept my curtains open each day and woke up to the view and sound of the ocean, but more on that later. For now my view was the Port of Tampa building, and everyone else embarking on the same journey I was.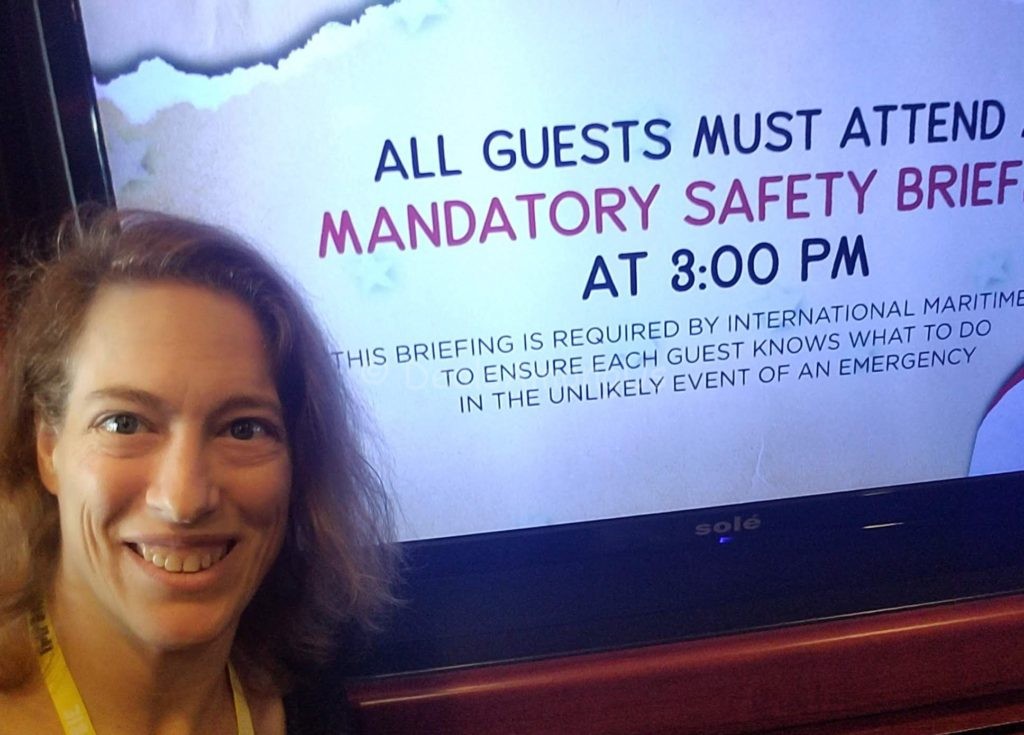 Since I was unburdened with carry-on luggage I took the opportunity to walk the ship and get acquainted with The Pearl. Then before I knew it, it was time for the safety drill, which is when you go to your assigned "muster" station and get briefed in case of an emergency, We were informed that the biggest threat we faced was fire, and after a quick safety drill we were released to go up on deck for the "Sail Away" party.
What can I say about The Sail Away party was that it was the first time we see the Jokers, and when I got my first photo with Murr. The party was loud, wild, funny and so attention getting that before I knew it we were moving – we were finally sailing.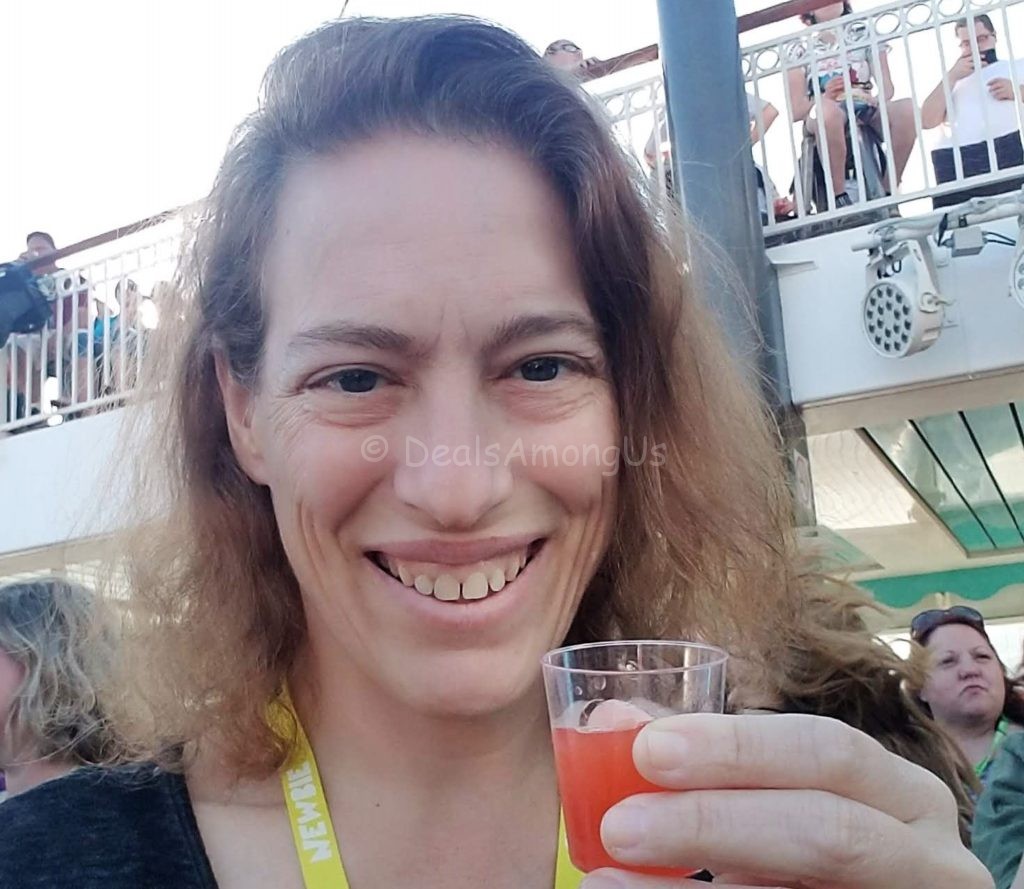 Shots were passed out during this time with instructions to wait to take it with The Jokers, and with that the party was officially started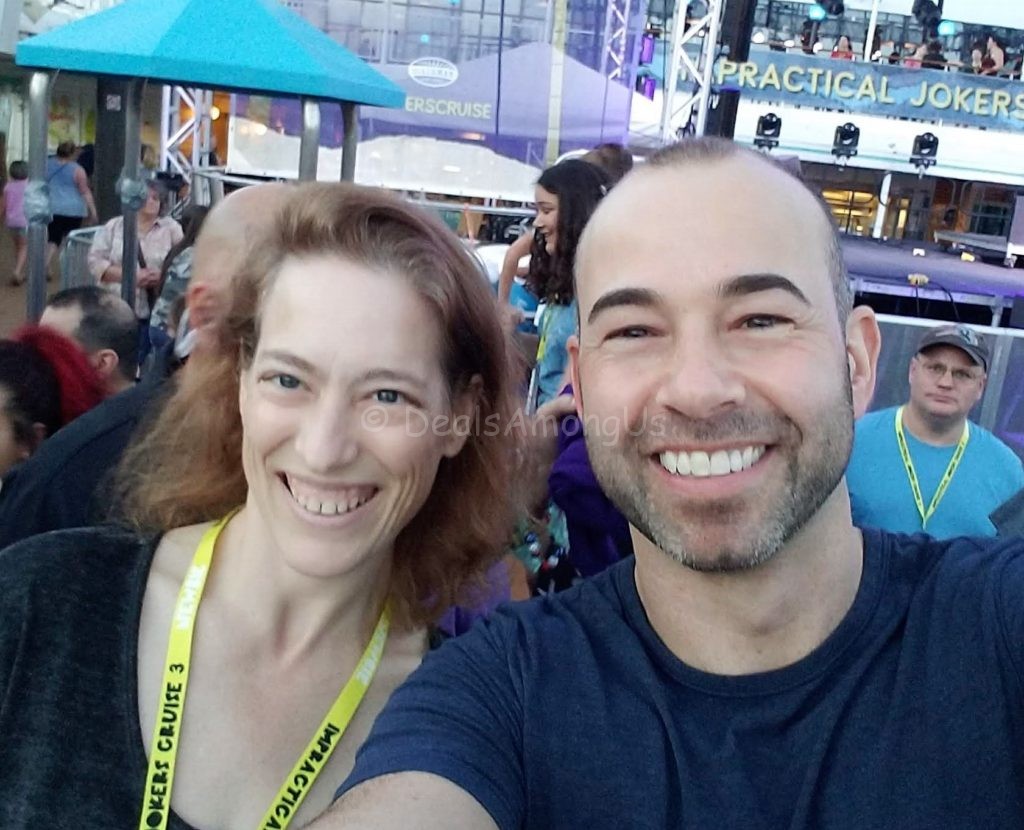 Once we were underway The Jokers came into the crowd and began taking photos with the cruise goers – which is when I got my first picture with Murr and had the chance to thank him for the many laughs he and his friends have provided me. Murr was gracious, thanked me for being a fan and quickly moved on to the next fan patiently waiting.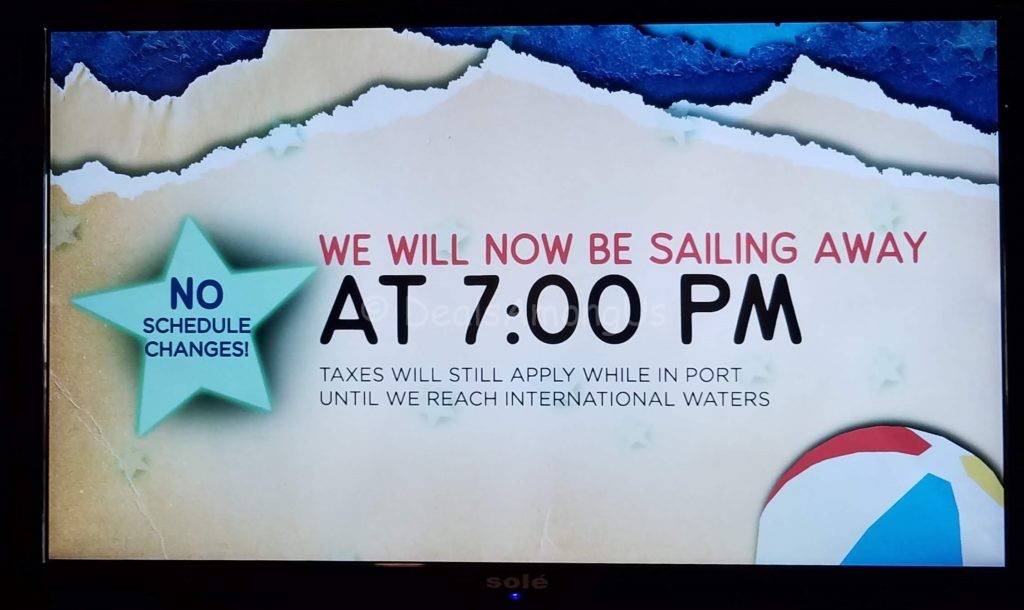 I spent that first night on my own, which provided me a chance to get my bearings and decide what activities on the calendar I would be attending. It was very quickly that I realized I did not need to concern myself with time or home, I had trust in my house/pet sitter, and knew they all were in the safest care next to me. This sense of calm made the difference, as I worried very little about San Diego and let myself be "on vacation".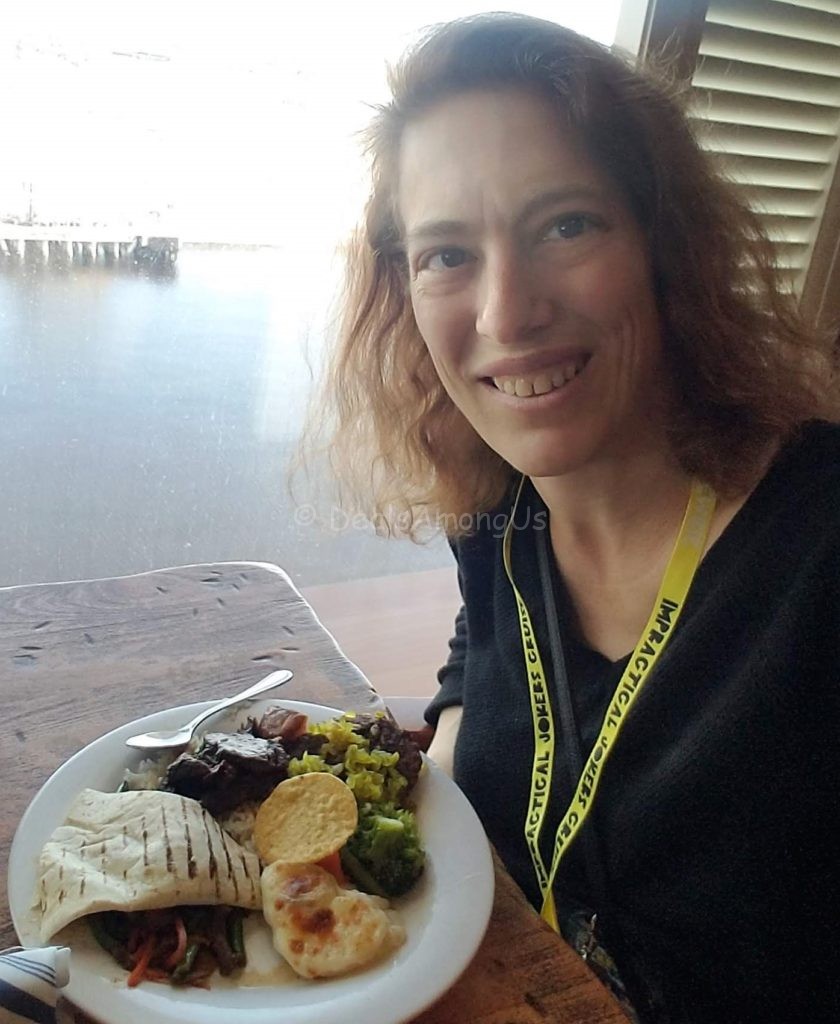 I headed to the buffet for my first view of the food choices that sit before me which included soup, salad, burgers, pasta, breads and so many deserts that my head was spinning. I had not eaten since the Olive Garden the night before so I was quite hungry. I filled my plate with a sampling of items, and sat by the window and watched the ocean pass by.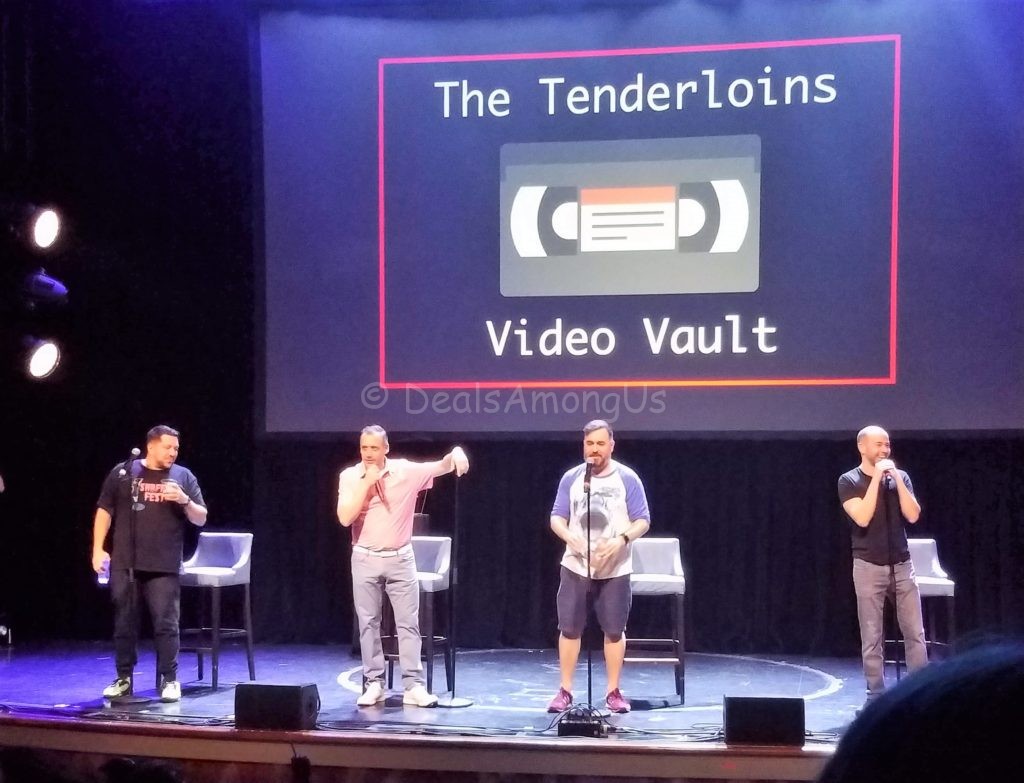 I had tickets to the first Jokers show, which was 8pm, so I headed to my room to change clothes since I had brought an extra outfit in my carryon in case my luggage was delayed. I felt much better with fresh clothes on, and I headed out to see the scheduled show.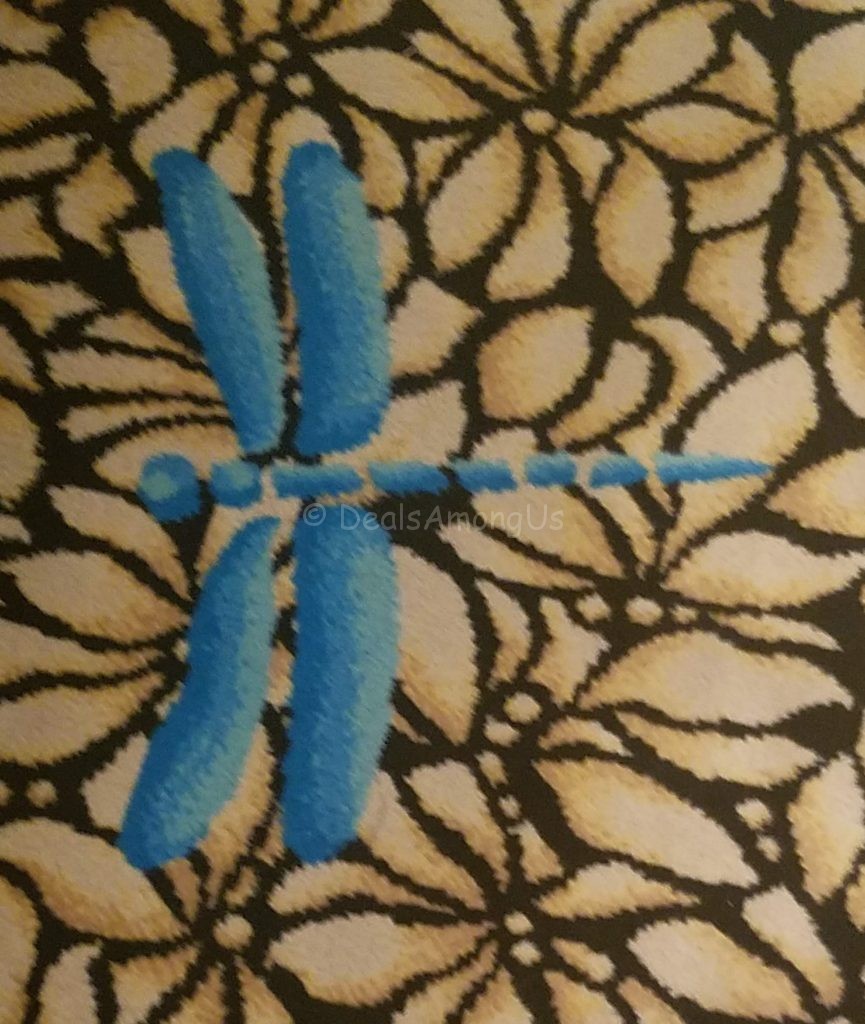 As I made my way down the long hallway to the auditorium where the show was, I looked down and saw dragonflies on the carpet – my dad was sending a reminder to me that he was with me.
The show was a series of never before seen videos in which the Jokers introduced and then made comments on. Due to this loose format, it made each of the subsequent shows a bit different with the same base format. I can tell you I hurt from laughing so hard – my face hurt, my tummy hurt and my ears hurt from hearing everyone else laugh so hard. Best show I have seen, and was VERY sad when it ended.
After the show it was obvious that I needed to go to sleep, I was exhausted so I headed to my cabin to retire for the evening. I wanted to be awake for my first day at sea the following day. When I entered my room I was surprised by some Jokers swag in my room that included a signed poster by all 4 guys in a plastic sleeve, a water bottle and a book about the cruise. This was a nice surprise, and a great way to start the trip.
That night I slept very well, with the slight rocking of the ship, the sounds of the DJ above me and a TV that played Impractical Jokers non-stop. I was relaxed and excited to start Day 2 at sea the next day!
Stay tuned to my next post that will cover that first day at sea – it included new friends, a show, karaoke and drinks.
**************************************
Want to share a comment, story or have a question, comment below!
****************************************
You can find us on Facebook, Pinterest, Twitter and InstagramSave