Gourmet Gift Baskets: Nostalgic Candy Gift Crate Review + Giveaway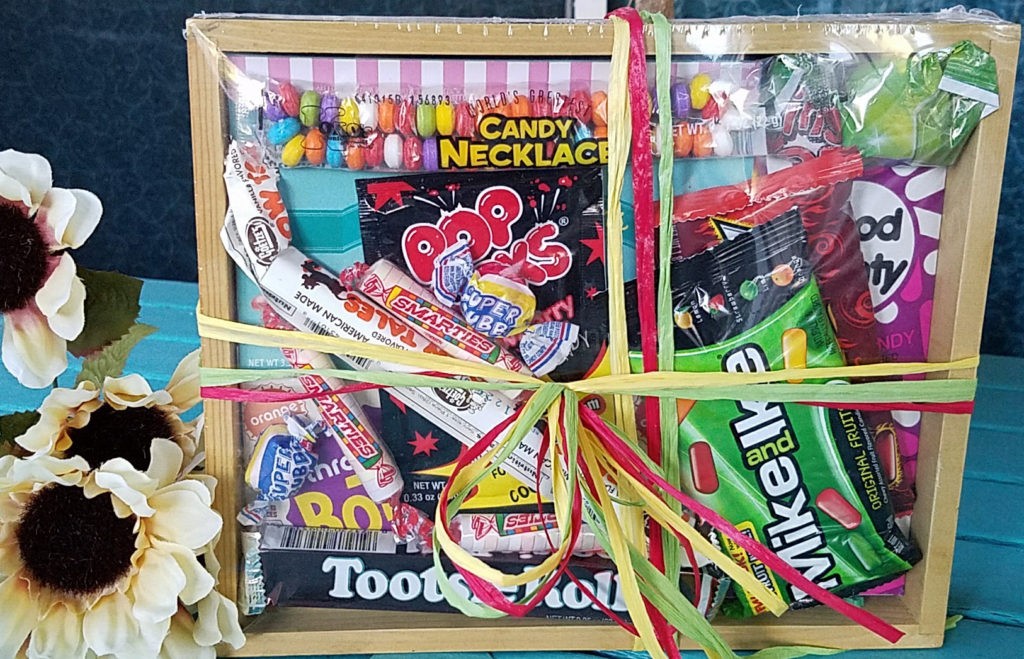 If there is one way to describe me, nostalgic comes to mind. I love to see things from my youth, and have began a collection of old toys and advertisements.
One thing that always reminds me of my childhood is candy. I remember when I was young, my father would take me to breakfast each weekend, and while he sat and chatted with friends, I would go over to the general store in the same center and purchase a couple of pieces of candy. My choices were usually items that would give me more candy, for less cost.
When I was recently contacted by GourmetGiftBaskets.com, and took a little time to peruse their website, I was immediately struck with gift inspiration – the first thing that caught my eye was the Nostalgic Candy Gift Crate.

The products featured in this post were provided to me free of charge courtesy of GourmetGiftBaskets.com. This post may have affiliate links but this in no way will influence the review to follow and all opinions are my own.
The Nostalgic Candy Gift Crate from GourmetGiftBaskets.com is a wooden crate of candy that will remind you of your childhood and included the following items: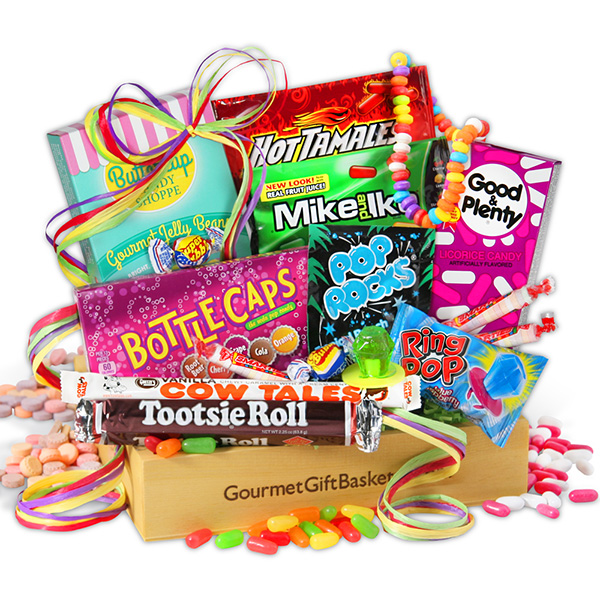 · Wonka Bottle Caps by Nestle – 5 oz. – These are those classic bottle cap shaped sugar candies that have a old- fashioned soda fountain taste.
· Pop Rocks by Pop Rocks Inc. – .33 oz. – These are the candies that pop in your mouth making your friends wonder where the "poppin" is coming from.
· Candy Necklace by KOKO's – Sweet candy that you can wear and eat!
· Good & Plenty by The Hershey Company – 5 oz. – An old-fashioned licorice candy that is coated in a candy shell.
· Ring Pop by Topps – .5 oz. – A jewel shaped hard candy on top of a plastic ring individually wrapped.
· Hot Tamales by Just Born – 1.8 oz. – The original chewy cinnamon candies.
· Mike and Ike Original Fruits by Just Born – 1.8 oz. – This 70-year-old candy is the original chewy bites made with real fruit juice .
· Cow Tales by Goetze's Candy Company – 1 oz. – Chewy caramel sticks that are wrapped around a sweet creamy center.
· Tootsie Roll by Tootsie Roll Industries – 2.25 oz. – A chewy almost chocolate flavored bites/sticks.
· (2) Super Bubble Gum – Iconic since 1946, a classic bubble gum.
· (3) Smarties –  These are a sweet and sour mini candies.
· Jelly Beans by Buttercup Candy Shoppe – 3.5 oz. – Gourmet jelly beans
Here is a fun fact per the Nostalgic Candy Gift Crate website – In 1896, Leo Hirschfield came to the US and started a making candy in a small shop, where he decided to make a chocolaty candy that wouldn't melt in the heat. He invented the Tootsie roll, which he named after his daughter's nickname, Tootsie. The rest is candy history!
Each of the candies in this collection will tie to a memory of the recipients childhood and would be a much appreciated gift! This is one of the more unique items I have reviewed and honestly would be THRILLED to receive this as a gift!
Head over to GourmetGiftBaskets.com and see their vast assortment of themed baskets!
******* COUPON CODES ********
Get $10 Off + Free Shipping on select products using code HOLIDAYS10
(expires 12/31/2016)
$15 Off Orders $100+ with code SNOW
(expires 1/1/2017)
$10 Off Orders $40-$99 with code PRESENT
(expires 1/1/2017)
$5 Off Orders Less Than $40 with code JOLLY (expires 1/1/2017)
Click here to learn more about GourmetGiftBaskets.com
You can find GourmetGiftBaskets.com on Facebook, Pinterest, Twitter and Instagram
GIVEAWAY: GourmetGiftBaskets.com is giving one Nostalgic Candy Gift Crate one lucky reader! (1) lucky winner will be selected at random to win 1 – Nostalgic Candy Gift Crate that will include the following candy: Wonka Bottle Caps, Pop Rocks, Candy Necklace, Ring Pop, Good & Plenty, Hot Tamales, Cow Tales, Mike and Ike Original Fruits, Tootsie Roll, Super Bubble Gum, Smarties and Jelly Beans. This is a $39.99 value! I will be randomly choosing 1 person on December 28th (12/28/2016) to receive this sweet nostalgic crate! Open to residents in the US. To enter complete the entries below! Winner will be notified by DealsAmongUs by email and prize will be fulfilled by GourmetGiftBaskets.com. Remember you have 48 hours to claim prize, or I will choose another winner. GOOD LUCK!!!
Save
Save
Save