"Black Cats Box" –Cat Lady Box – October 2018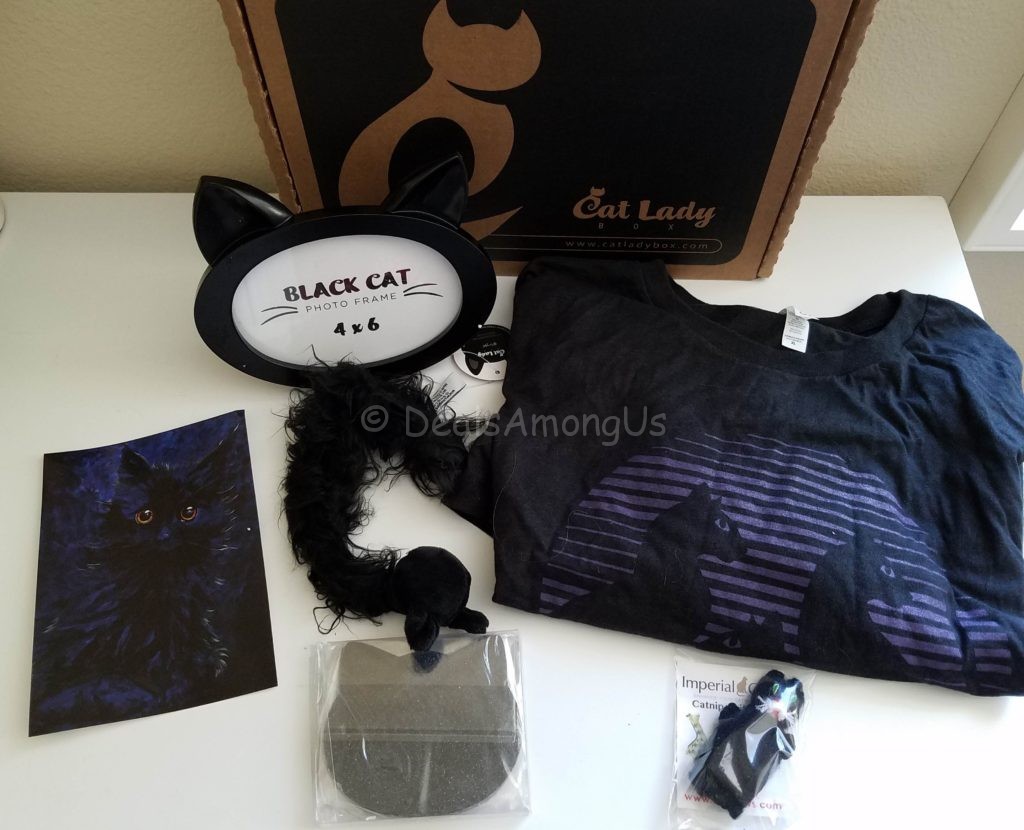 When I received Cat Lady Box this month, all the items were black cat themed for this months annual "Black Cats Box" that was curated "purrrfectly"!
The products featured in this post were provided to me free of charge courtesy of CatLadyBox.com in consideration of a review, but all opinions are my own.

The October 2018 Box is appropriately themed for October with a the annual "Black Cats Box" box that contained the following: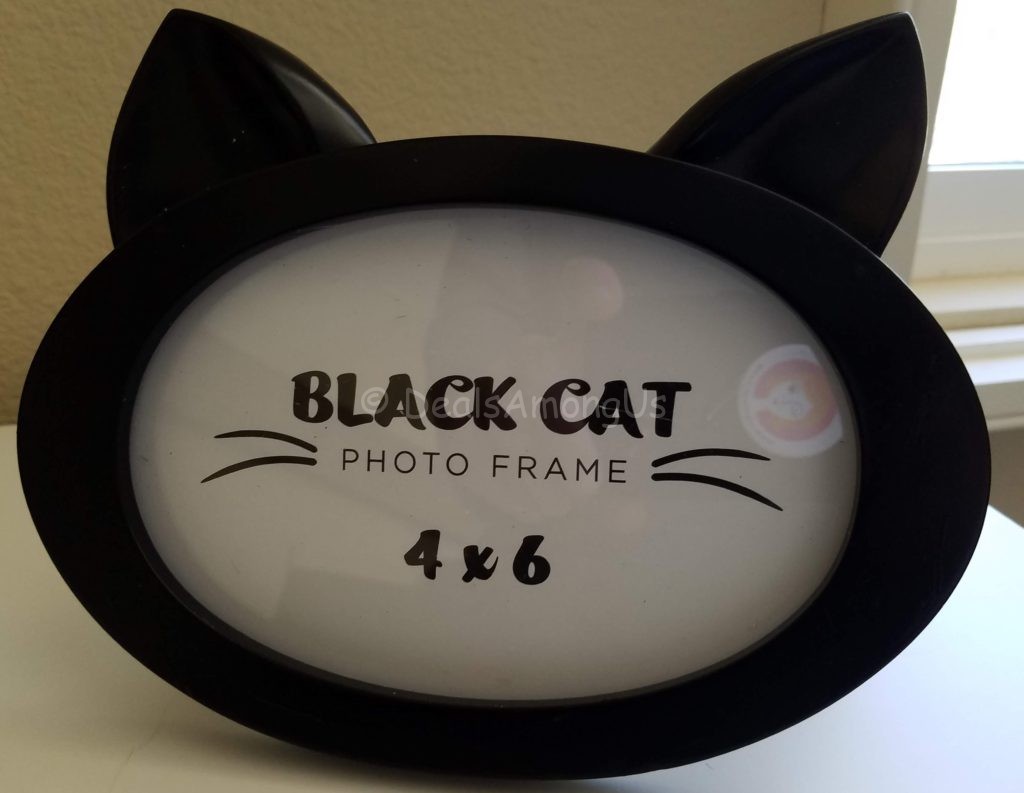 Black Cat Picture Frame – CatLadyBox Exclusive: The one thing that any cat mom or cat lover needs is a cat photo frame. This is a 4×6 frame and would be a great spot to put a favorite photo of your kitty.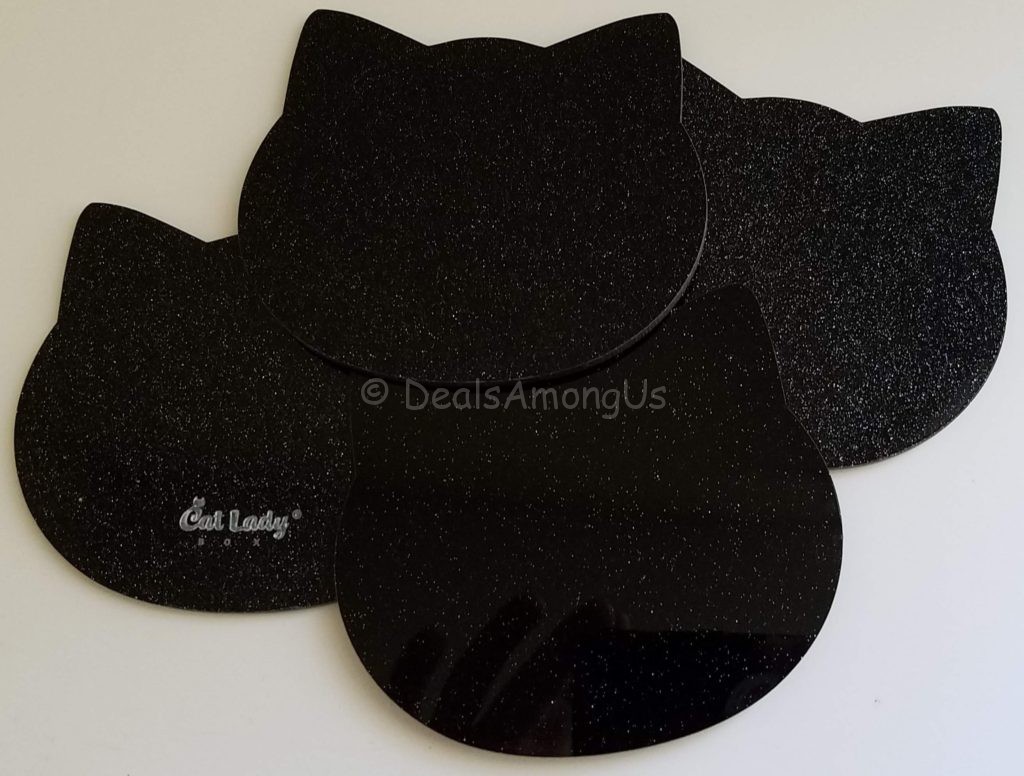 Black Cat Coasters – CatLadyBox Exclusive: If there is one thing that gets used in my house now it is coasters, so I LOVE having some cat head shaped coasters to use. These are glittery on one side and solid black on the other side.
Black Cats Long Sleeve Shirt – CatLadyBox Exclusive: I love cat themed clothes, and even more so if they are long sleeve. I love this shirt, and it looks so cute with a pair of jeans and black boots. For a person who loves cats, showing my cat lady pride makes me happy and usually sparks conversations in stores with people inquiring where i got the item.
BONUS Glitter Cat Ears – CatLadyBox Exclusive: The perfect addition to a October box is a pair of cat ears, even more so if they include glitter. These are not only adorable, but they reflect light in the most perfect way. I love wearing these, and usually wear them when I just want to be different for the day!
CAT TOYS Black Cat Tall Toy and Hand-knit Black Cat Nip Toy's – CatLadyBox Exclusive: Soft, catnip and colored black these themed toys make for the perfect cat toys. Murfee loved this long tail toy, which Meadow also enjoyed. Murfee also loved the smaller hand-knit cat toy, probably due to the included cat nip. 
Cat Lady Featured Artist – by Asra Rae I LOVED this months artist, and this postcard will be added to my Cat Lady Postcard collection!
It is not a secret that I love these boxes and you can often find me wearing items I have gotten in past boxes (the Cat Lady Squad Cat Ears Hoodie). This box features so many Cat Lady Exclusive items that are unavailable otherwise, it makes this box a fun and exclusive adventure each month.
As an added bonus to the cat community each month donations is made to a different cat rescue each month. Cat Lady Box also gives subscribers an opportunity to nominate an organization to be a beneficiary of Cat Lady Boxes generosity.
**********************************************
Monthly subscriptions come in two options: CatLadyBox and Crazy CatLadyBox. For the CatLadyBox comes with 2-3 items for the human and are $34.99 – month to month, $102.99 – 3 month membership, $202.99 – 6 month membership. The second option available is the CrazyCatLady Box which includes the contents of the CatLadyBox and a couple treats for your feline and are $39.99 – one month membership, $115.99 – 3 month membership and $229.99 – 6 month membership.
Shipping is included in the cost each month for United States recipients (Florida residents add sales tax). Currently shipping to United States, Canada and the UK. For Canadians add $8.95 per box for shipping and for United Kingdom residents add $12.95 to the cost of the monthly box.
**********************************************
Click here to see previous reviews
Click here for more information about Cat Lady Box or shop the Cat Lady Box Store!
You can also find Cat Lady Box on Facebook, Twitter, Pinterest and Instagram
**********************************************