"Absolutely Ameowzing" –Cat Lady Box – January 2019 – Review + Giveaway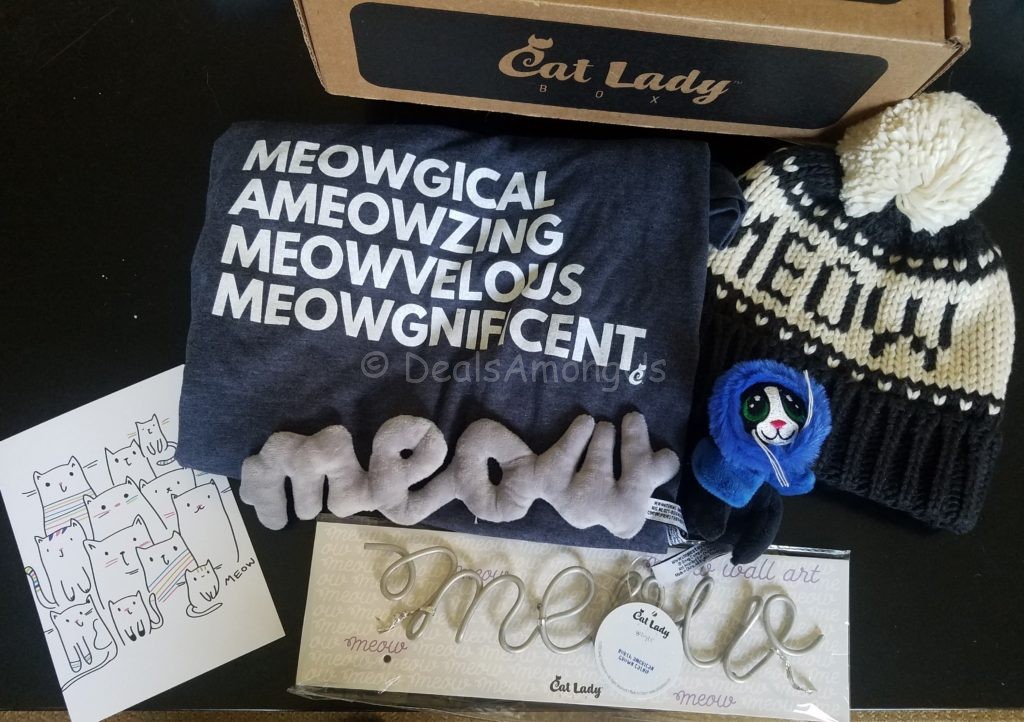 When I received Cat Lady Box this month, all the items were geared for the warm summer months with a "Absolutely Ameowzing" theme that me and the cats loved!
The products featured in this post were provided to me free of charge courtesy of CatLadyBox.com in consideration of a review, but all opinions are my own.
The January 2019 Box is holiday appropriately themed with a "Absoutely Meowzing" box that contained the following: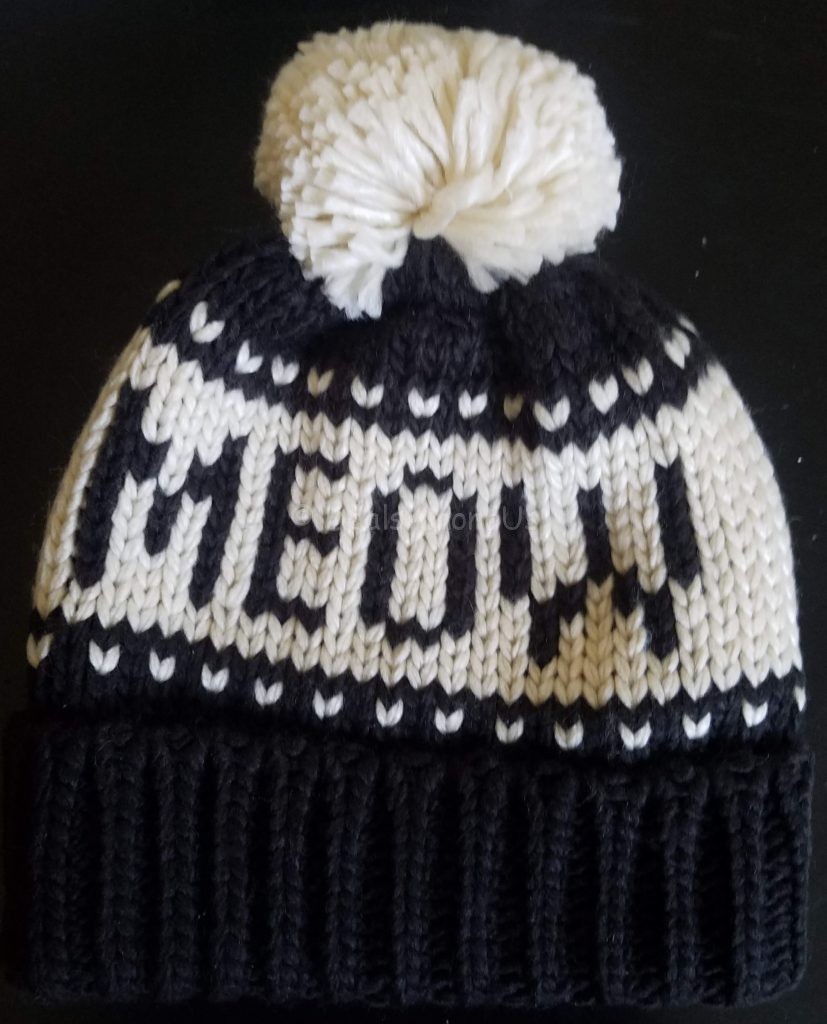 MEOW Knit Cap – CatLadyBox Exclusive: Since I have taken over the care of Meadow, I am out in cold weather more often, so this cap could not have come at a more perfect time. I love the neutral colors and that it will match most of my clothes.

MEOW Metal Wall Art – CatLadyBox Exclusive: I am believer that every house that has cats needs decorative art that is cat themed. This is a aluminum and can be hung with nails or hooks in any room.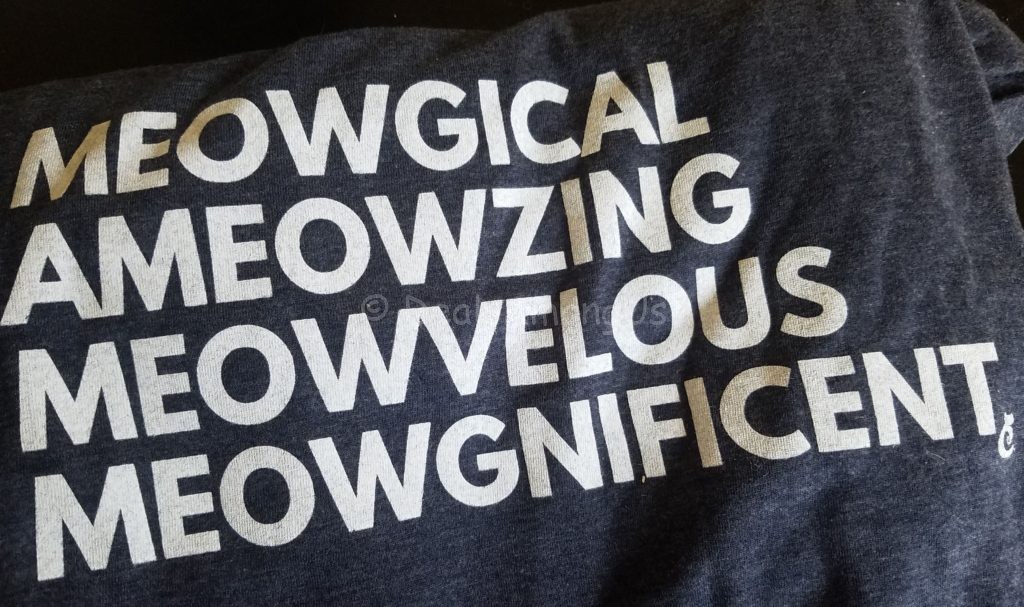 Ameowzing Shirt – CatLadyBox Exclusive: Full of cat puns and comfort this is the perfect t-shirt for a lazy day at home, or a afternoon adventure. I always get comments when I wear my cat lady clothes out and about.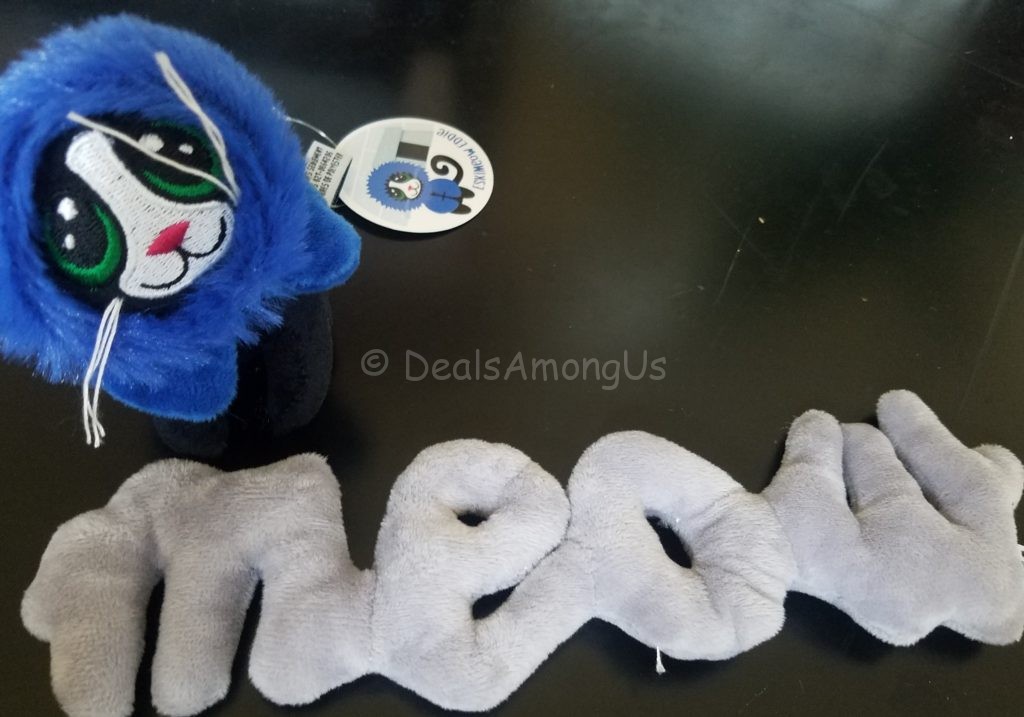 CAT TOYS Eskimeow and Meow Catnip Kicker Toy – CatLadyBox Exclusive: Soft, catnip and cat themed makes for a perfect cat toys. Since my cats love toys, this was an instant win for them – I even caught Meadow with them in her mouth – I think she likes cat nip and cat toys.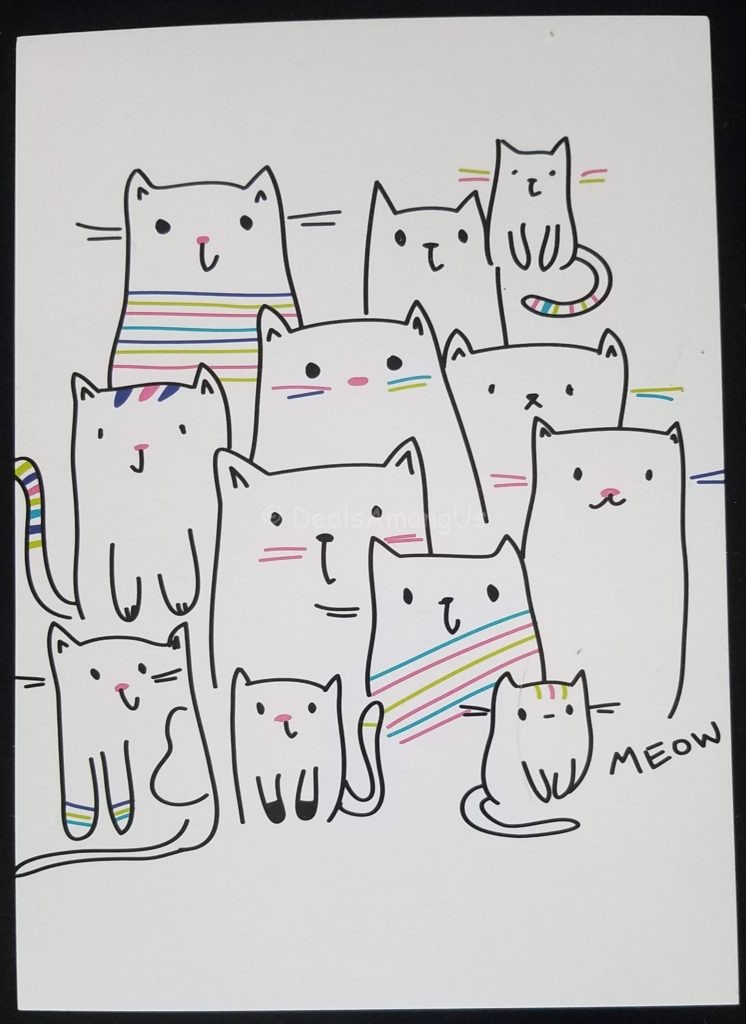 Cat Lady Featured Artist – Baby Room Art: While created for a baby's room, the art from Baby Room Art would be great for any room. These are quirky, cute and colorful cat themed prints.
It is not a secret that I love these boxes and you can often find me wearing items I have gotten in past boxes (the Cat Lady Squad Cat Ears Hoodie). This box features so many Cat Lady Exclusive items that are unavailable otherwise, it makes this box a fun and exclusive adventure each month.
As an added bonus to the cat community each month donations is made to a different cat rescue each month. Cat Lady Box also gives subscribers an opportunity to nominate an organization to be a beneficiary of Cat Lady Boxes generosity.
**********************************************
Monthly subscriptions come in two options: CatLadyBox and Crazy CatLadyBox. For the CatLadyBox comes with 2-3 items for the human and are $34.99 – month to month, $102.99 – 3 month membership, $202.99 – 6 month membership. The second option available is the CrazyCatLady Box which includes the contents of the CatLadyBox and a couple treats for your feline and are $39.99 – one month membership, $115.99 – 3 month membership and $229.99 – 6 month membership.
Shipping is included in the cost each month for United States recipients (Florida residents add sales tax). Currently shipping to United States, Canada and the UK. For Canadians add $8.95 per box for shipping and for United Kingdom residents add $12.95 to the cost of the monthly box.
**********************************************
Click here to see previous reviews
Click here for more information about Cat Lady Box or shop the Cat Lady Box Store!
You can also find Cat Lady Box on Facebook, Twitter, Pinterest and Instagram
**********************************************
GIVEAWAY: Cat Lady Box is offering 1 free month/box to my readers! I will be randomly choosing 1 person on February 6th, 2019 (2/6/2019) to receive one Crazy Cat Lady Box from Cat Lady Box!! Winner may receive current months box or next months depending on availability. This is a $39.99 value!! To enter complete the entries below! Open to residents in the US only. Winner will be notified by DealsAmongUs by email and prize will be fulfilled by Cat Lady Box! Remember you have 48 hours to claim prize, or I will choose another winner. GOOD LUCK!!!