"Winter Wondpurrland" –Cat Lady Box – January 2018 – Review + Giveaway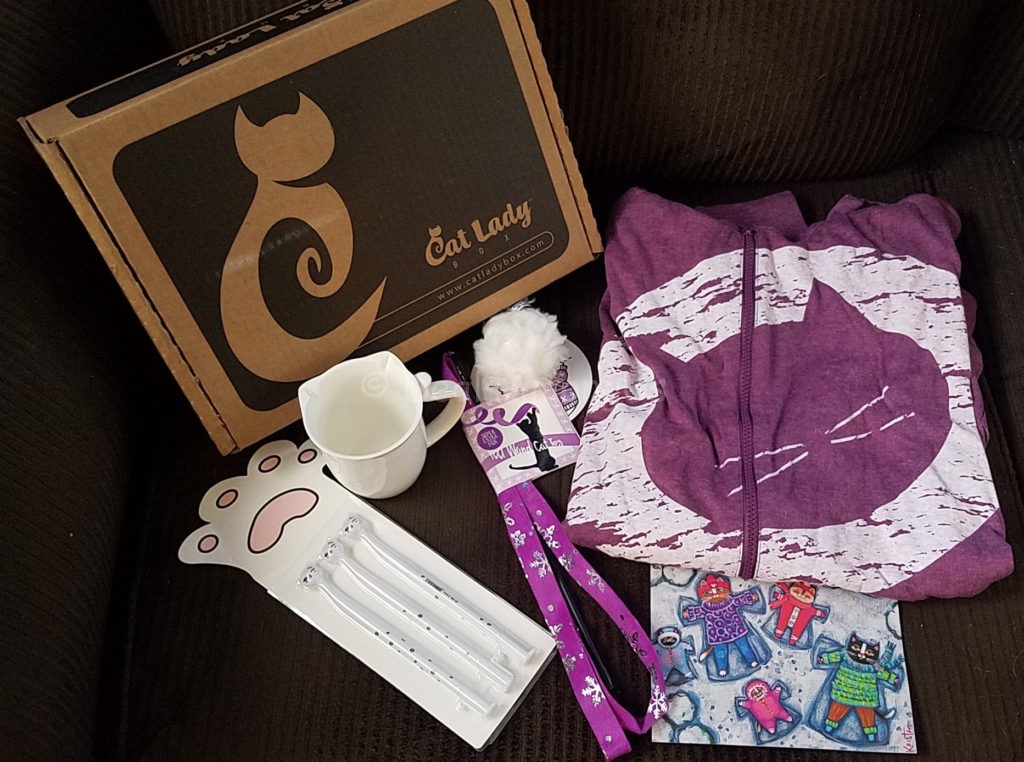 The days here have turned cold and wet, which means I have two cats that require more and more attention. While this takes from my day a bit more, there is nowhere else I would rather be. When I received the "Winter Wondpurrland" themed Cat Lady Box this month, all the items reminded me of the cat cuddles that cold nights of winter brings.
The products featured in this post were provided to me free of charge courtesy of CatLadyBox.com in consideration of a review, but all opinions are my own.

The "Winter Windpurrland" theme contained the following CatLadyBox Exclusive items: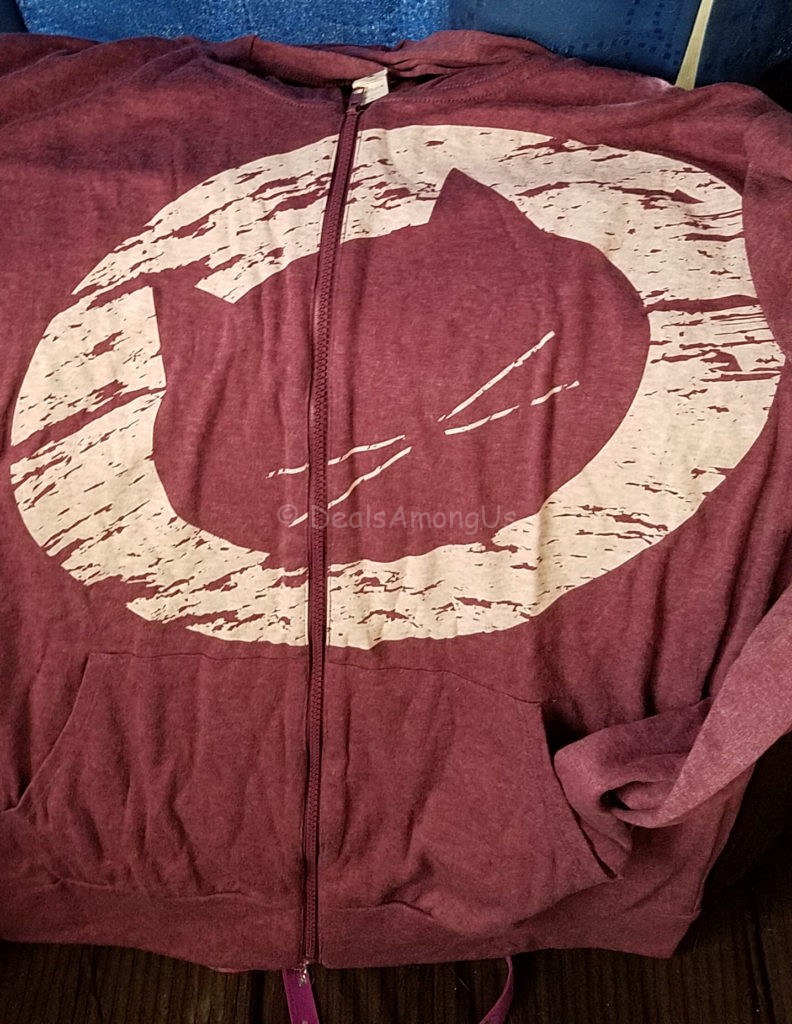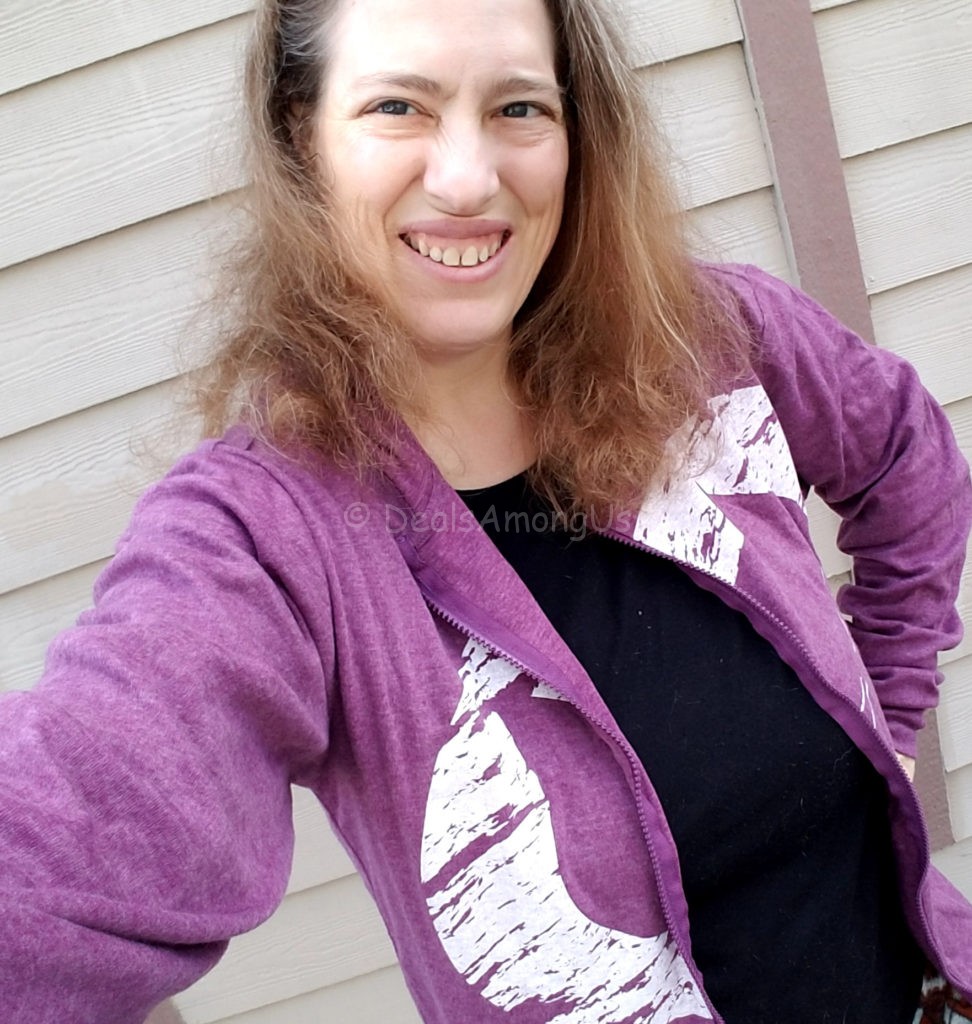 Fantastic Cat Hoodie – CatLadyBox Exclusive: One of my favorite items of clothes comes from a previous box, which also happens to be a hoodie so I was THRILLED to see a hoodie in the box! This is super soft, and I know after a couple washes it will be even softer. This is nice purple color with a cat that spread on either side of the front. This is a perfect weight, and the nicest color!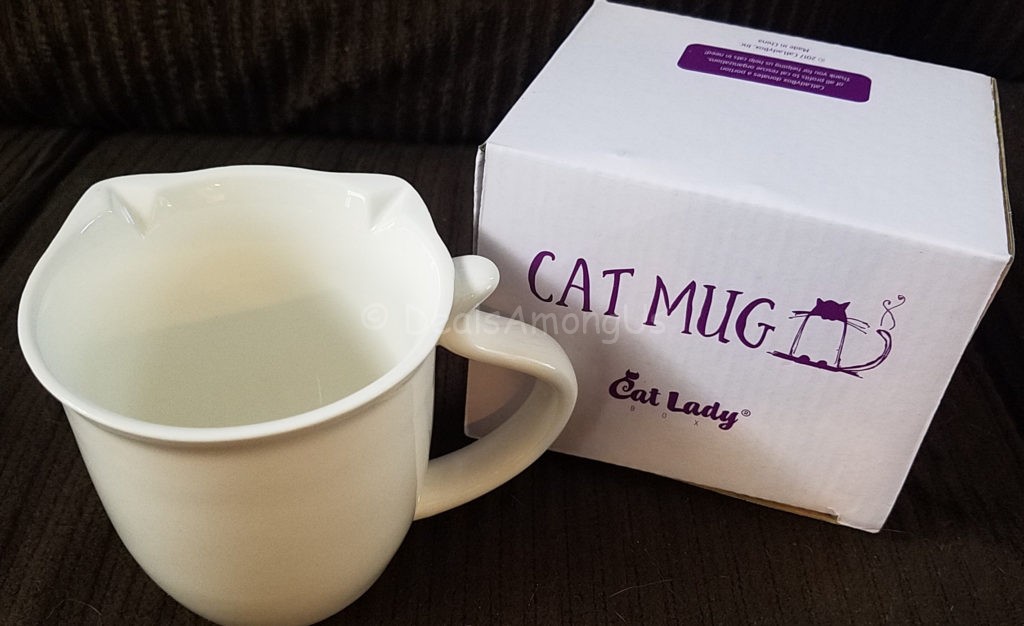 Cat-Shaped Mug – CatLadyBox Exclusive: Since I love tea when it is cold, this is the PERFECT mug for my cat loving soul! This fits about 6-8 ounces of liquid and the handle is the tail, with ears along the rim. Super cute, and all mine!
Kitty Cat Pen Set – CatLadyBox Exclusive: Despite having my life online, I do write a considerable amount of the time, so having some pens with "purrsonality" is always welcome. These come in a set of 3 pens, and are a black inked pen. The cat at the tip is adorable, and "purrfect" for cat lovers in an office or home!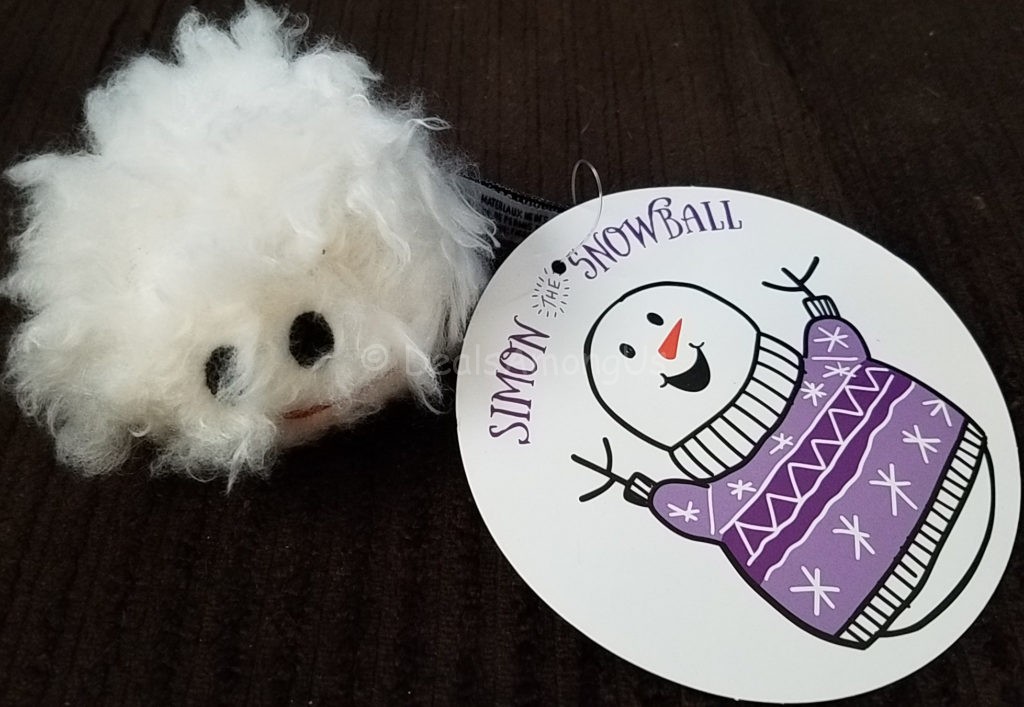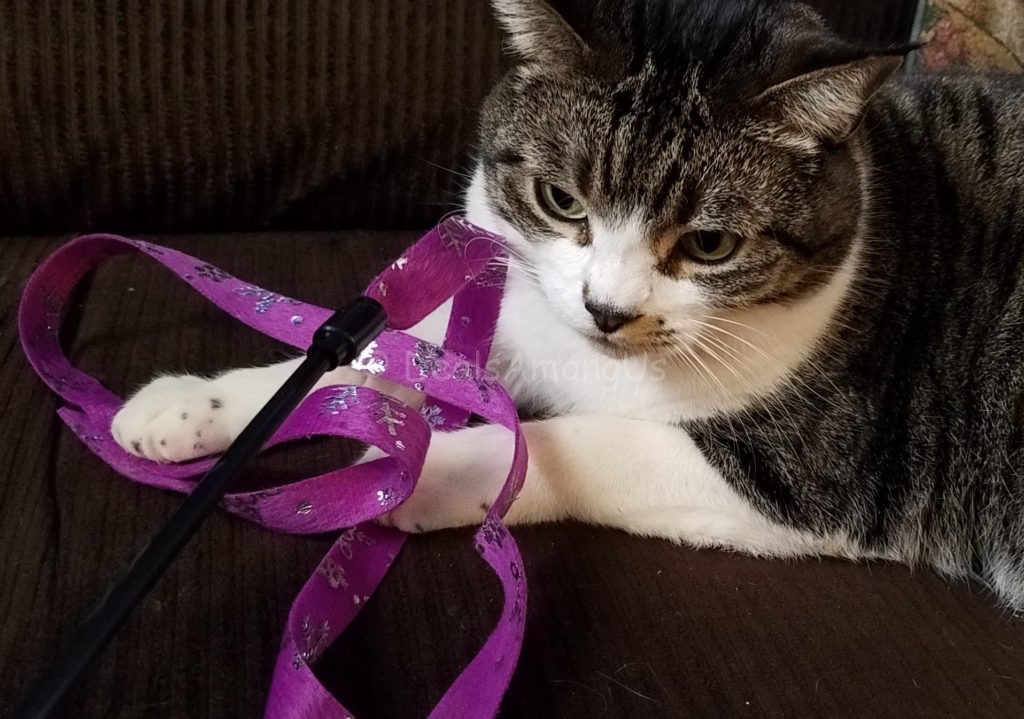 CAT TOYS Simon the Snowball and Snowflake Felt Wand Cat Toy – CatLadyBox Exclusive: Maggee saw the snowball, and was a bit thrown at first so I was able to distract her with the Snowflake Felt Wand. The wand is plastic, and the fabric reminds me of the same material lanyards are made out of and measures about 3-4 feet, making it easy to play with kitty.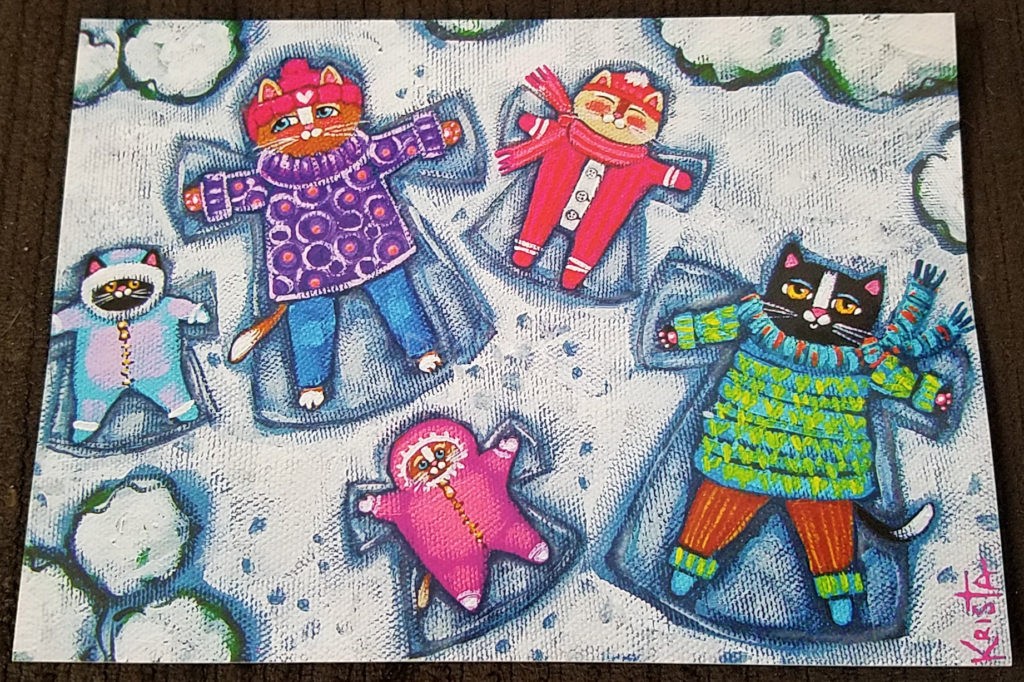 Cat Lady Featured Artist – "Snow Angel Cat Family" by Krista Smith: I LOVED this months artist, and the snowman cats! This is full of color and holiday sweaters. This postcard will be put on my wall and added to my Cat Lady Postcard collection, which always makes me smile!
It is not a secret that I generally love these boxes and you can often find me wearing items I have gotten in past boxes (the Cat Lady Squad Cat Ears Hoodie). This box features so many Cat Lady Exclusive items that are unavailable otherwise, it makes this box a fun and exclusive adventure each month.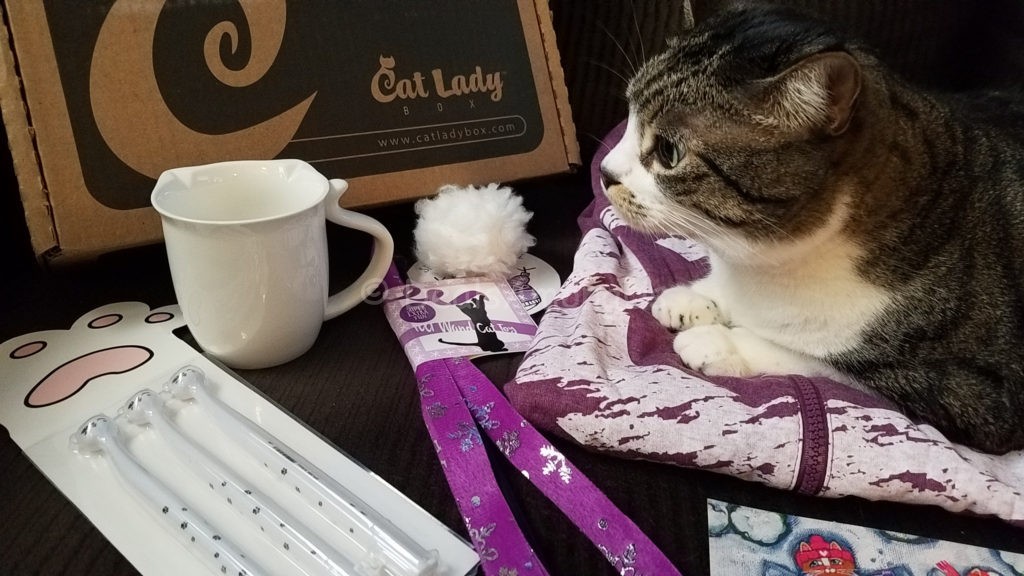 As an added bonus to the cat community each month donations is made to a different cat rescue each month. Cat Lady Box also gives subscribers an opportunity to nominate an organization to be a beneficiary of Cat Lady Boxes generosity.
**********************************************
Monthly subscriptions come in two options: CatLadyBox and Crazy CatLadyBox. For the CatLadyBox comes with 2-3 items for the human and are $34.99 – month to month, $102.99 – 3 month membership, $202.99 – 6 month membership. The second option available is the CrazyCatLady Box which includes the contents of the CatLadyBox and a couple treats for your feline and are $39.99 – one month membership, $115.99 – 3 month membership and $229.99 – 6 month membership.
Shipping is included in the cost each month for United States recipients (Florida residents add sales tax). Currently shipping to United States, Canada and the UK. For Canadians add $8.95 per box for shipping and for United Kingdom residents add $12.95 to the cost of the monthly box.
**********************************************
Click here to see previous reviews
Click here for more information about Cat Lady Box or shop the Cat Lady Box Store!
You can also find Cat Lady Box on Facebook, Twitter, Pinterest and Instagram
**********************************************
GIVEAWAY: Cat Lady Box is offering 1 free month/box to my readers! I will be randomly choosing 1 person on February 7th, 2018 (2/7/2018) to receive one month subscription to the Crazy Cat Lady Box from Cat Lady Box!! Winner may receive current months box or next months depending on availability. This is a $39.99 value!! To enter complete the entries below! Open to residents in the US only. Winner will be notified by DealsAmongUs by email and prize will be fulfilled by Cat Lady Box! Remember you have 48 hours to claim prize, or I will choose another winner. GOOD LUCK!!!